Many of our customers like to see their ChartMogul numbers alongside other business data. That's why we make sure to collaborate with partners and customers on syncing key metrics with other systems, like Geckoboard, Visible and Numerics. Today we're excited to add another partner to that list: Octoboard.
Octoboard's new ChartMogul integration lets users add ChartMogul revenue data to their business performance dashboards. Now you can look at key revenue metrics like monthly recurring revenue, annual run rate and lifetime value alongside you company's web, social media and advertising metrics.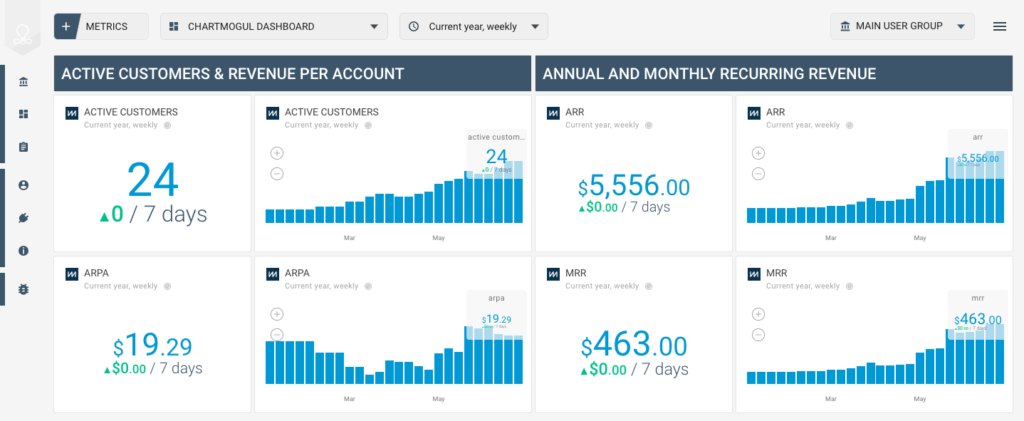 ChartMogul users can add and track the following metrics straight from their Octoboard account:
Monthly recurring revenue
Annual run rate
Customer lifetime value
Customer churn rate
Average revenue per account
Average sale price
Active customers
About Octoboard
Octoboard helps businesses view their sales, marketing, advertising and financial data in one central destination. They offer dozens of ready-made templates that make it easy to create actionable and shareable business performance dashboards. Your first two dashboards are free — beyond that they offer paid monthly subscriptions that allow for more dashboards, widgets and data connections.
How to connect ChartMogul to Octoboard
Getting set up takes less than a minute! Simply log into your Octoboard account and select Connect Data. Choose ChartMogul and select the metrics you'd like to track. Then add your ChartMogul API token and secret key (Admins can go into settings to get this information).
We love seeing users build on top of our Metrics API. Have an idea for a ChartMogul integration? Learn more about the API to get started!