Much has been said about Adobe's successful transition of its Creative Suite of apps to a subscription-based service — Creative Cloud.
While it makes sense to start with some facts, I don't want to focus too much on the data. The sheer scale of the numbers here are impressive — it's not often we see a business of such scale and success pull off a pivot to a different business model, and live to see another day. But the numbers are not the aspect of this topic that we'll learn from (even though they serve as good context).
The facts
In 2011, Adobe's Creative Suite was a cash cow by most measurements. It generated more than $3.4B in revenue with a gross margin of 97%.
On April 23rd, 2012, the company announced the release of Adobe Creative Cloud™:
"a radical new way of providing tools and services that will change the game for creatives worldwide."
While Adobe continued to offer the CS6 perpetually-licensed software alongside this new cloud subscription, it was clear that the subscription model was their focus moving forward. Initial reception from users was mixed, raising some concern (and a little outrage) from loyal customers who didn't want to buy into the subscription service:
"Adobe was seemingly caught flat-footed by the sheer volume and intensity of the criticism and had to spend the next several days after the announcement talking not about new software and service features, but dispelling inaccurate claims proliferating on user forums about terms and features of their Creative Cloud service."

(Adobe's Subscription-Only CC Release Carries Obvious Upside But Big Risk)
Fast-forward five years to the present day, and the success of Creative Cloud (CC) and its impact on Adobe as a business is an overwhelming success.
Q2 2013: CC subscriber numbers had reached almost 700,000

FY 2016: CC revenue was up 44% year-on-year to $733 million

FY 2016: Over 30% of CC total subscribers were new to Adobe

Q1 2017: $4.25B ARR, a quarter-over-quarter increase of $265M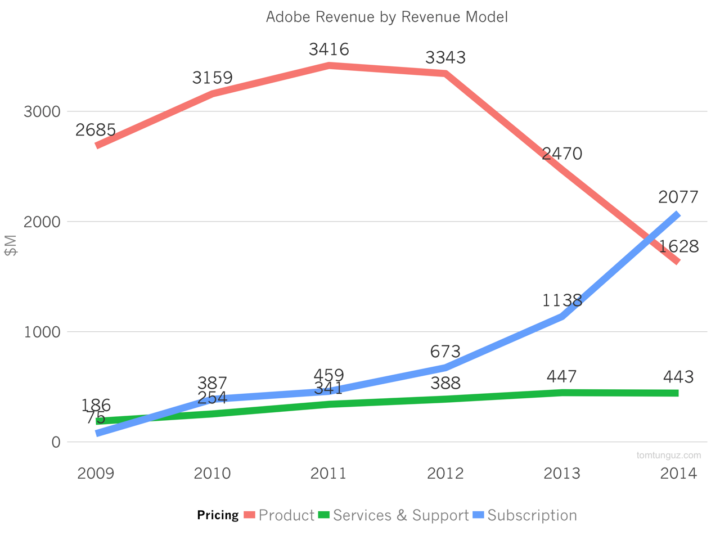 What we can learn
In many ways, what's more interesting about such a large-scale paradigm change for Adobe are the decision making and thought processes undertaken by the leadership and management teams. Pivots are hard at the best of times, and in many cases cause the kind of destruction that's irreversible.
In an interview with McKinsey, Adobe CFO Mark Garrett and VP of Business Ops & Strategy Dan Cohen give insights that are arguably more insightful than the numbers and metrics. Yes, the scale and revenue involved is incomparable for 99% of SaaS businesses — but the philosophy and challenges encountered by the leadership is something that can be taken and applied to everyday decisions in companies of any size.
Below are the key points I learned from the full interview transcript, published by McKinsey.
Experiment with side-by-side models to understand potential traction of the full scale
When it comes to risk, it doesn't get much bigger than throwing away your existing (successful) business model and shifting to a new unknown. But what strikes me about how Adobe handled this transition is how they were able to test subscriptions on a smaller scale for a significant period of time before going all-in:
"At the time of these discussions, we were experimenting with subscription models overseas and in the United States. We offered, side by side, similar products under both a subscription model and our traditional perpetual-licensing model, and we observed what the uptake was."
Creative Suite 6 (with its perpetual license) was launched in May 2012 alongside Creative Cloud (subscriptions), and was only recently retired in January 2017! For nearly 5 years, both options were available to consumers side-by-side.
Revenue growth through raising prices is not sustainable in the long term
"We were driving revenue growth by raising our average selling price—either through straight price increases or through moving people up the product ladder. That wasn't a sustainable approach."
In SaaS, price-raising is a common strategy for driving revenue growth that doesn't actually require businesses to win new business. In many scenarios it makes sense, particularly when products mature, gaining new powerful feature sets targeted to enterprise-level customers. Raising the price (or adding more expensive pricing tiers) reflects the increasing value delivered by the product.
What Adobe realised, however, is that the price-raising strategy is not sustainable in the longer-term. There's only so long you can keep hiking prices, even with consistent product improvements.
Stakeholder management and goal-setting is key to success
Adobe is a public company. Not everyone has to answer to Wall Street, but every business — no matter the size — has stakeholders that require careful relationship management. Big changes that involve killing (or at least maiming) your cash cow are sure to be met with high levels of concern.
Three things strike me about how Adobe handled the transition with its shareholders:
1. Over-communication
The point here is to go above and beyond the expected level of communication, to avoid leaving any questions unanswered when it comes to the execution. This process requires you to be proactive, rather than reactive.
"The point is, we were transparent. We over-communicated. When we did that, and when Wall Street saw the traction we were getting with the initial release, the stock started to move."
2. Goal-setting
A great way to inspire confidence is to consistently meet goals. Each time a goal is met, confidence is reinforced and compounds with each subsequent goal. When it came to subscription metrics, Adobe executives gave clear "markers" along the path to success:
"We gave them 'markers'—for instance, we said we were going to reach 4 million subscribers in 2015 and build up ARR."
3. Education
One big challenge for Adobe in moving to the subscription model was in helping investors see and think in the "new" way of measuring such a business. Subscription revenue requires subscription metrics — and the team at Adobe focused on educating investors on how exactly this was done:
"We shifted their focus toward the building blocks of the Creative Cloud business—subscriptions, annualized recurring revenues (ARR), average revenue per user, and revenue that was contracted and either deferred or in backlog"
Don't underestimate the cultural aspects of change
"We had to contend with some of that cultural antibody—especially given that we were a company that had been doing things the same way for almost three decades.
Literally any form of change is going to meet resistance in a company that's been around nearly 30 years, even changing the brand of coffee. But for younger startups, it can still be challenging to seemingly "undo" months of progress and pursue a different strategy. Employees in smaller businesses often feel a stronger attachment and sense of ownership over the work they do, and it can be disheartening to let go of that.
"We instituted open dialogue with employees—here's what we're going through, here's what it might look like—and we encouraged debate. Not everyone stayed, but those who did were committed to the cloud model."
The principles that Adobe followed with its employees apply to any sized business: Leaders need to be transparent, encourage debate and be open to the very real possibility that the "new world" is just not something certain employees want to be a part of — and that's okay!
"Dig in" and question every aspect of your current model
"For any company moving to a subscription model, you need to deliver ongoing value to the customer and also create new sources of value that didn't exist with the old model. You can't just sell the same offering in a different way."
The SaaS model revolves around delivering ongoing value to users. This may be obvious in 2017, but to Adobe in 2012 this was a level of foresight many businesses didn't even manage.
"In every part of the business, we had to dig in and ask, 'How do we need to do this differently?' Moving to the cloud affected how we engineered the products, our operations, and our go-to-market and business models."
With any change to your billing model or even pricing structure, it's worth taking a fresh look at every aspect of the business that could be affected by it. If you're offering a new premium plan, what does this mean for your support structure? How does the marketing focus need to change to accommodate expansion in the target customer base?
Dig in, and don't leave any stone unturned.
"You have to take a fresh look at your products—and be willing to 'burn the boats,' so to speak."
In other words, look for the things today that are taken for granted, and question every single one of them.
Listen and respond to feedback
Not every aspect of the move was a roaring success from day one. The initial subscription offering for Creative Cloud left hobbyists (particularly photographers) feeling sidelined:
"We learned an important lesson in this area early on, when we got serious pushback to our cloud plan from our photography customers, who felt the offering did not work for them."
In response to this, the company eventually introduced a Photography plan, packaging the Photoshop and Lightroom apps into a more affordable $10 monthly fee.
This shows that even with a year of financial modelling and running numbers, you can't expect to hit the right solution first time. Clearly for Adobe, there were some things they just couldn't see without the feedback of loyal customers.
In summary
Today, after a long transition period, Adobe has completed their transition to a subscription model – they no longer offer perpetually-licensed solutions for their creative software. The sheer scale and numbers involved in the success of this transition are hard to ignore, however they don't tell the full story of the organizational and cultural paradigm shift that was required.
The learnings and values listed above can apply to any business going through a major change of pricing model or product pivot. These changes affect all aspects of a business, and present huge challenges both internally and with communication to external stakeholders.