Analyze your data in aggregate to understand your business and grow revenue.
Export subscription data directly into your data warehouse
You probably rely on custom code or a range of tools to load your subscription and revenue data into your data warehouse. The Snowflake, Amazon Redshift, and Google BigQuery integrations allow you to synchronize your ChartMogul data into your data warehouse in just a few steps and ultimately make your internal analysis easier. No additional implementation from your end is needed.
You can export the following data points to your data warehouse:
MRR movements
Customers
Custom attributes
Tags
I export activities to recreate historical MRR by date for each customer. It becomes handy in analyzing different product trends where I want to look at customers of certain segments. 
When connected, ChartMogul will synchronize your data, which you can directly combine with the rest of your databases and tables. 
Configure a destination in ChartMogul
To add a new destination in ChartMogul navigate to Data Platform > Data Output > Destinations. It only takes a few minutes.
Follow the instructions in these step-by-step guides to get started: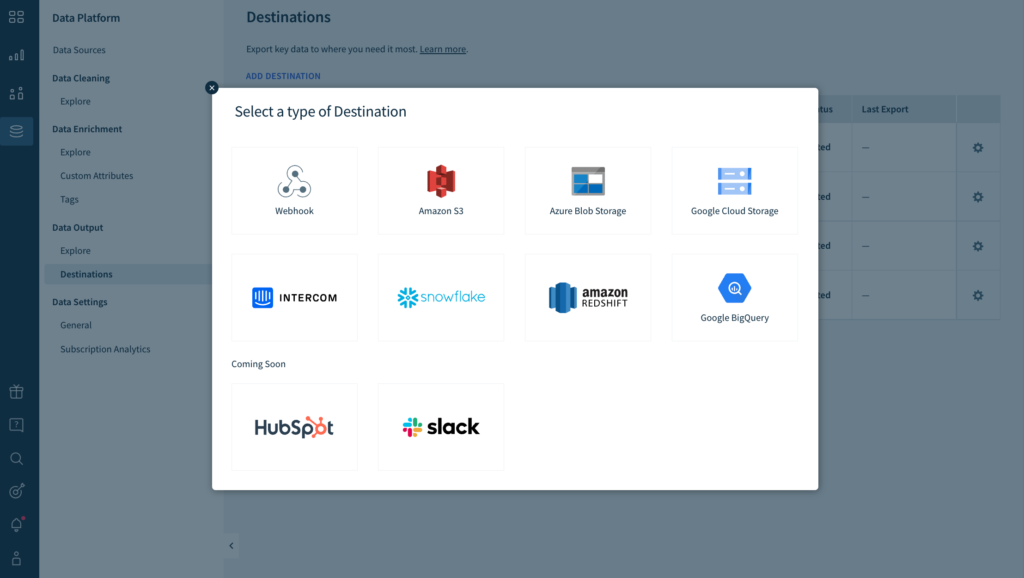 Destinations allow you to export normalized subscription data 
Combining revenue, product, CRM, and other data sets can uncover powerful insights. Destinations help you to export your subscription and revenue data out of ChartMogul with only a few clicks. For more on Destinations, check out our latest release, Amazon S3, Google Cloud Storage, or Azure Blob Storage as a destination. If you use Intercom, see how to enrich your Intercom customer profiles with data from ChartMogul.