Customer testimonials are like guac on a burrito…
They're essential, not an optional extra.
Checking reviews has become a fundamental step in the customer journey.
Customers are smart.
They're wise to your marketing and advertising techniques.
Hence, they need some unbiased proof that what your selling is worth buying.
That's why around 92% of buyers are more likely to make a purchase after reading a trusted review.
So, you need testimonials like you need your tasty avocado-based dip.
We're going to take you through everything you need to know about getting client testimonials and choosing the right ones to showcase.
As well as, how to use client testimonials strategically to make more sales.
The value of customer testimonials
Client testimonials are a form of social proof.
According to the Social Proof theory, people are likely to imitate the attitudes and behaviors of others when they're unsure how to act.
What's more, we're more likely to imitate people we see as similar to ourselves, in age, community, etc.
The same goes for people we perceive to be more knowledgeable than ourselves.
And, finally, the greater the number of people who believe something to be true, or a behavior, correct, the more likely we are to believe it too.
It's like how everybody says that Stranger Things is great, so you start watching it on Netflix, too.
Or the more testimonials that say a product is the best thing since sliced bread, the more likely a buyer is to believe the product is the best thing since sliced bread.
This is the kind of powerful effect testimonials can have for your brand.
Especially, considering the fact that 78% of consumers trust online reviews as much as personal recommendations.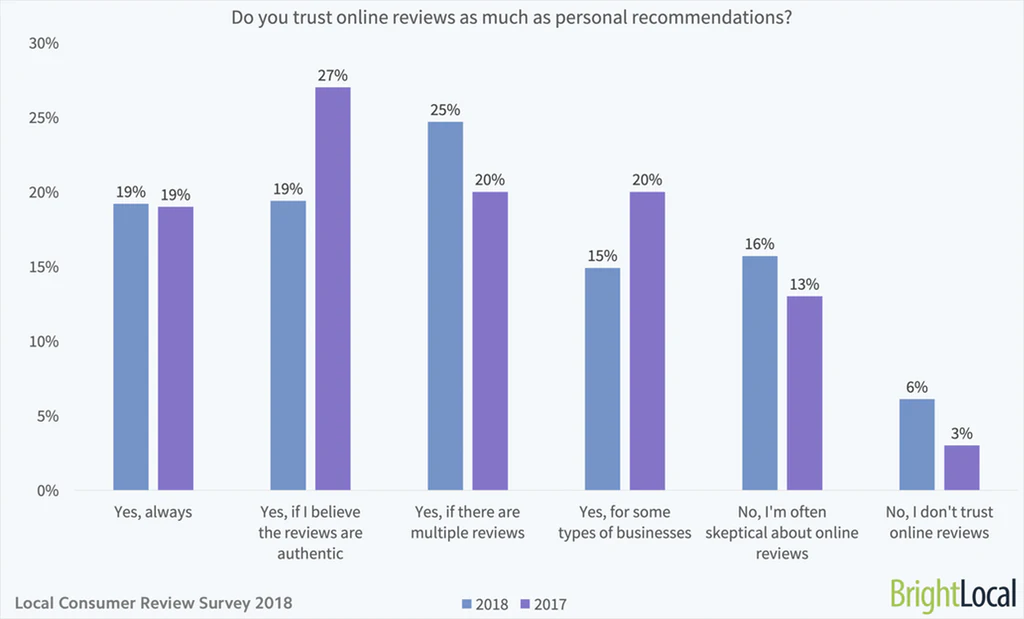 Testimonials are convincing.
They build trust as people see endorsements that come from real people—and in many cases, micro-influencers—rather than a business. Meaning testimonials remove any doubts a consumer may have about making a purchase.
Which ultimately leads to more sales.
One case study showed that testimonials on sales pages can increase conversions by up to 34%.
It's hard to deny that client testimonials have a ton of value for businesses. It's clear that you need them, but how do you get them?
Learn more:
How do I get client testimonials?
Boost the likelihood of getting testimonials by approaching customers in the right way.
Here's what you need to do:
1. Keep it simple
One option is to automate your requests as part of your regular email communications, as TradeGecko does here: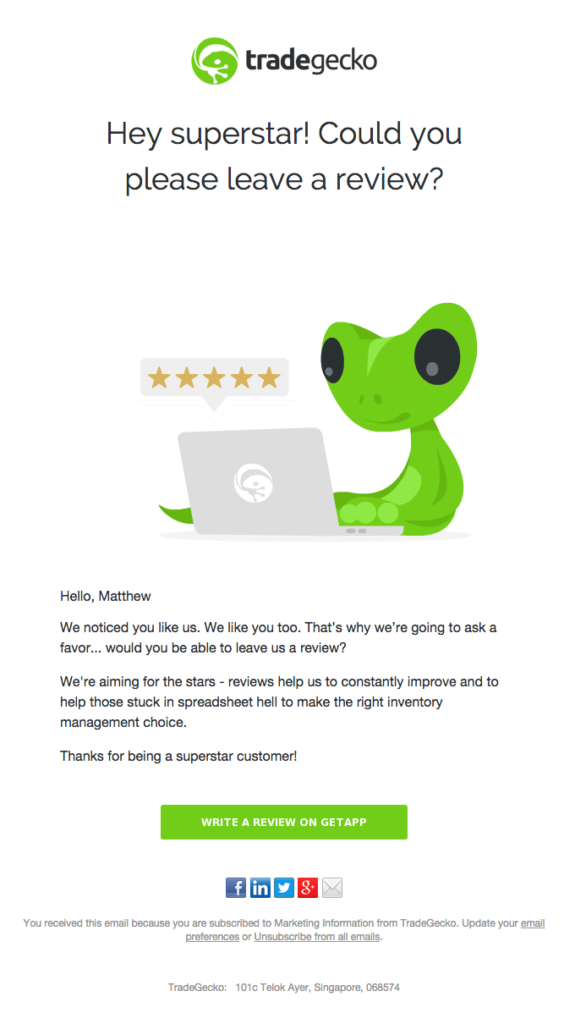 To increase the chance of a customer leaving a review you have to make it as simple as possible for them to do so.
TradeGecko sends out a short and simple email with a direct link to where users can leave their reviews.
Also, note how they emphasize the value that leaving a review has for the user, i.e. an improved service.
This creates an incentive for their users to take part.
2. Personalize your request
Another way to boost your chance of success is to deliver more personalized emails.
Target specific clients after they have reached the all-important a-ha moment or surpassed one of their goals.
They are more likely to become evangelists for your product at this point.
Here's a template you can use from HubSpot: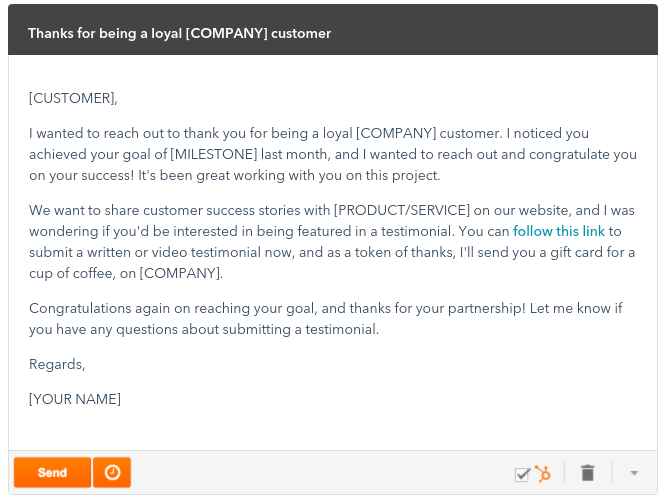 A well-timed, personalized email like this is mighty persuasive.
It also gives you the opportunity to emphasize how much you value your customers and celebrate their successes with them.
Everybody loves a little pat on the back, after all.
What you may also wish to do is guide customers in the direction you want for your testimonials.
You could ask questions, such as,
What problem did [product] solve for you?
Why did you switch to [product]?
How do you use [product] to improve [pain point]?
So, not only can you increase your chance of getting testimonials, but you can get testimonials that match your objectives.
What makes a good testimonial?
Client testimonials should incorporate storytelling.
You want real people talking about their experiences with your product.
This brings a sense of authenticity to your brand and appeals to consumers on an emotional level.
Celinne Da Costa at Forbes explains that due to "today's fast-paced, overly-automated, and digitally-driven society" there's an increasing need for genuine connections between brands and customers,
In this environment, businesses can no longer afford to be faceless entities. To survive, businesses need to connect with audiences, pull at their heartstrings, and engage with them on a much deeper level than seen before.
And the best way to connect with an audience is through storytelling.
Here's an example: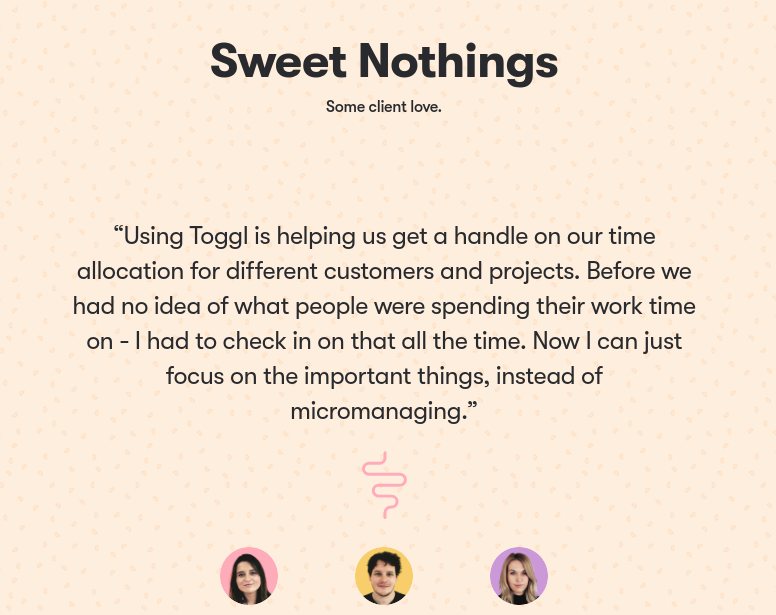 This testimonial takes us on a journey with the user.
It not only outlines the benefits of the product, but also how it impacts the day-to-day of the user.
Another way to make testimonials more engaging is to personalize them.
Marketers use personalization to deliver better customer experiences (88%), increase loyalty (59%) and generate ROI (50%).
In this case, personalization means using reviews from people who represent your target audience.
It makes testimonials more relatable, and therefore more convincing.
Take a look at this example from accounting software provider, QuickBooks:

Each testimonial comes from a small business owner, which is no doubt the demographic this company is trying to reach.
Finally, good testimonials are benefits-focused.
You may express your value proposition somewhere on your site.
But it's more impactful to have previous customers say that your product or service solves a problem.
The testimonial acts as proof of the value you offer.
Take this example from subscription box service, The Beard Club:

The review illustrates the company's USP with one simple word, "convenient".
Naturally, the reason why customers want to use a subscription service like this one is convenience.
To summarize, good client testimonials engage storytelling, are relatable and convey your USP.
Where to use customer testimonials (+ examples)
A well-placed testimonial could be the deciding factor for a potential customer.
Customers are even willing to spend up to 15% more on a product or service if they're assured they'll get a better experience.
There are several places on and off-site where you can use testimonials to encourage conversions.
Here are the top spots:
Landing page
The objective of a landing page is to convert customers.
Thus, it's a good idea to use testimonials here to convince users to opt-in.
Here's an example from Loomly: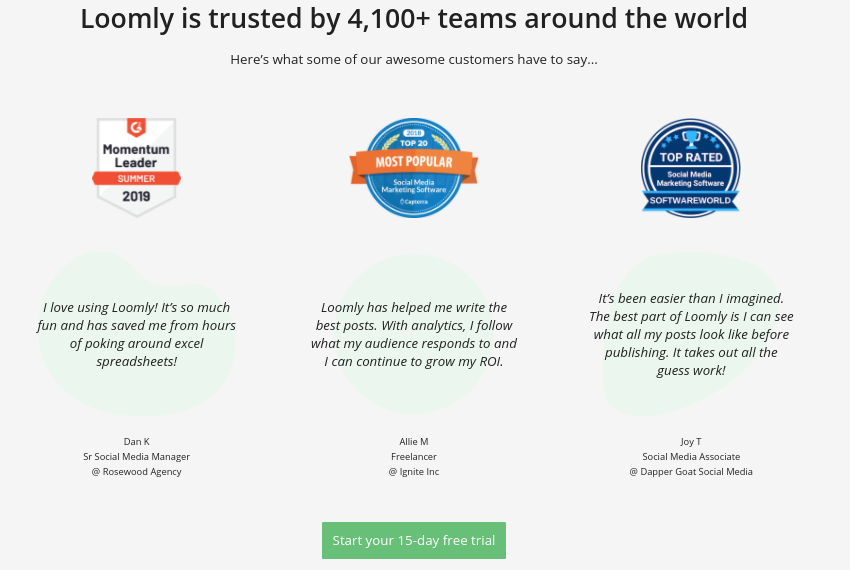 Loomly hits users with a social proof triple whammy here.
They feature the number of users, seals for awards they've won and testimonials.
It's okay to go all-in with the social proof and feature multiple testimonials on your landing pages.
Because, unlike other pages or blog content, for example, the purpose is indeed to sell your product.
Testimonials page
You may wish to create a dedicated testimonials page on your website.
It makes sense when you sell digital products because potential customers carry out a lot of research before they consider making a purchase.
There's a much longer purchase cycle for B2B and SaaS buyers.
Take a look at Buzzsumo's testimonials page: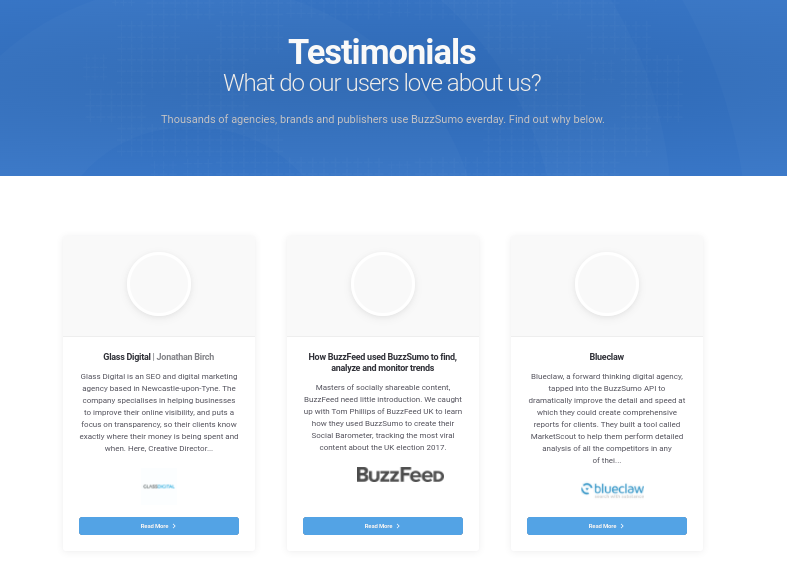 Buzzsumo has really gone the extra mile by publishing interviews with their top clients.
You could do something similar by finding your main evangelists and asking them to take part.
What's more, Buzzsumo namedrops industry leaders.
You can magnify your social proof by acquiring testimonials from top experts or companies in your niche.
Features page
Why not spread the love around your site?
Reviews on features pages are particularly convincing as they allow for greater specificity.
Hootsuite adds this review to their feature page for content scheduling: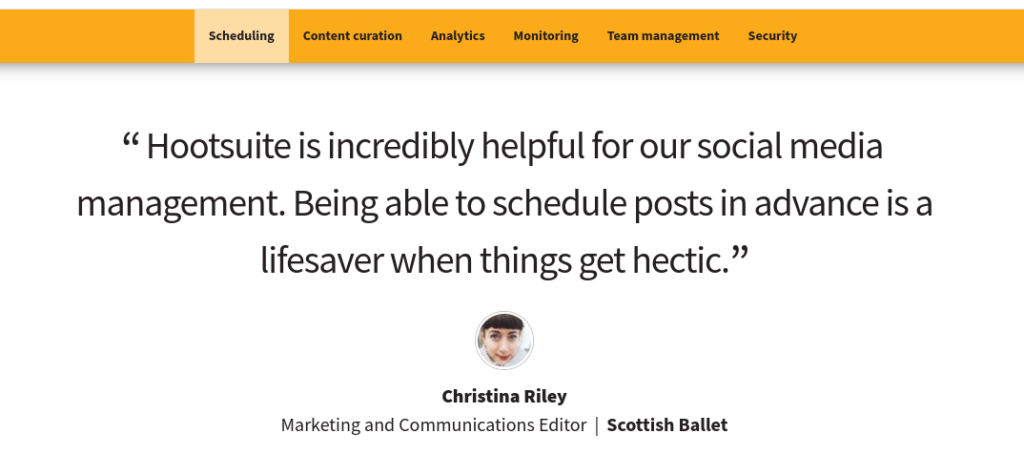 The review isn't a general, "This company is great."
But rather "This product is great because of this feature which helped me do XYZ."
If you can grab reviews for multiple features, you'll be able to appeal to the specific pain points of customers.
Customer stories
You can place customer stories on your blog, in guest posts or on a dedicated page.
As stated above, storytelling is important for testimonials.
Customer stories are memorable and emotionally engaging.
Salesforce has a dedicated customer success page:

It's excellent storytelling.
The story not only showcases the dramatic results the customer has achieved by using the product but also how they are able to 'pay it forward' and help their own customers.
Find your most compelling customer stories to feature and make them engaging.
Naturally, you can frame this type of testimonial as a 'customer success story', 'use case' or 'case study'.
Paid Ads
Testimonials make your paid ads, e.g. social ads, more effective.
They're a great way to convince your customers to click without using sales-y copy.
Consumers expect to see authentic-looking posts on the likes of social media.
Here's an example of a Facebook ad that includes a testimonial: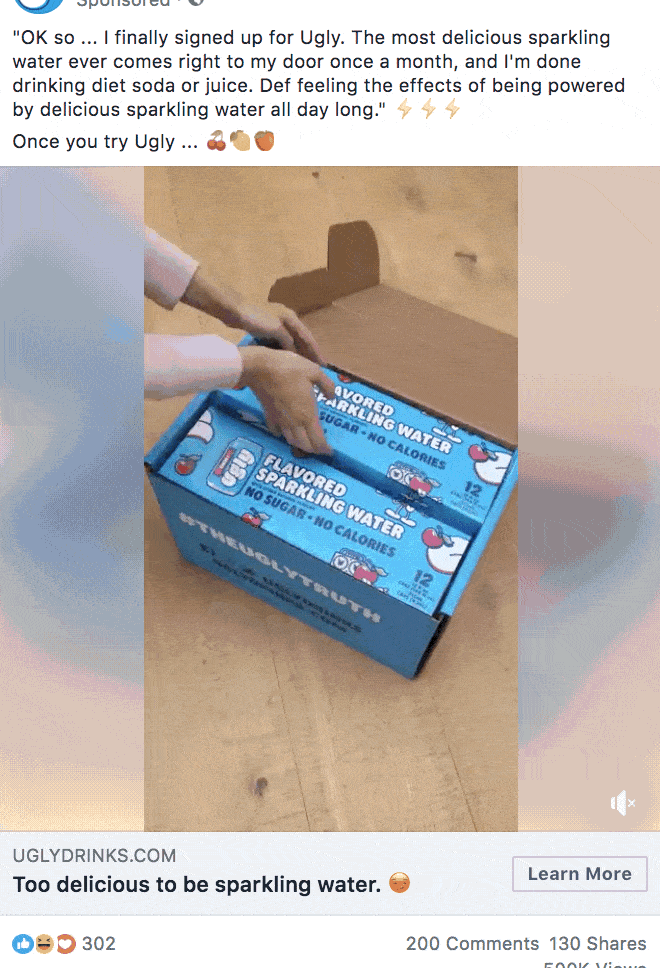 They use a customer testimonial that sounds natural and relatable.
What's more, the customer describes the rich benefits of the product while addressing a customer pain point i.e. users want to drink less soda.
Use testimonials with natural language that address customer pain points to make your ad more clickable.
Social media
Share testimonials, reviews, and product mentions that fans post on social media.
Consumers spend a lot of time on social media.
Therefore, it's the perfect channel to increase the reach of your positive endorsements.
Furthermore, customers can engage with the review by leaving likes and comments, potentially creating a buzz around your product.
Here, Elementor features a range of user-generated social posts on their homepage: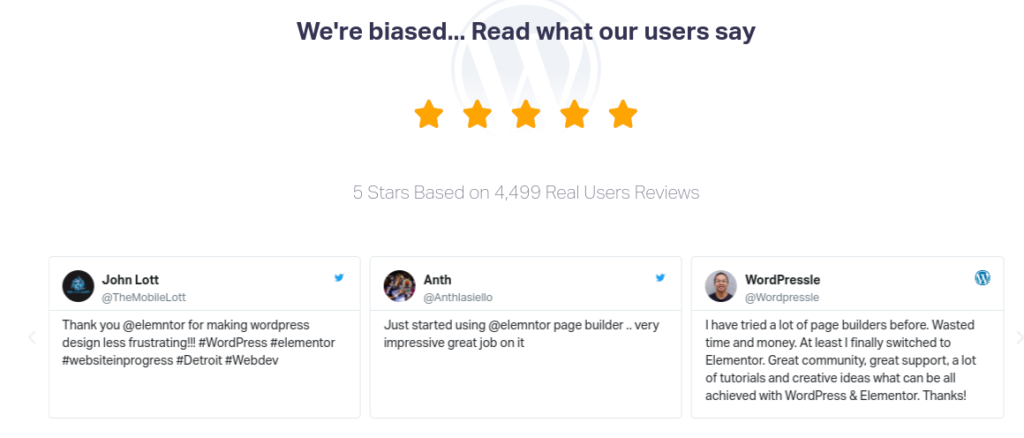 What's interesting is that Elementor says exactly what potential users are thinking, "We're biased… Read what our users say."
So, grab endorsements from social media to feature on your site.
Or simply, share, re-tweet, re-post, etc. directly on social media to encourage engagement.
Email
It's difficult to get customers to click through to your website from an email.
But, a testimonial could be just the thing that encourages the recipient to click.
There are many ways to include testimonials in your emails.
You could include specific reviews that relate to the products in your newsletter.
Or share a complete customer story in one email.
And even dedicate the entire email to social proof, as Eight Sleep does:

This email contains reviews from highly credible sources, as in top-class sportspeople.
Which maximizes the social proof here.
Furthermore, they're sources that Eight Sleep's target audience, health and fitness enthusiasts, will respect.
Experiment with ways of including testimonials in your emails to make them more persuasive.
Video
Video takes your testimonials to the next level.
What's more convincing than watching a real person talking about a product they've used?
Subscription service Rituals features a number of video testimonials on their homepage: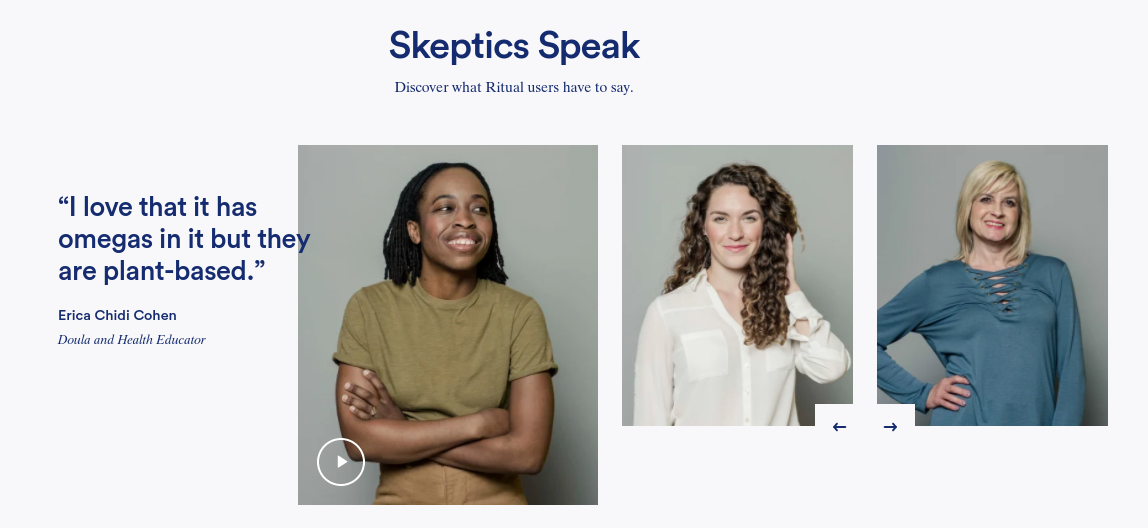 The company has chosen a particularly interesting angle.
They've used former skeptics who've changed their minds about the product.
In the videos, real users outline a list of benefits they've seen since using the product.
Try creating unique testimonial videos to entertain and engage viewers.
Customer testimonials are a sales goldmine
The large majority of consumers check customer reviews before they make a purchase.
But the reasons you should use testimonials goes beyond the fact that customers expect to see them.
They provide unbiased social proof and convince consumers to make the decision to purchase.
Getting client testimonials isn't easy but you can increase your chance of success if you approach customers the right way.
Once you get testimonials, choose those that are relatable and emphasize your main value proposition.
Finally, place testimonials where they will be most effective to boost sales.
Now, it's over to you to enhance the way you use testimonials for your brand.
About the Author
Emil Kristensen is the CMO and co-founder of Sleeknote: a company that helps e-commerce brands turn their website browsers into buyers—without hurting the user experience.