I'm the founder of HostiFi. We're a managed cloud hosting provider for Ubiquiti UniFi and UNMS servers. The majority of our customers are IT/MSP service providers and WISP operators. As a two-employee, remote-first team, we are managing over 850 servers with 45,000+ Ubiquiti devices connected to our platform.
In January 2020, I decided to run a pricing experiment by increasing the price of the minimum plans at HostiFi from $19/month to $49/month for new customers. I felt that the business and product have matured significantly in the last year and provide enough value to justify the price increase.
What I learned from this price increase is that I have two different customer groups. One is getting more value from the product than the other. The group getting more value has no problem with the new pricing, and still feels it's cheap. The other group was barely satisfied with the old pricing and thinks the new pricing is insanely expensive.
In the end, I chose to ignore the complaints about pricing from the group not getting as much value, and focus entirely on the group that values our service the most. By generating 2.5X more revenue from the group that values our service, we've more than made up for the customer group turned away by the pricing increase.
It turned out to be a record growth month in January, bringing total MRR up 12% from $15,436 to $17,390:

The experiment itself was pretty simple. We've been averaging 89 new customers per month for the prior 3 months at an average sale price of $18.76/customer (most purchased the $199/year plan).
Before increasing prices, I decided I would measure whether it was a success or failure at the end of the month by comparing MRR gain this month to the prior 3-month average. If traffic this month was close to the average and we still hit or exceeded the average MRR gain of $1,669 ($18.76 * 89) from the previous 3 months, the price increase would be considered a success. If not, I would reevaluate and consider lowering the price.
At the end of the month, the conversion rate dropped from 1.3% to 0.6%, but the average sale price increased from $18.76 to $45.15. Even though we only had half the usual number of new customers this month, MRR gain increased from the prior 3 month average of $1,669 to $1,896. The price increase was a success. There's still sufficient market demand at the higher minimum price.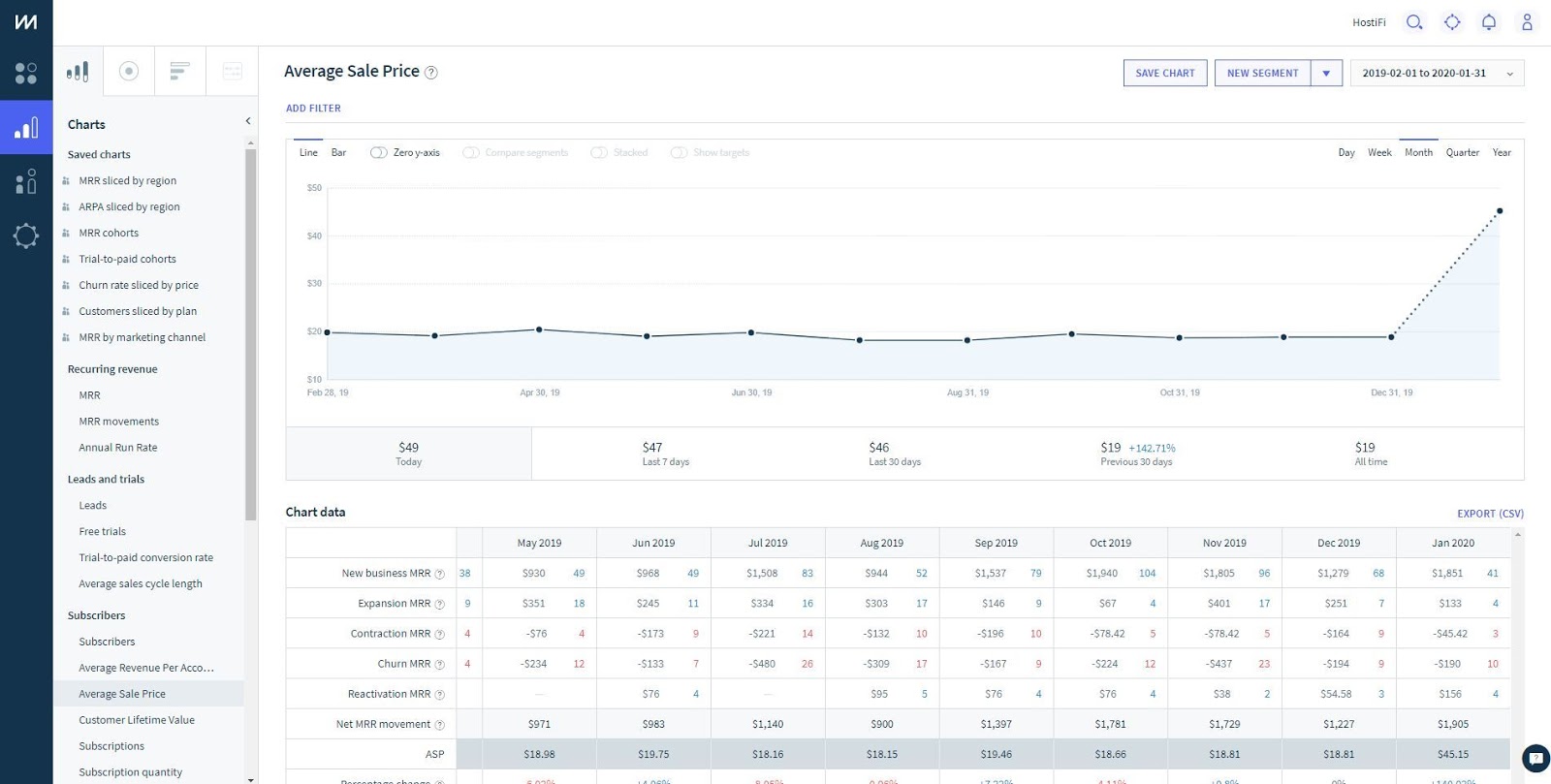 Why I increased pricing
I'd like to make more money so we can continue to invest in providing the best support for every customer, and pay good web developers to build us a better website with more self-service server management features for our customers.
Who wouldn't want to make more money and work with fewer customers? But there's more to it than that. Here are my thoughts.
The new pricing is still underpriced and overdelivering
There is great advice from Tyler Tringas's Micro-SaaS Ebook on underpricing, and overdelivering in order to exceed customer expectations. It leads to lower churn, lower support expectations, and ultimately, happier customers who refer their friends. Part of what makes a good Micro-SaaS idea is providing a service that 5x better than what customers currently pay for.
With this in mind, I still think the new pricing is underpriced and overdelivering. We are still providing 5x better phone, live chat, and email support than Ubiquiti Elite. By combining the low cost of Ubiquiti products with the service and support of Cisco Meraki, we've created the best of both worlds in this space at a great price.
Quality over quantity
With the new pricing, we're focusing on quality over quantity. The level of support we provide is a unique selling point for our business, and the price increase will allow us to continue to provide dedicated support for a smaller group of customers.
Firing/repelling the wrong type of customers
The price increase has been received very differently by two groups of customers, as I mentioned before.
✔️ IT/MSP businesses, WISPs, established businesses with IT departments
I met with ~25 IT/MSP business owners, WISPs, and IT department leads at established businesses to do UniFi and UNMS Demos in January, and the conversion rate after a demo is close to 100%.
In most of the meetings this month, I've been told that our new pricing is still a "no-brainer for the value provided".
I didn't have a single complaint about pricing, and many of them were even telling me to charge more because they want to be sure we stay in business!

Tweet this quote
❌ Prosumers, IT installers not charging for network management
At the same time, we've received lots of complaints about the pricing being too expensive from people who are managing equipment for their homes, or IT installers who do project work but don't charge their customers for ongoing server and network maintenance.
Investment vs. expense
There's an important difference between what the two groups are looking for. For the first group, the servers we provide are usually revenue-generating, or the buyers are investing in better support and resources for their business. For the second group, what we provide will never be anything more than an expense.
For the first group, if an MSP only has one customer on UniFi with 25 devices and they are charging $10/month per device, they're generating 5x the cost of our service.
For the second group, an IT installer who has finished dozens of UniFi installs but isn't generating recurring revenue from any of them, or prosumers installing in their home and for friends, we are getting requests like "We only have X devices, is there a discount?"
The first group sees the value in the service and has no problem paying for it, but the second group will always be looking for the cheapest solution. They'll be quick to churn if they can find a less expensive way to do it.
It's been hard to make this transition because I do want to make everyone happy. I don't like to see anyone complaining on social media about our service being too expensive. But at the same time, after looking at the data from it, this is clearly the decision that is best for our customers and our business.
If we had continued down that path trying to please both groups, our support quality would go down over time because we'll have to service more customers at a lower price per customer. I'd much rather provide a better service for fewer customers and make more money doing it, and the data, so far, is showing that we'll be able to do just that.
Great businesses focus on their main thing
What I've learned from meeting with hundreds of IT business owners since I started HostiFi is that the successful ones focus on their strengths and outsource everything else.
At HostiFi, we stick to our strengths which are Ubiquiti tech support, Linux, UniFi, UNMS, and the scripting required to manage the backups, SSL installs, and updates of these servers at scale.
Everything else is outsourced.
Infrastructure is on Vultr, bookkeeping is handled by Pilot, phone service is provided by 8×8. The list of things we could do in-house but choose not to because it's not a core focus for our business goes on and on.
I've written about some of the tools we're using for our team for example.
Just because you know how to manage an UniFi or UNMS server, doesn't mean it's the best use of your time or your team's time!
If you'd like to talk about having HostiFi manage UniFi or UNMS for your business, you can schedule a time to meet with me here: