With a couple of clicks you can import all your subscription data from Recurly into ChartMogul and get a complete picture of your recurring revenue metrics.  Plus all new activity in your Recurly account will by synced to ChartMogul in real-time. This gives Recurly customers access to key metrics like MRR, LTV, Churn rates and other important analytics essential to every SaaS subscription business.
This is what your dashboard will look like once your data is imported.
We're committed to supporting the Recurly community and this integration comes with the same functionality as our Stripe and Braintree integrations which have been available for some time.
We've started sending invites out to Recurly users who signed up for our beta.
As this is very new there may be bugs/issues we don't know about yet – if you do encounter any problems importing your data from Recurly please email support@chartmogul.com and we'll investigate right away.
If you haven't yet received a ChartMogul invite and would like to try out our Recurly integration please email support@chartmogul.com or Tweet @chartmogul and we'll be happy to oblige.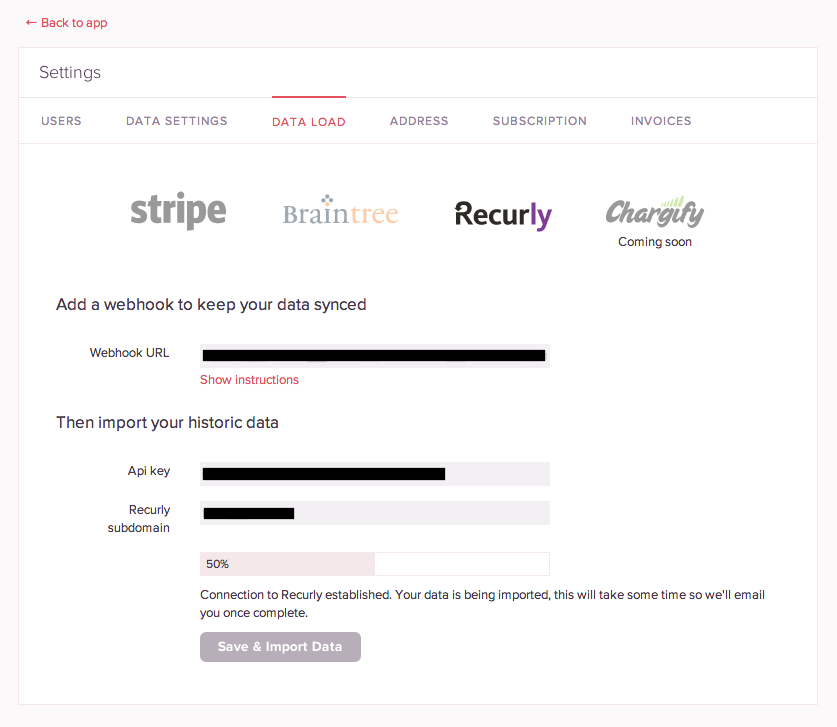 Existing ChartMogul users will see this additional option under Admin > Data load