A bit of background
GetResponse provides an all-in-one online marketing platform for teams that need to build landing pages, send emails, run webinars, and more. Teams all over the globe rely on their suite of web-based solutions to streamline and to automate different aspects of the customer journey.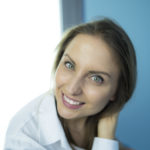 Enter mobile. Enter Aleksandra. Aleksandra left UberEats to join GetResponse about 8 months ago. She's now responsible for leading an impressive mobile growth team. Her experience is rooted in developing and scaling mobile products.
In her role at GetResponse, she's charged with launching a new app that will help GetResponse acquire new customers in different segments and extend features (as well as availability) to current customers using their web-based app. After all, doesn't everyone want to check their latest campaign on the go?

Big thanks to Aleksandra for sharing her thoughts and experience, which I've done my best to review in the text below.

On key mobile growth and strategy
S: Hi Aleksandra. So I've prepared a few questions and we can go through them now and see where our conversation takes us. First, I'm hoping to understand: How do you get the full picture of key metrics when you're dealing not just with web-based data but mobile too?
A: Mobile growth roles require a high level of data literacy. You need to follow data from the iTunes App Store and Google Play and understand how it translates to user acquisition. Much of my day-to-day is: getting my hands on the necessary data sets, running experiments, analyzing what is significant, and tweaking here and there to improve retention.
It's really important to understand the concept of and to use dynamic links. Dynamic links for mobile apps allow you to redirect the user to your app depending on the device he or she is using. This allows you to track the performance of one link versus another. Setting up different dynamic links for each of your campaigns is essential because it helps you appreciate and understand the journey from campaign to install. That way, you can make it as short as possible. You can create dynamic links in different attribution softwares — and you should use them everywhere to understand where your users and customers come from.
Also, there are so-called deep links. Deep links allow you to redirect the user to a specific place in the app and are often used for retention campaigns — especially if you want to show the user something specific.

S: Sounds similar to other growth efforts, but in some ways, even hairier because you're managing available information from iTunes and Google Play in addition to standard multi-touch web-based attribution data.
A: Yeah, that's why we typically ask for someone's mobile phone number or email on our website, so that we can tie different parts of the user journey together using those dynamic links. You need to control the process in order to confidently answer questions about attribution.
Mobile metrics and churn
S: What are the top of mind metrics that you wake up thinking about? What's relevant for mobile growth teams and for mobile businesses generally?
A: Actually, it's kind of similar for mobile apps and web apps because you need to analyze the whole funnel and figure out what is making users opt for your product or service. So, you need to understand how and why free users turn into paying customers, yeah? In some ways, the funnel has more dimensions, though.
Specific to mobile apps, you should also think about:
MAU — monthly active users
Conversion from install to open or to sign up
Conversion from free to paid
LTV of the user
All churn metrics
One of the key challenges for mobile apps is churn. It's quite common now for apps to play with different subscription types and pricing as a way to combat churn.
S: Ah churn. Yes, I have a lot of questions about that. What does churn look like for mobile apps? What kinds of things do you do to fight churn?
A: About 71% of app users churn within 90 days. That's a lot. Some users uninstall the app from their phone; others simply forget that they installed it to begin with. So it's a big deal.
It's super important to predict churn likelihood for specific groups as soon as you're able. You should figure out how churn tolerant you are and then start to experiment with small groups of users to stay on track.
You can experiment with specific messaging, push notifications, and in-app messages. But it's not only about communications and re-marketing, but also about adjusting the actual app itself based on user behavior.
One really cool thing that some games apps do — for example — if they identify a user or group of users is likely to churn, they can make playing the game easier for those users.
With this and really any kind of experiment, you want to measure the impact — is it statistically significant? If so, it has incremental impact on helping you minimize churn and then you can apply that change to all applicable segments.

On process and technology
S: Sure, so lots of areas for experimentation. What processes need to be defined to make sure that you're changing and improving the right things?
A: There are a few important areas that you need to give structure depending on where you are as a business. I'd also encourage teams to physically write out their growth hypotheses and test them one by one in a systematic way.
One of these key areas is app onboarding. There are a lot of ways to get new users — you can pay for the traffic, use ads, leverage partnerships, PR — top of funnel standards. But from there you need to make sure that active users understand and see the benefits of your app as soon as possible. A common tactic to facilitate this is to log new users in as guests. This way, they don't see the login or create an account screen, and can instead start to use the app directly after install.
Another key area is app store optimization. You should set your strategy and process for optimizing your app's visibility. This often requires a lot of cooperation with different teams — design, keyword research, data analytics — so you'll want to make sure everyone is on the same page.
In terms of product, it's important to regularly add new features and content to the app. You should plan to inform users about anything new in a relatively consistent way in order to increase stickiness. Plan and communication roadmap for small fixes and features for upcoming months so that you can publish regular releases. This can actually help with conversions because if you see, for example, that an app was most recently updated 2 years ago, you may be less inclined to use it.
You of course need to choose the right technology when it comes to building the app, the cloud service you want to use, and then make sure that you are using mobile-specific attribution software in a consistent and reliable way.
S: Got it, so there are some core areas that need definition and consistency across the growth team. Makes sense.
A: Ah, and one more thing. You need to decide if you want to be focused on volume or on revenue. It's hard to do tons of app installs and of users and to simultaneously have super high conversions and revenues. A lot of teams focus on volume first so that they can create virality and learn from their users. Then, step by step, they work to improve monetization. If you're focused on monetization right away, you might have bad reviews and ratings which will hurt your app store positioning a lot.
S: Is there a recent project or experiment that you conducted that could share with us? A hypothesis, something we did, and the result.
A: Definitely. We actually pushed new users into the app without a sign up screen during onboarding and found that engagement, retention, and LTV was much higher. One of the drawbacks, though, is that you get a smaller number of emails and contacts, but for us, it was worth it.
On necessary tools
S: On the topic of technology, what do you think every mobile growth team should have in their toolkit?
A: Well, a lot of what you'll use depends on budget, but I'll review some basics. First, when it comes to analytics, you should be monitoring the information from the App Store and Google Play. This data, however, is not unified, so it can be a bit tricky.
Firebase which is Google Analytics for mobile apps. It's a free app and I really recommend using it — it includes key conversion and retention analytics but also helps you develop the app. It doesn't allow you to see financial metrics — you can see more or less the revenue but it's not very detailed because it usually just includes revenue from Google Play.
When it comes to top of the funnel, you'll likely use Facebook and Google Ads. We of couse use our own tool, GetResponse, for marketing automation. Then you need some tools for ASO (app store optimization) and competition tracking. AppAnnie, AppTweak for keyword research, category ranking, and tools like Survicate for product and customer feedback. You should plan to report on these things weekly.
On mobile growth struggles
S: What are your biggest frustrations in the mobile growth space or in your role today?
A: Haha, well attribution. I think it's a common problem for all marketers.
For mobile specifically, I've mentioned this, but it's difficult to unify data from Google Play and the iTunes App Store. The acquisition and revenue data in each dashboard and the naming conventions are different. You need to download the data and play with it a bit. Part of the reason there is such a difference here is because Google Play recently launched subscription for mobile apps and there's more work that needs to be done here.
Of course, then there's also reviews. For mobile apps, you're likely getting reviews on a daily basis. You can't stress when some users have unmet expectations that are especially high — but it's both important and challenging to distinguish what feedback is most valuable.
On the future of mobile growth

S: Where do you see the future of roles like yours and any predictions about what we'll see in the mobile subscription space in the months and years to come?
A: Many people are using their mobile devices rather than computers for major day-to-day activities. So I think B2B and B2C companies will need to think about how to engage users on mobile. Like e-commerce businesses for example are launching mobile apps to increase revenues and to give their users incremental value.
From the customer standpoint, subscriptions can be much cheaper — especially for the apps that you're using regularly. So we'll definitely see more of that and perhaps some creative pricing/plan options for on demand.
There's also the idea for launching subscription offerings that are more convenient for apps used daily like Uber or Foodora. This might mean paying less and having to worry less about paying each and every time.
Finally, subscriptions for gaming — bundles of tools and game enhancements. We're sure to see more of this.
S: Cool insights. That's all the time we have, but I really appreciate you sharing this detail with us. And good luck with this week's experiments.