GymForLess is a desktop and mobile marketplace that gives fitness enthusiasts instant access to thousands of gyms across Spain. Their more than 200,000 users can book time at a gym, or a space in a specific class, right from their smartphone.
Services like this are a natural fit for subscriptions, but that's not where GymForLess started. Back when the company first launched in 2014, they only offered daily passes to gyms throughout Spain. So why the change?
"Ultimately it's about convenience to the end user," said Valeriia Stepanova, marketing manager at GymForLess. "With a subscription service, there's no registration fee, no permanence. And for us, it was about generating more dependable revenue. Before, users would maybe go to the gym four to five times per month. And usually less over time. By moving to subscription, we have more confidence in the money we earn each month."
Since customers can cancel at any time, GymForLess knows they need to earn their business each month, which means they're laser focused on metrics like churn, retention and customer lifetime value.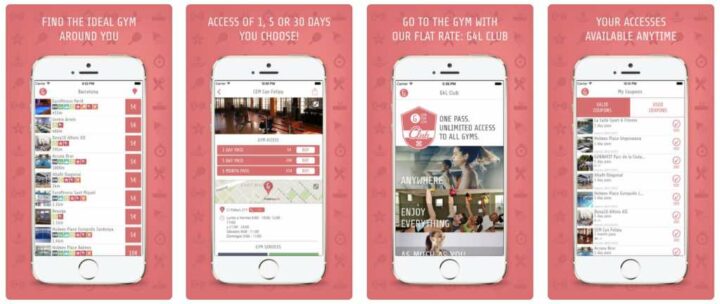 GymForLess helps users find gyms and fitness classes in their city.
Crunching the numbers with ChartMogul
When GymForLess was a straightforward, transactional service, it had an analytics setup to match. "Our top metrics — number of customers, passes sold — lived in Excel." Once they made the move to subscription, they found that they were suddenly dealing with a much more complex setup, and they needed a way to access and analyze their most important metrics in real time.
GymForLess offers three consumer plans, plus a corporate-facing offering for employees, each of which unlocks access to a certain number of gyms. The company pays a fee to each gym based on user activity, so they must constantly measure and rebalance plans to keep churn low while maximizing profits.
"We manage thousands of merchant relationships. Each day we need to monitor our subscribers and track revenue per user across plans to optimize our per-gym pricing."
Being able to look at specific cross-sections of revenue is crucial to GymForLess. Fortunately looking at plans, cities or custom segments — like Gold plan members in Ceuta — is no sweat with ChartMogul's built-in filters. Each day, the team can log in and look at monthly recurring revenue, churn, retention, lifetime value and more.
"I find ChartMogul's user interface really easy to use. I love that I can quickly look at metrics like MRR, churn and customer lifetime value and slice that data by plan, city and more. We rely on this data to optimize our plans and pricing, so it's important that we're able to export our full customer data to run further calculations. ChartMogul makes it easy to do just that." — Valeriia Stepanova, marketing manager, GymForLess
Using data to optimize plans, retain customers
The data produced by ChartMogul helps the GymForLess team dream up new product and marketing initiatives. At one point the team noticed that overall churn on B2C plans was higher. Rather than lower the price for the Premium and Gold plan, they instead launched a new feature — Rewards — which lets users earn points by completing challenges. These points can be applied to the next month's renewal, reducing their payment by up to €10. The result? They were able to reduce churn by 15%!
Using cohort analysis, GymForLess can look at groups of subscribers and see when they're most likely to churn. With this information in hand, GymForLess introduced new features like Friend Pass — letting users bring up to two friends per month along for a class — and Training Plan — which generates personalized fitness plans based on a user's goals and current fitness level. Rounding out their monthly service with additional features helped GymForLess shave an additional 15% off their churn — huge gains for any subscription business.
Turn your revenue metrics into a growth driver
Companies like GymForLess, Typeform, Calendly and more rely on ChartMogul to analyze and improve their business operations. See how ChartMogul can help your business — sign up for a free 14-day trial or email sales@chartmogul.com to learn more.