For the past 5 years, we've been focused on building the best subscription analytics product on the market.
In that time, we've learned just how complex subscription data can be. Every subscription business is unique in its own way — pricing and plans, payment terms, the billing systems they use, the discount structures, etc.
Even a company with a few thousand customers generates thousands of data points — from subscription changes, invoices, transactions, etc. — every day.
This data is a vital resource every subscription company has to use to help understand their business and take action based on the insight it uncovers.
Our learning over the past 5 years has taught us that subscription businesses don't just need a system to track their metrics, but a platform that allows them to:
integrate their customer and revenue data from different systems — billing and otherwise, so it's all in one place and easily accessible,
easily clean up that data so it's in a usable format,
analyze it to understand the forces that are impacting their business,
and take action (sometimes automatically) based on the metrics generated and insights discovered in that platform.
It's this learning that led us to design and build the world's first subscription data platform, and why we're so excited to finally be launching it today.
What is a subscription data platform?
In this video, I discuss some of the background behind the ChartMogul Subscription Data Platform, as well as what's being released today.
How the idea was born
Over a year ago we were trying to find solutions to two rather unrelated problems. We wanted to…
dramatically improve the user experience of uploading subscriber data from spreadsheets/CSV files to ChartMogul
and increase transparency (and trust) in our offering by giving our users access to the underlying datasets that go into building their subscription reports
For the past few years, many of our customers have relied on our Google Sheets add-on to import data from spreadsheets into ChartMogul. Although this sort of worked, it was never great. The limitations of the framework provided by Google meant we could not improve the user experience. This left customers using the Google Sheets add-on with a subpar data import and management solution.
So we started designing solutions, one of which was to build our own "spreadsheet editor" inside of ChartMogul so users could just input their data there. That data would simply become THE data on which MRR and other metrics are built, no sync with an external spreadsheet app required.
Then we thought:
What if we just think of each data source (regardless of its type) as its own multi-tab spreadsheet?
As we started sketching we realized that this could work quite elegantly:
Users would input data into a spreadsheet inside of the ChartMogul app, which would then be used to generate metrics in real-time.
The integrations we maintain would work by parsing the data from 3rd party billing systems into a format that fits these spreadsheets and then subscription metrics would be calculated off of those "spreadsheets" too.
We'd be exposing the underlying data to the user, and, at the same time, making uploading data from CSVs/spreadsheets ChartMogul dramatically better.
We also realized that taking this work further could potentially lead to a third benefit:
Making the ingestion, cleaning, and management of data a priority within ChartMogul.
We knew we had work to do in this area from talking to many of our largest customers – customers who have their own in-house data teams had been asking for ChartMogul to be more of a complementary part of their data stack.
We realized that what we were designing was a subscription data platform. A solution for truly putting our customers in control of their subscription data, and the robust (and transparent) foundational data layer on which our Subscription Analytics product would sit.
What's new with ChartMogul's Subscription Data Platform
An improved onboarding experience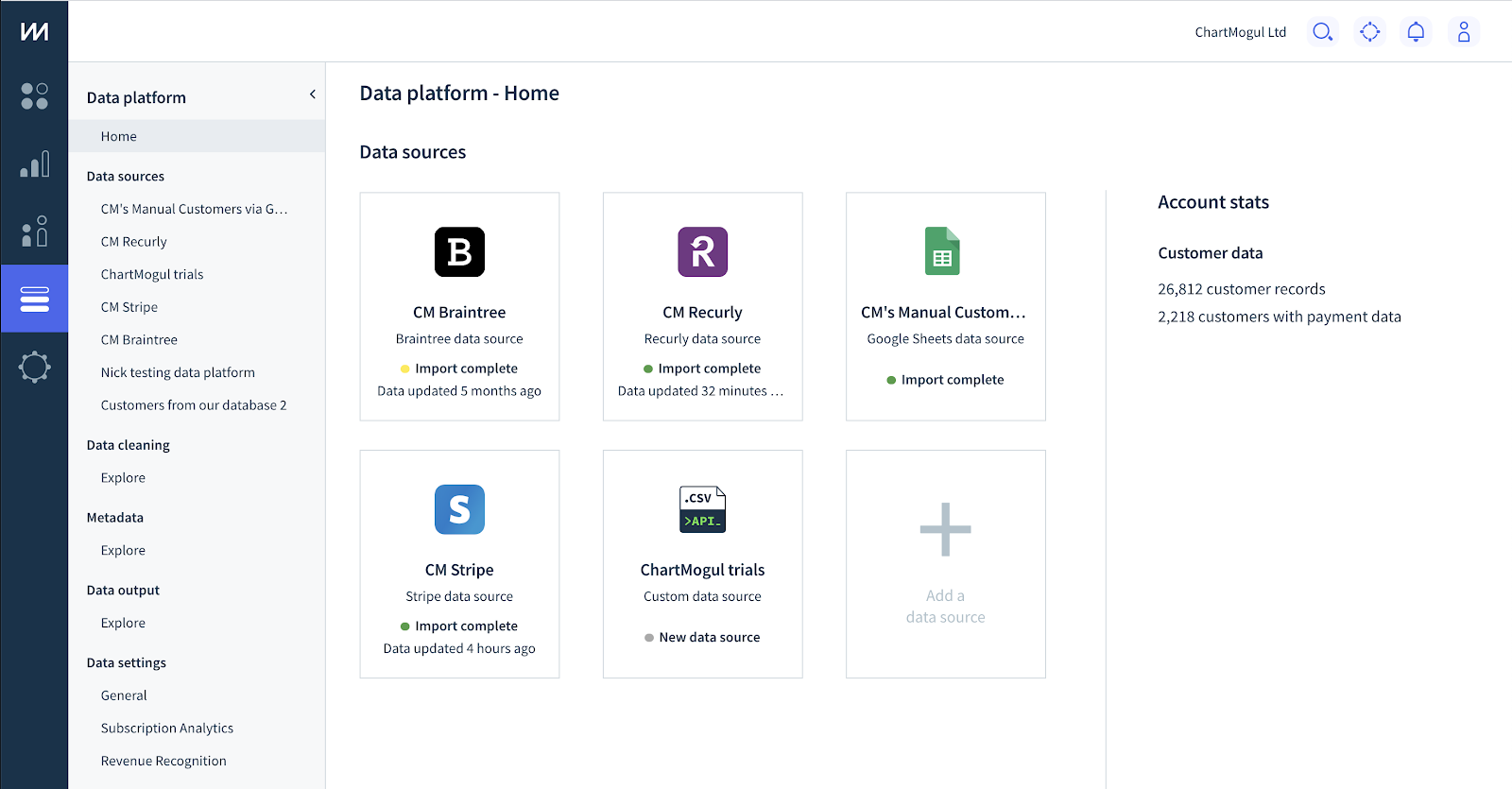 All data management features can now be found in a single location called Data platform — it's a new destination within ChartMogul that's designed to put you in control of your subscription data.
We've also released a new type of Custom data source that can simultaneously accept data from user input in the UI, the API, or CSV uploads.
The Custom data source replaces the Import API data source, and while the Google Sheets add-on will continue to be available for the time being, we encourage all our customers to switch to the native Custom data source as soon as possible. Our customer success team will be happy to assist you with this whenever you're ready, just reach out to support@chartmogul.com.
Improved transparency
Powering this new Custom data source is a completely new, next-generation data pipeline that allows you to get a real-time view of the data as it flows into your ChartMogul account. It also allows you to view and investigate any errors that might occur during data import and then correct them in the UI.
This level of transparency means you can have full confidence in the data and trust the subscription reports you rely on every day.

Tweet this quote
Please note: Not all integrations are using this new data pipeline yet, and it will take us a bit of time to get to that point. But the plan is for all our integrations to use this new data pipeline and offer the same level of transparency into the datasets powering all reports regardless of where the data comes from.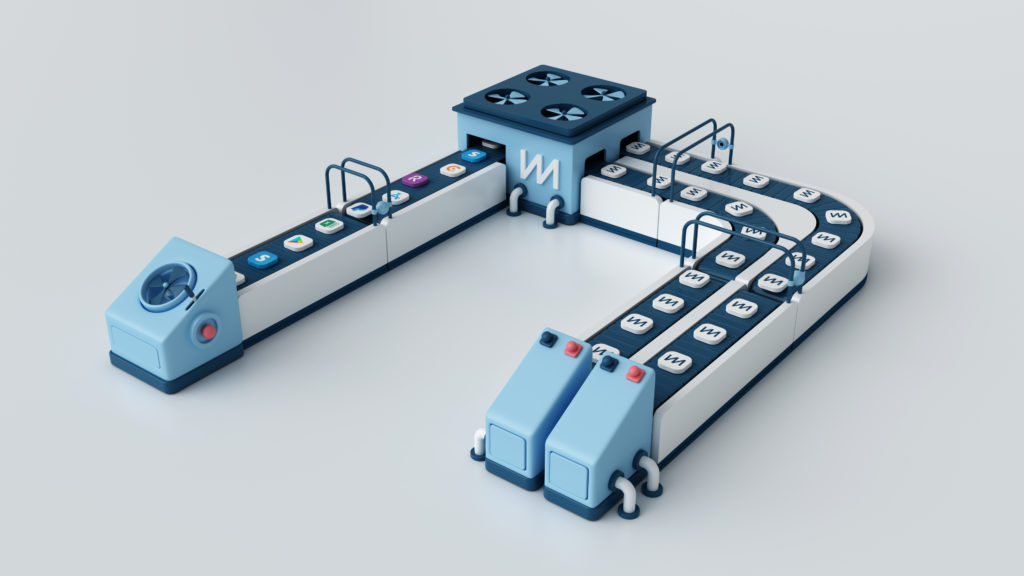 A glimpse of the future
Throughout 2020 we'll be fleshing out more parts of the data platform, including new data management and data output features. These will be designed to help better integrate the data in your ChartMogul account with the other systems you use to run your business.
With today's release, we've included a sneak peek of what's coming right inside the Data platform section.
Take the ChartMogul Subscription Data Platform for a spin!
If you already have an account you will see a new icon in your left-hand navbar for accessing the Data platform. If you are an Admin you get full access to all features, but if you are a Team member the functionality will be greatly limited and read-only.
Adding a new Custom data source will let you play around with the new spreadsheet editor, and over the coming weeks all Import API data sources will be converted into Custom data sources. If you're new to ChartMogul, Start a trial today to see how a Subscription Data Platform can transform your business.