Most of the time you rely on your billing platform to run your subscriptions. However, from time to time, you may sell subscriptions that aren't processed via your billing platform.
These could be custom one-off deals, migrated subscriptions from depreciated billing systems, or part of your initial new customer implementation.
When this happens, you can add these subscriptions manually to your ChartMogul account and in your analysis and reporting.
We've released a series of improvements to ensure any subscription added manually to your ChartMogul account is fully supported across our Subscription Analytics Platform, giving you greater control over how these subscriptions are handled and making it easier to add them.
Add Multiple Subscriptions to One Customer
When you're cross-selling and upgrading your customer base, you might end up with customers who have multiple active subscriptions. If this happens, you're now able to add multiple subscriptions manually to one customer profile.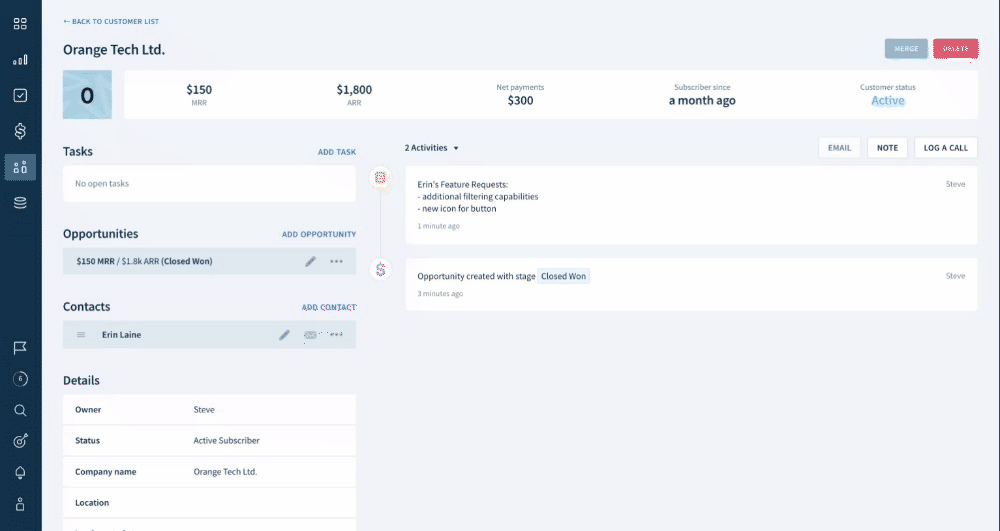 For example, if you're using Stripe, and one of your customers decides to add another subscription and pay by some other method, you can add this new subscription manually in ChartMogul to their profile, and see the MRR movement reflected in your metrics.
Edit MRR to Correct Past Mistakes
It's now easier to edit and add past MRR values. Subscriptions that you add manually are now part of our Data Platform and therefore are as easy to update as any other value you may have in ChartMogul.
Upload Subscriptions Manually in Bulk
When you have bulk subscriptions to add manually, we've made it possible to import this data all at once with the CSV import feature.
Tracking Cash flow from Manual Subscriptions
All subscriptions, including those from your billing platforms, and now those added manually, include transaction data which allows you to use the cash flow chart.
You can choose whether the subscriptions you add manually generate cash flow by selecting the 'contribute to cash flow reports' setting on the customer profile, or by using the 'Report Cash Flow' option in the Data Platform.
More Speed, Better Reliability, and Greater Transparency
In our continued effort to give you more flexibility and control over your data, we've made sure to improve the overall performance of ChartMogul when combining manual subscriptions with those coming from other data sources.
We've made your manual subscriptions available within our Data Platform so that they are alongside the rest of your subscription data. This means you'll be able to view all your data in one place, making issues easier to diagnose, and decreasing load times.
Subscriptions added manually will now also trigger in-app and email notifications to those on your team who wish to receive them.
You can learn more about how to add subscriptions manually to your account in our help center, and should you have any questions, we're here to help.