---
This post is a follow-up from our in-depth analysis of B2B SaaS pricing pages, where we looked at common characteristics from top SaaS companies.
---
Fact: Scalable SaaS pricing is useful
As we discussed in our previous post on SaaS pricing, there are a number of common ways to design and scale the pricing of your product to ensure that the entry-point makes it accessible to a large proportion of your market, and that large-scale customers pay accordingly for the amount of scale and cost overhead they're adding to your system.
Here are the most common ways to scale pricing:
Number of internal users (e.g. number of agents for a support desk solution)
Number of active customers
Number of requests (e.g. for an API-based service)
Amount of storage consumed
Here's the scalable pricing page we featured previously from the folks at autopilot, which gives potential customers confidence and the ability to experiment with the product's pricing: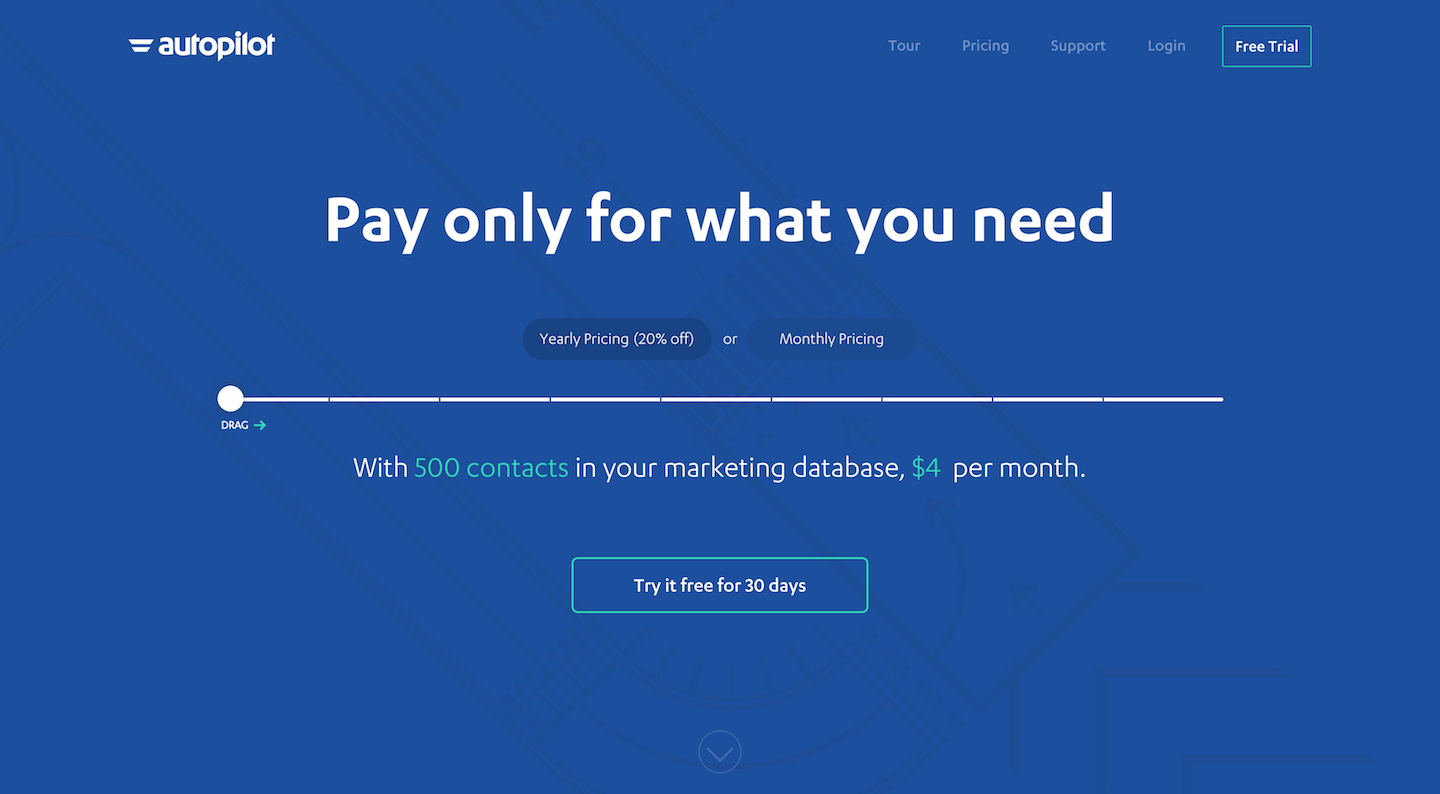 How we scale our pricing at ChartMogul
At ChartMogul we scale our SaaS pricing based on the number of active customers each client has. This tiered, scalable model means that small startups with just a handful of customers can pay as little as $30/mo. (for up to 250 customers). We then increment the price at various points along a scale of up to 10K customers (beyond this point, we suggest that clients get in touch to discuss pricing options).
A problem
But there's a problem with scaling SaaS pricing based on the number of active customers: The value of a single customer varies between different clients. This problem is especially prominent between enterprise and consumer-focused businesses. Let's look at an example:
Awesome photo storage, inc. is a consumer SaaS product that allows users to backup photos to the cloud from their smartphones. They have a 500,000-strong user base, each paying an average of $1/mo. for the service. that's a MRR of $500K.
Easy-CRM, inc. is a business CRM solution for enterprise. They have 10,000 customers, each paying an average of $1000/mo. for their account – a MRR of $10M.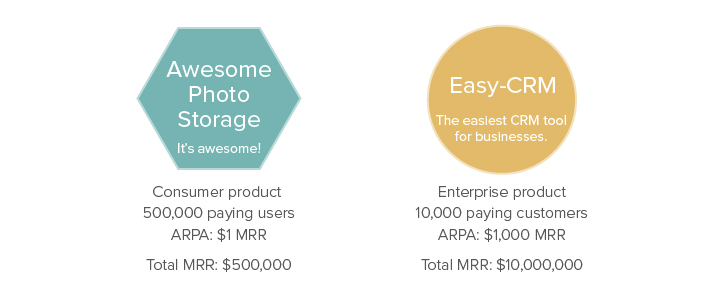 It's quite feasible that both of these businesses are using a recurring billing system to charge their customers, and would both benefit from using ChartMogul to get insights into their MRR data.
As we're charging purely based on number of active customers, Awesome Photo Storage, inc will pay a lot more to use our service than Easy-CRM, inc. Roughly $350K annually as opposed to $7K, disregarding any discounts or offers we might give them. The point is this: In this scenario, the business with 20X less revenue would be charged 50X more for our service(!)
Possible solutions
Clearly, we want to be able to price our product in a way that it's affordable and accessible to as many customers as possible, and we need a solution that works for both business and consumer-focused clients. Here are some ways we could tackle this problem:
1. Talk to the client, adapt the pricing based on their MRR
While on some levels this may make sense, it's clearly the least scalable solution to the problem, as it requires manual interaction at the purchasing stage for every applicable client. It also clouds the pricing, and may put prospective clients off buying (if they never get to the stage of discussing pricing with you).
2. Define different plans targeted towards different client types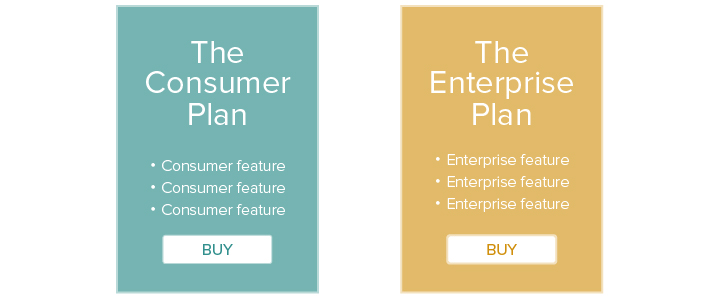 It's quite likely that business customers may actually have different requirements from your product than consumer-focused customers. Why not offer "consumer-focused" and "business-focused" plans, which differentiate themselves on features, as well as offering a more affordable price per active customer for the consumer-focused customers? As mentioned in our SaaS pricing page analysis, having clearly-targeted plans for different types of customers reduces any cognitive effort, and makes the buying decision easier for customers.
3. Adopt a different type of scalable pricing model
You could alternatively look at scaling your SaaS pricing based on a variable that correlates more closely to the perceived value for the customer.
Conclusion
There's definitely not one clear answer to this problem. If the service you're providing to both enterprise and consumer-focused is similar or the same in terms of features (e.g. analytics) then it's difficult to justify adding separate plans that offer essentially the same functional product.
How does your business approach SaaS pricing for different types of customers, with differing MRR? How do you make your product affordable for both? I'd welcome your thoughts in the comments below.
---
Bonus: Here's the Pinterest board we compiled, filled with screenshots of the pricing pages of top SaaS companies for your pricing inspiration:
Follow Ed's board Top SaaS Pricing Pages on Pinterest.
Tweet & Share
NEW: Scaling #SaaS #Pricing For Both B2B & B2C Customers https://t.co/3wyyrzTc7J pic.twitter.com/rwSqYJqCP7

— ChartMogul (@ChartMogul) May 20, 2015