It wasn't that long ago when remote work was considered a rare and luxurious perk. In many workplaces, a request to work offsite needed to be approved by multiple levels of management — and all too often, those requests were denied unless the employee had a really good reason. Fast forward to 2022 and remote work is firmly in the mainstream, especially across some of the most traditional industries.
More leaders than ever before now recognize that businesses can benefit from offering remote working options. In most cases, employees with reliable internet access and a flexible schedule can do their jobs from wherever they're located. As a result, hiring remote employees tends to be an easier and more efficient process because companies can tap into candidate pools from around the world.
But at the same time, remote work presents a unique challenge when it comes to sharing knowledge across a SaaS team. Employees don't have the luxury of walking to a colleague's desk or shouting over a wall when they need help. Even if you host a meeting, there's no guarantee that everyone will be awake at the same time. So how can remote teams effectively share information without getting bogged down in a variety of tools and processes? Here are a few steps you can take.
The key to remote is team communication
We're going to explore some really effective tactics for sharing information with colleagues all around the world. But before we tackle those ideas, we should explore what's often the most jarring adjustment for remote employees to make, especially those of you who might not have a lot of experience working on distributed teams.
I joined my first remote team back in 2015, and the first concept I was trained on asynchronous communication. Sophia Bernazzani of Owl Labs defines this as any type of communication where one person provides information, and then there is a time lag before the recipients take in the information and offer their responses.
Asynchronous communication is any type of communication where one person provides information, and then there is a time lag before the recipients take in the information and offer their responses.

Tweet this quote
As someone who had worked exclusively in traditional work environments, this was foreign to me. I had a difficult time processing the idea that my emails or Slack messages to colleagues might go unanswered for a significant amount of time. At the same time, I took solace in the reality that I could spend more time thinking through responses to my new teammates.
In addition to being more thoughtful about how I shared information, asynchronous communication made a tremendous impact on several facets of working on a remote team:
As someone whose work is largely project-based, I was able to create dedicated blocks of time to focus without the pressure of monitoring my inbox.
My team became really good at setting deadlines that kept us moving forward while also considering each person's timezone. You might think that a 3 AM deadline is absurd, but not when your teammate is based in London.
I had to learn to disclose even the most minute details. Even a slight change to a project could derail several teammates' workloads.
In addition to these personal anecdotes, studies have shown that asynchronous communication can increase productivity for some of the largest companies in the world. A recent experiment by Microsoft found that in a four-day workweek, productivity in its Japan offices jumped by nearly 40%.
What was the key to increased productivity in these offices? Fewer in-person meetings over 30 minutes and heavier reliance on its Teams product. In other words, adhering to the basic concept of asynchronous communication enabled an entire office to work fewer hours and become more productive.

Of course, this is just one example of how asynchronous communication had a dramatic impact on an organization. But it does make it abundantly clear that for a remote team to successfully share information, asynchronous communication should be at the center of any tactic you implement on an individual or team-wide level.
Now that we've unpacked the basic tenets and importance of asynchronous communication, let's talk through some of the practices that enable remote teams of all sizes to share information as effectively as traditional teams.
Overcome time zone differences by documenting everything
One of the biggest challenges of remote team communication is knowing where to find it. And even when you find it, it's still really hard for support agents to know which documentation is current.
What's more, the colleague that knows where the information is located might live in a country that's several hours ahead or behind yours.
That's why so many teams have turned to internal knowledge base tools like Zendesk, Trello, and Confluence, among other popular options. These knowledge base platforms are updated by team members, and each one has unique features that enable even the most sophisticated remote support teams to document and share knowledge.
Also check:
Honey is another great option to build an intranet for your team. (Disclosure: They're a ChartMogul customer!)
The challenges of documenting knowledge effectively
Still, the challenge of sharing information across a remote team doesn't end once you've chosen a knowledge management platform. Researchers at the Harvard Business Review wrote that remote employees often confuse brief communication with clear communication. The solution? Include as many details as possible, even if your update takes some time to complete.
"Spend the time to communicate with the intention of being ultra-clear, no matter the medium," the researchers add. "Indeed, you can never be too clear, but it is too easy to be less clear than you should."
What does this mean for a remote SaaS team? Here are some guidelines that will help your agents be ultra clear whenever they update your knowledge management system:
Begin with a summary of the issue, solution, and a rough estimate of the time it took to resolve the problem.
Upload any screenshots and/or text from emails whenever possible. This will make it easier for other employees to resolve similar issues in the future.
End each update with any challenges you faced along the way. Did you struggle to find proper documentation? Was this issue outside of the typical challenges you work on? What do you think could have been done differently to resolve the issue?
While these guidelines are a good starting point, experiment with them on your own. Perhaps your team needs additional checklist items, more meticulous instructions, or timelines for completing updates.
Create explicit rules of engagement
Remote work is a more realistic option for SaaS teams because there's an abundance of communication tools available at our fingertips. The problem is that there's an abundance of communication tools at our fingertips. In the blink of an eye, an employee could have a direct message on Slack, a follow-up email, and a text message from a colleague who's looking for a piece of information. And that can be overwhelming, even without the pressure of being in an office.
In response, many business leaders have created rules of engagement to create boundaries for themselves and their team members. Belle Beth Cooper, a co-founder of Hello Code, wrote a blog post for Zapier on some of her most effective remote working strategies. One that stands out is her method for sharing context with her co-founder, for which they use a tool called Viber. Cooper explains that it serves as their "always-on" channel. If either one needs time to focus on a project, they know that the first app to turn off is Viber.
A remote SaaS team might not be able to implement this exact strategy, but it does highlight the importance of choosing tools strategically. Make it easier for your remote employees to share information by creating explicit rules of engagement.
Need to chat quickly during a call? Designate a tool like Slack or Google Hangouts for that purpose.
Want to have a longer conversation about updating customer documentation? Consider reserving those conversations for your knowledge management platform.
Still, you might find that the concept of "rules" might turn people off. In my experience working on remote teams, there are a few basic guidelines that worked well for a variety of people on different teams and timezones.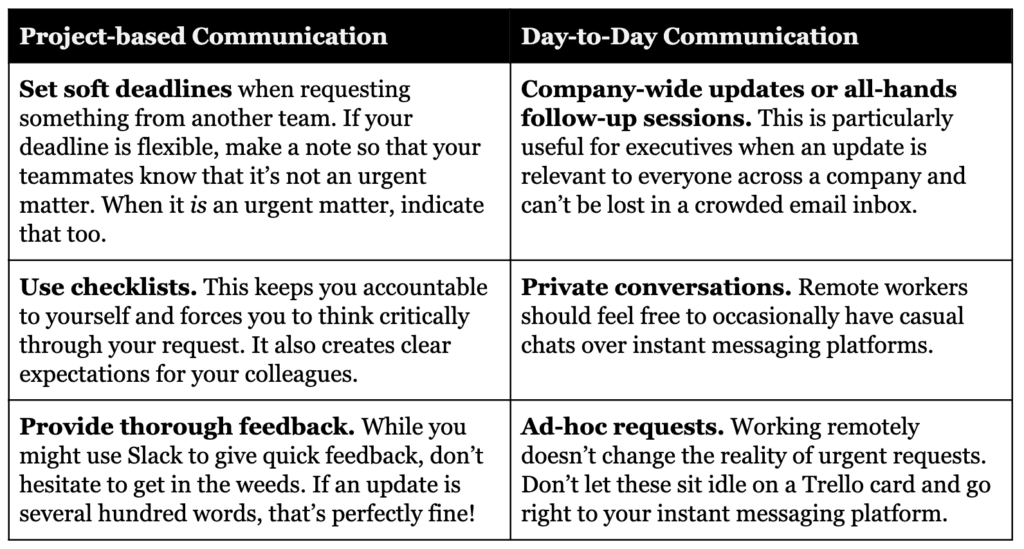 Additionally, consider creating clear guidelines for how (and when) to use specific tools. Your guidelines might look something like this: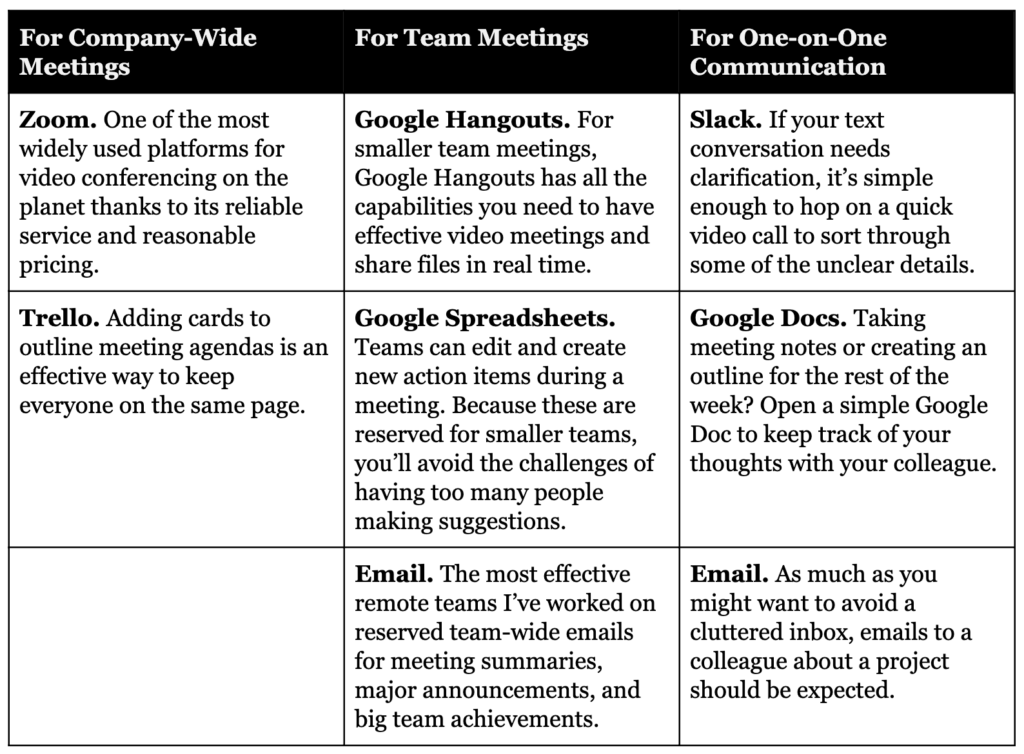 Make time for remote teammates to engage with each other
Google recently published its findings from a two-year research project on what makes a remote team successful. It ultimately found three things: they set clear boundaries, they get to know each other, and they go out of their way to forge connections with their colleagues via video chat. Google's Veronica Gilrane adds, "On a video call, express reactions to coworkers' ideas noticeably to indicate they're being heard. When you do have the opportunity to meet for face to face interactions — take advantage in order to reinforce connections forged virtually."
Remote SaaS employees don't have the luxury of meeting their colleagues for a quick chat in the middle of the day, but you can still create opportunities for them to connect. For example, GitLab instituted virtual coffee time for remote employees. This might take additional thought during peak work hours. But even short casual interactions between remote employees can improve morale and help everyone across the team understand how each person shares and digests information.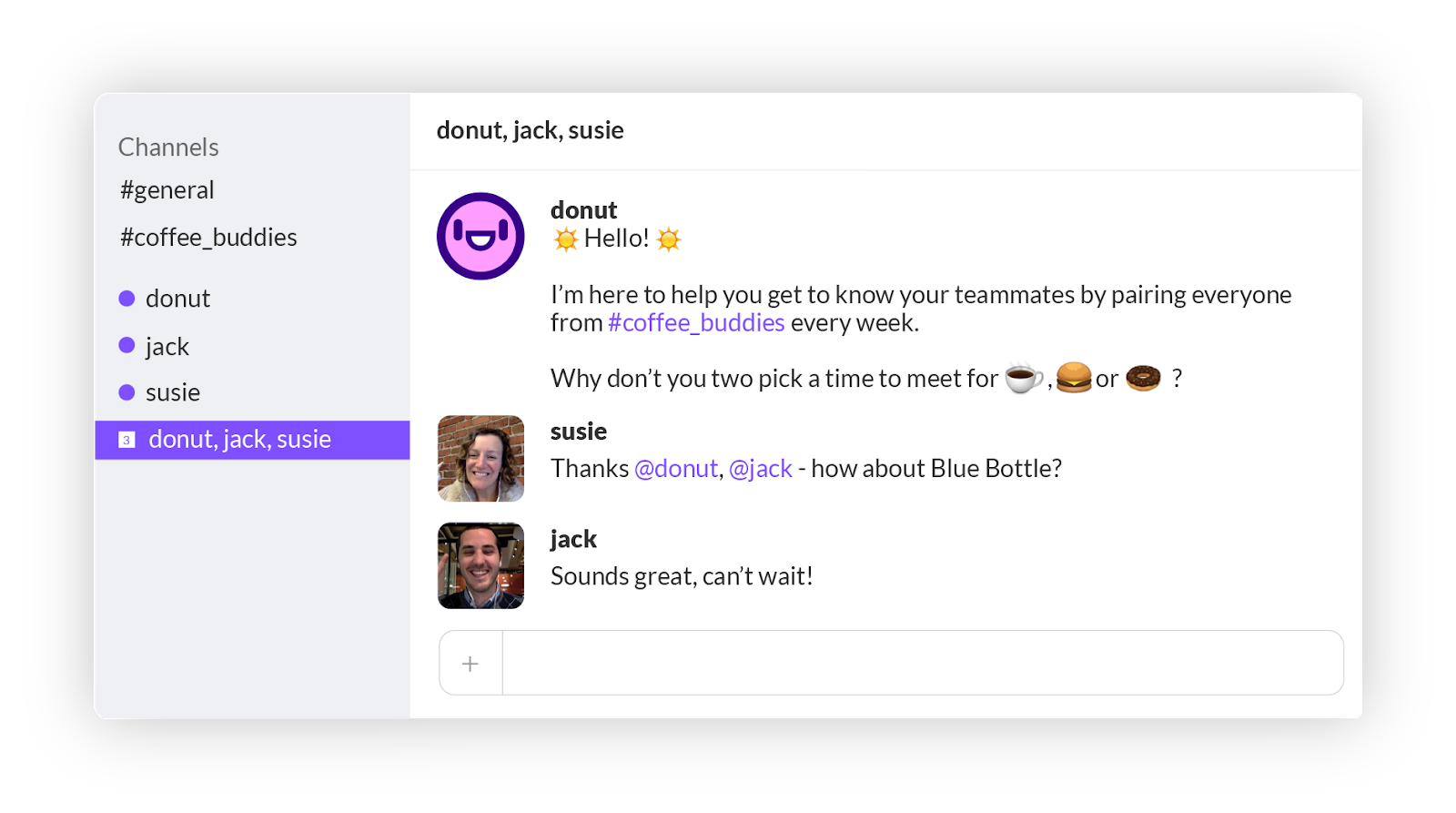 Additionally, here are a few ideas that worked well for the remote teams that I've worked on:
An always-on Google Hangout. If your company has a physical location, consider setting up an always-on monitor. At my previous company, Google Hangouts were always available in the common area and connected to our satellite offices in each city in which the company had a presence. This enabled people to chat with one another just by walking over to the monitor.
"Bev Bashes." Since your team might not have the opportunity to get together for drinks at a physical location, create those opportunities for them. Notice that these aren't called "beer bashes." Bev bashes are far more inclusive, especially for those who don't consume alcoholic drinks.
"Good" communication looks different for every team
Remote work has proven to provide a boost to organizations around the world. That doesn't mean it's easy. For employees, it can be difficult to spend the majority of the week at home, even though they have the flexibility to work from wherever they're located. For employers, it's an ongoing challenge to implement systems that make information sharing easier for teams that are distributed around the world.
While many of the tips we've discussed here would be impossible to implement overnight, they're worth your leadership team's consideration. Take this as a challenge to see how you can make remote team communication and knowledge sharing easier for all of your workers. Your solutions will look drastically different from your competitors, but that's OK. Each remote SaaS team is unique — and so are the processes that make them run smoothly.
Rich Moy is a writer for
Supported Content,
editor, and stay-at-home dad based in New York. Previously, he was a content marketer at Stack Overflow, where he covered the latest in technology, advertising, and hiring. His work can also be found in publications such as Fast Company, Business Insider, and Inc., among others.