To date ChartMogul has primarily been about metrics; MRR, Churn rate, etc. these are things that teams might use to track their progress or inform decision making.
We also added cash flow charts back in 2015, but these only show how much money has been received from customers in any given period.
Neither MRR nor payments received are the same as what an accountant would consider to be "revenue". ChartMogul is a new type of product, the primary focus is around subscription and customer analytics, but it's also revenue analytics, and to date ChartMogul hasn't actually tracked 'revenues', in terms of what the IRS/HMRC/BMF/CRA/ATO (or equivalent agency) would consider to be revenue.
This new Revenue Recognition product came out of an internal need we had at ChartMogul. We needed a way to report our own GAAP revenues, following the principles set out in ASC 606 from the FASB.
We use a mix of Stripe, Braintree and Recurly for credit card billing, and also do some manual invoicing for larger customers. There didn't seem to be any suitable product on the market that could bring all this data together and automate the process of calculating revenue recognition schedules.
At the same time some of our customers were also asking if we were planning to add revenue recognition to ChartMogul. We decided we should build this into our offering, so today we're excited to announce the release of ChartMogul Revenue Recognition.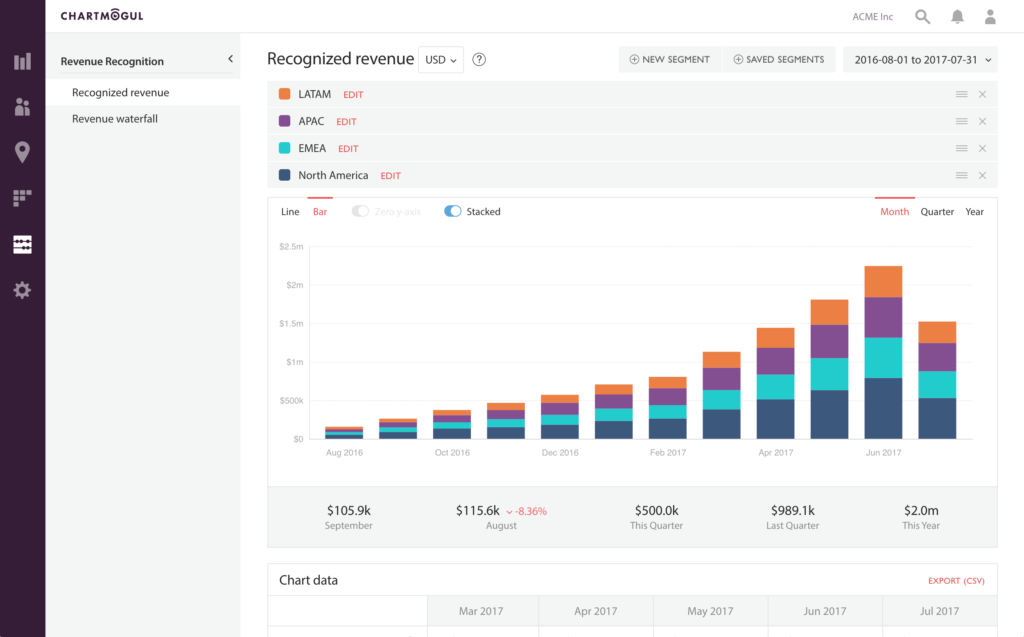 What is revenue recognition?
Revenue recognition is a set of accounting principles that determine when a business can treat payments from its customers as revenue. This depends on several factors, among them when the goods or services have been provided. For more background please read this post about Revenue Recognition and what changes are coming with the adoption of ASC 606.
What can ChartMogul Revenue Recognition do?
ChartMogul Revenue Recognition is useful for finance teams to help them prepare monthly and annual income statements and balance sheets. It automates the process of calculating revenue recognition schedules from billing and payment data – this saves finance teams countless hours, headaches, and dramatically improves business efficiency and overall user experience of the finance operations workflow.
Additionally, it gives you a real time view of your GAAP revenues and lets you filter and segment GAAP revenues by region, subscription plan or any other attribute using ChartMogul's powerful segmentation features. You can bring billing data together from multiple different payment systems, in multiple different currencies so everything is centralized in one system. You can view revenue recognition schedules at the customer or aggregate level, and even drill-down to individual invoice line items in order to audit the output.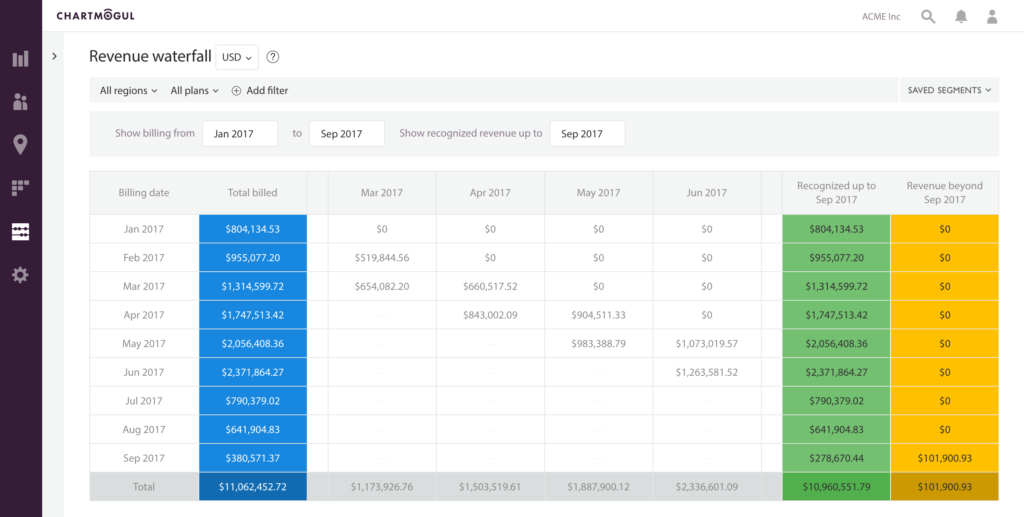 How do I get started?
Revenue Recognition is sold separately as an add-on to the main ChartMogul Subscription Analytics product. If you'd like to have a demo of ChartMogul Revenue Recognition, please get in touch. You can also find out more details on the product page here.