It's not every day that you can hear a Monty Python reference at a conference like this.
I have just used it to describe one of the largest and most impressive booths at SaaStock 2019 — a 2-storey giant with an observation deck and a cafeteria on top.
I couldn't get past the fact that it would be perfect for recreating an iconic scene from the 1975 classic Monty Python and the Holy Grail.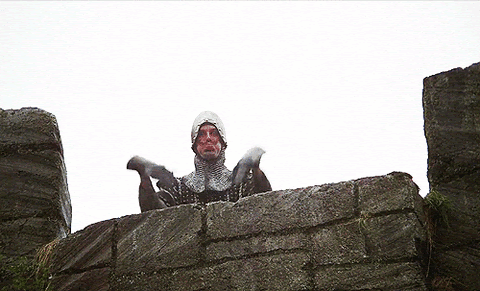 British comedy has matured a lot in the last few decades, so people now don't have to resort to a film that's over 40 years old for entertainment.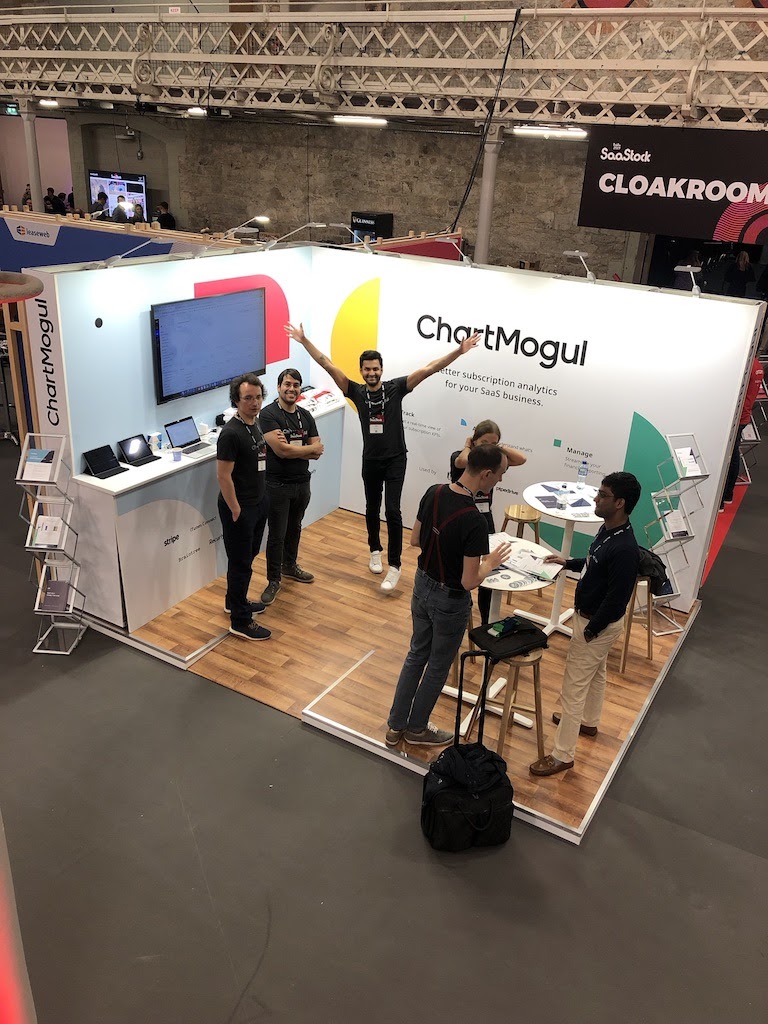 Oddly, after 3 days packed with new connections, great talks, and a lot of wisdom, I feel like a similar trend is happening in SaaS too.
When I started thinking about this roundup of SaaStock 2019, I was worried about fitting so much into a single blog post.
Now I am actually surprised that I can fit it one word.
Maturity.
SaaS is getting more mature as an industry and you can see that everywhere — there are more attendees at conferences like SaaStock, every company has multiple competitors, the stakes are getting higher, the conversations more sophisticated, and so on.
Maturity (in all aspects of the word) is what binds all the main messages from SaaStock.
We're still the same people who can gather at a conference that's named after Woodstock. But the community is also getting much smarter (and mature) about the challenges and the problems we should be talking about.
For proof, just look at some of the main points from this year:
What does it mean to be in the Golden Age of SaaS
How to think about (and do) marketing as you grow
Why small improvements are more important than big bets
And also… why we have to take care of ours and our teams' mental health.
Here's a rundown of some of the best insight I gained from attending SaaStock 2019.
The Golden Age of SaaS: From attention to value
When we're talking about SaaS becoming more mature, it doesn't mean the industry is past its prime.
Claire Hughes Johnson, the COO of Stripe, nailed down the point in her SaaStock 2019 talk, arguing that we're just entering the Golden Age of the industry.
So far, a lot of the value creation of the internet has happened from either moving commerce to digital channels or from monetizing attention (i.e. advertising).
Claire argues that the real potential of the internet is the creation of entirely new businesses.
To power this shift, we need infrastructure, which supports the easy establishment and distribution of the new internet-enabled products and services.
This is already at play — services like AWS, Stripe, and others have brought down the cost of starting and running a business to a fraction of what they used to be just a decade ago.
Consumerizing even more parts of the activities of a typical business (logistics-as-a-service, etc.) will create an opportunity for even more companies to disrupt large incumbents in traditional industries such as automotive and others.
Marginal gains are the new rule
As the industry matures and becomes more competitive, it becomes natural to focus on making small improvements that have the potential to move the needle.
This was the main point in Jacco van der Kooij's keynote Sales as a Science.
The typical funnel/loop in SaaS looks like a system:
A # of new Leads comes into the funnel
A certain % of those leads is nurtured into becoming Sales qualified leads
The sales team works to turn a certain % of the SQLs into Paying customers. (Sometimes they have to offer discounts that have a certain $/% effect on the overall price/ACV that customers pay.)
This can be shown as a simple equation:
Leads x % SQLs x % Sales Closed x % Discount = $ new Revenue.
According to Jacco, working to improve each link of the chain (through improving conversion rates for example) would have a higher impact on your business, than a large change in one step (e.g. doubling the number of leads).
The same applies to every part of your business — product, marketing, even your business model.
Improve your ARPA and your retention and your LTV (and ultimately the bottom line) will follow.

In a market with many competitors and saturated marketing channels, this type of gradual improvement will be more effective in finding ways to grow.
To succeed in a crowded market you have to know your business
One of the panel discussions included Guillaume Cabane, who is the Founder of Growth Ex Machina, Jason VandeBoom, Founder & CEO of ActiveCampaign, Alonso Bustamante, Special Projects at Cloudflare and Briehan Burke, who's one of the investors at Keen Venture Partners.
They shared their thoughts on why founders shouldn't give up on a market just because it is dominated by a large incumbent.
Nimble entrants have a number of advantages in such cases:
They don't need to educate their users about a new category but can rely on the work done by the established player(s).
They can stay close to a well-defined group of customers and move quickly to solve their pains.
They don't need to fight the war across a full front, but can instead focus on a small area (specific segment, use case, or geography) where they are best positioned to get a small win and expand from there.
Marketing starts from the inside out
Des Traynor from Intercom caught the attention of everyone at SaaStock 2019 by claiming we obsess too much over Product/Market Fit.
He identified the 3 main stages that startups go through:
The Early stage which ends when a startup becomes a breakout success.
The Growing Up stage, which finishes with the company becoming an established player.
And the Standard stage, in which the startup turns into a mainstream company.
Once a company is out of its early stage of development, it really needs to start thinking about how it markets the product.
Unfortunately, that's where most founders get it wrong.
A lot of you have probably said to investors something like "We have a 100 customers, and we haven't even marketed yet!" That's not necessarily a good thing because adding marketing is a really hard challenge and most people will make a massive mistake doing it. All you're saying "There's a ****load of risk yet to be realized!"

Des Traynor, Intercom
To maximize your chances for success, Des suggests that you start by looking at the bottom of your funnel and move your way up.
That requires a really hard look at how people use your product and who they are and then using that to move one level up in the chain and figure out what makes people move from it to the next one.
This process is slower and harder to crack but ultimately yields better results.
Take care of your (and your team's) mental health
When we talk about maturity in SaaS, we have to acknowledge it comes in different forms.
In a panel discussion titled How to address tech's ongoing mental health catastrophe, Amy Lewin from Sifted, Joe Krancki, Venture Partner at Instanda, Nicola McClafferty, Investment Director at Draper Esprit, and James Ski, who's the Founder & CEO at Sales Confidence talked about creating a culture that doesn't put mental wellbeing on the back burner.
One of the highlights of the discussion was the idea that mental health should be a top-down priority: with investors advocating for their founders, who in turn make it a focus for their employees as well.
Our secret to success: a relentless focus
Our CEO Nick did a live recording for the Inside Intercom podcast. The episode is yet to be published, but I'm giving you a sneak peek of details about ChartMogul's journey that he shared.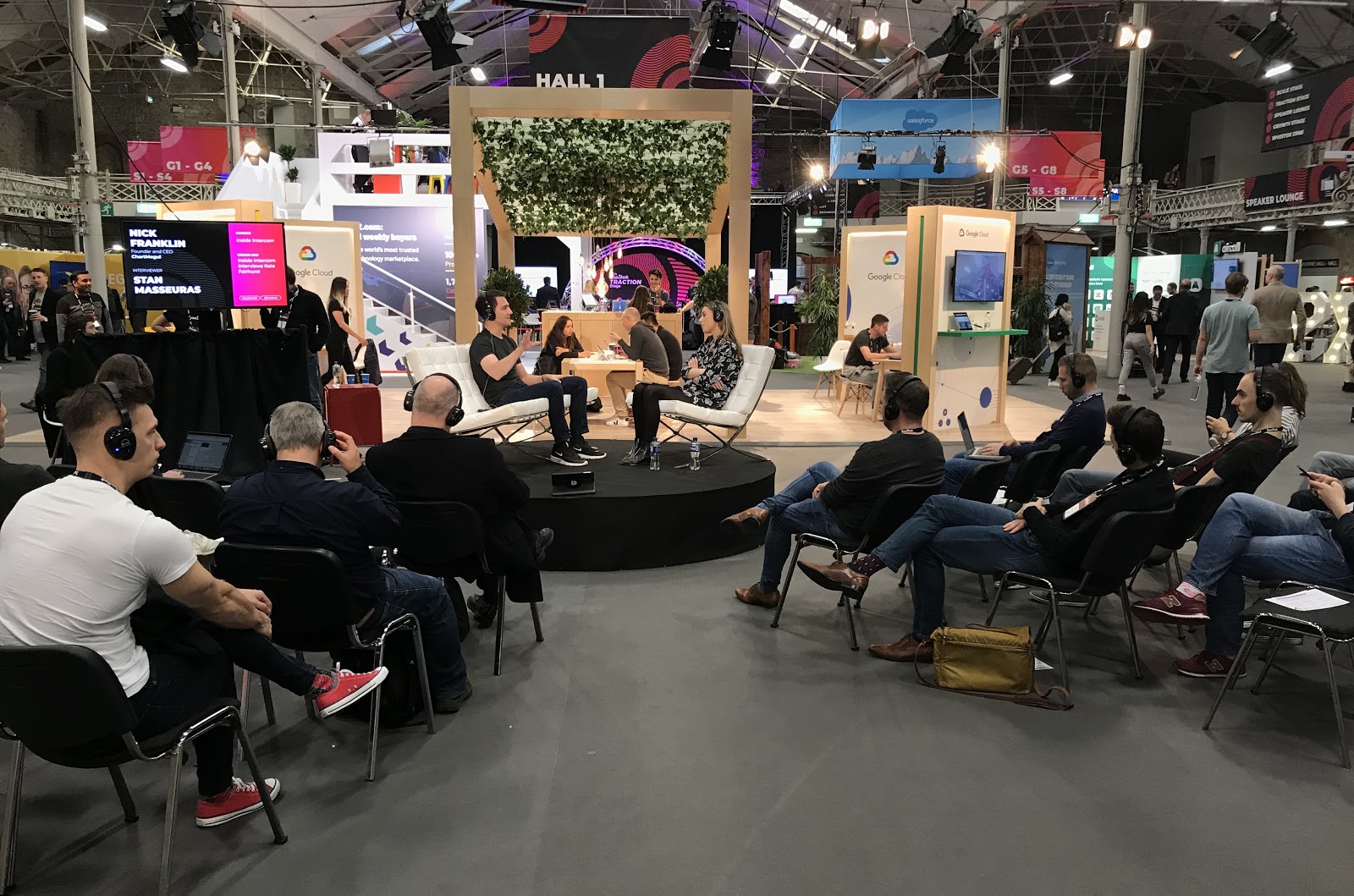 In line with the main theme of the conference (and this article), Nick shared the 2 pillars of ChartMogul's strategy:
Improving retention to maximize the value of each relationship.
Maintaining focus on our core product and making sure it's the best tool on the market.
When you lose a customer, it's not just the monthly subscription that's gone, but also any future natural upsell value from that customer's growth and possibly even word-of-mouth.
We believe that the secret to success in a highly-competitive market is to focus on forging strong relationships with our customers, developing the product around their core needs, and growing alongside them.
Conclusion: Looking forward to SaaStock 2020!
My personal highlight from SaaStock 2019 can also be summarized in one word: people.
It is impossible to meet and talk to customers, practitioners, and investors outside an event like this — and SaaStock has the scale and the clout to collect the best in the field.
I am already looking forward to next year, but if you want to connect, you don't have to wait until then — just get in touch on Twitter.
Hope to see you there!