Customer Success (CS) professionals know that a client's handoff from sales is a critical point of the customer journey. The stakes are high: this transition can make or break your customer relationships, well before they've begun using your product. This sales to customer success transition is a delicate balancing act.
When done correctly, this handoff makes for a customer that is excited and ready to leverage your solution to accomplish their goals. However, when done haphazardly, your customer can be left disoriented and confused about the next steps. An ineffective handoff often leaves your customers lacking the support and structure they need to realize product value.
Poor handoff practices also have a much broader impact than just making a few customers unhappy — they dramatically affect retention and your company's bottom line.
A poor handoff from sales to customer success dramatically affects retention and your company's bottom line.

Tweet this quote
Strengthening your handoff strategy creates a win-win scenario for both your customers and internal stakeholders alike. Read on for 4 tips on creating a best-in-class sales to customer success handoff.
Set expectations from the start
Successful handoff experiences have one thing in common — expectations are made clear from the start. Everyone on your team should know what they will be offering your customers in the context of the broader post-purchase relationship.
Likewise, your customers should properly understand the next steps and other specifics about their onboarding process. Managing these expectations and avoiding unrealistic ones are a must. After all, customers with unrealistic expectations are those that are most likely to churn. Nailing down these details are critical to meeting and exceeding a customer's expectations.
As a start, ensure that your sales and customer success teams agree on the meaning of what a "good customer" is. Developing an Ideal Customer Profile (ICP) and identifying the traits of your most successful clients helps avoid poor fit customers from the start. The seeds of churn are sown early, especially among customers outside of your ICP. Sales should understand that solely focusing on growth (closing deals) can mean the difference between weak and strong retention. While customers who have poor fit can be signed, their long-term success is rare.
Expectations should also be set by providing prospective customers with a brief overview of the onboarding process, well before beginning the contract process. This overview can include details about the assignment of a Customer Success Manager (CSM) and the guidance they'll offer post-purchase. Discussing these next steps isn't a one-time mention – sales should reinforce details like timelines and implementation requirements continuously throughout the sales cycle. That said, it's best to leave the in-depth details to be covered by a CSM during their introductory call.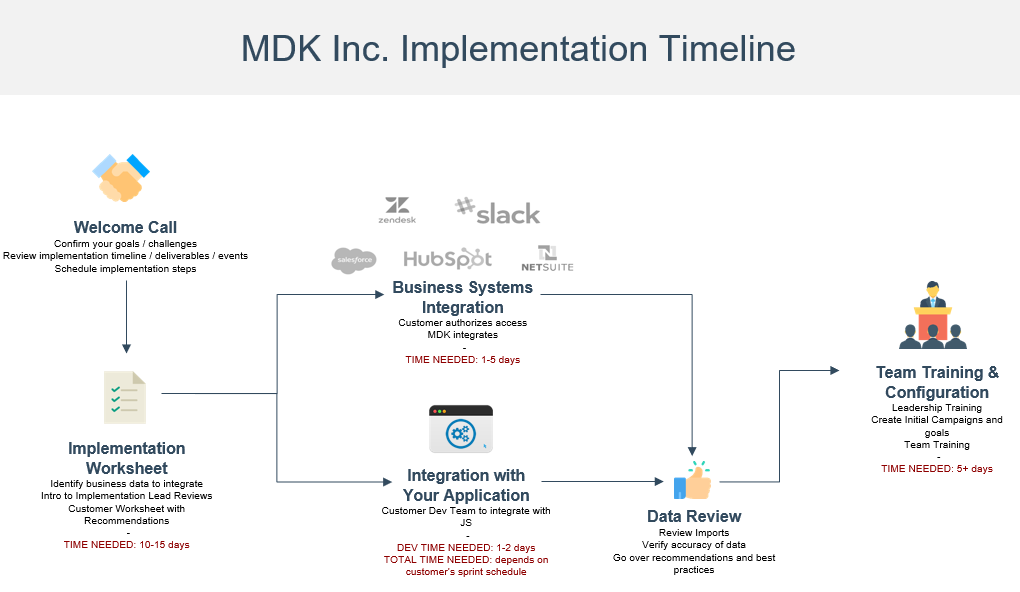 Taking the time to walk your potential customer through the onboarding process and other next steps can even help push a deal forward. When a prospect is facing an intimidating implementation, discussing these details can help quell any last-minute buyer concerns. If your customer is still asking 'What's next?', you haven't properly set expectations.
Timing is everything when introducing customer success
Time is of the essence when introducing Customer Success to a new customer. It's important to keep the momentum going as you make a transition to onboarding from a successful sales cycle. If a handoff is slow to occur, clients risk losing sight of their end goals and how their new investment will solve their problems. Generally, one of two approaches is taken when formally introducing a CSM to a company — either introducing the Customer Success prior to closing a deal or by introducing them shortly after closing.
Some organizations find it most effective for Account Executives (AEs) to introduce customer success in one of the last calls prior to closing.
The idea of customer success will have been mentioned earlier in the discussion but including CS in a pre-closing call provides a helpful starting point in building the CSM-Customer relationship. During this initial call, the goal shouldn't be for a CSM to close the deal or get into the weeds about onboarding specifics. Instead, the call should serve as an opportunity to cement expectations surrounding CS's role moving forward in the onboarding process, while bridging the excitement between signing and onboarding.
Alternatively, other organizations opt to introduce customer success post-contract as part of a formal kickoff call. While this may not be applicable for all organizations, this approach has value for companies with overly technical products where introducing a CSM pre-sale would be detrimental. Post-contract introductory calls for these types of organizations help your CS team avoid taking on the role of a Sales Engineer.
If you opt to introduce customer success post-signing, consider having sales schedule the formal kickoff call. After making introductions and opening the call, Sales should quickly hand the discussion off to their customer success counterpart. Sales will have a smaller role in this part of the client discussion, but this format helps mark a formal transition between sales and customer success. A good rule of thumb is to schedule these calls as soon as possible, preferably within 48-72 hours of contract signing to avoid losing momentum. When executed properly, your customer success team will be poised to take over the relationship having positioned themselves as your customer's new advisor.
Regardless of your approach, Customer Success's presence should address any last-minute details and questions the prospective client may have and reinforce the message that the customer will be in good hands. This lays a strong foundation for the CSM-Customer relationship and jumpstarts candid conversations about what it takes to be successful.
Success can mean different things to different customers
Defining success isn't easy. Success to one client can look like something completely different to another client. If your customer handoff process looks like an unorganized web of documents, this key detail can be lost in translation. Losing sight of your customer's definition of success can mean the difference between renewal and churn.
From the very start, both sales and customer success must be aware of what success means to your customer. While success — and the customer's related end goals — will likely change over time, a consistent pulse must be kept on your customer's definition of successful outcomes. This also includes understanding the varied goals of each influencer who contributed to the customer's purchasing decision. Remember: only by having this key information will you be able to guide your customers to their desired outcome. Properly understanding this doesn't just lead to retention — it instills customer confidence in your team.
Since Customer Success relies heavily on the details recorded by AEs, questions around the definition of success must be asked at the outset, prior to contract signing. When working to define success, consider the specific challenges your customer is trying to solve (such as engagement or retention) as well as the unique obstacles they may experience (like a limited budget or a slow approval process). Don't forget to consider what success looks like in three months, twelve months and beyond.
Be aware of how these definitions of success may evolve, even during the course of the sales cycle. Also consider what expectations were set, both explicitly and inexplicably, during the sales process. It's important to understand what commitments or promises were made to the client.
Knowledge powers effective handoffs
Proper documentation and knowledge transfer are key to successful handoffs. These can take several shapes, be digital or analog, with varying degrees of complexity. Regardless of how you document this information, productive knowledge transfers begin with discovery during the sales process. No knowledge management tool can make up for customer information that wasn't recorded by your teams in the first place.
As a start, your sales and customer success teams should work together to identify notes that need to be recorded outside of the typical CRM data points. Even before an opportunity is marked 'Closed-Won' in your CRM, an Account Executive should know what information is to be recorded during sales discussions. Rather than leaving things to chance, sales should be equipped with a cheat sheet that contains must-have questions to ask. Make it easy for sales to provide this client information while it's still top of mind.

When recording handoff notes, the use cases or events that triggered a purchasing decision are a good starting point. Go beyond your customer's definition of success — include notes on key stakeholders, sentiments and potential obstacles or risks. Importantly, also be aware of how success will be measured, now and into the future. Most of this information will be realized gradually over the course of the sales cycle.
Regardless of your attention to detail, solely recording notes is not the end-all solution to effective knowledge transfer. For those dealing with complex products, internal handoff meetings provide an easy way for your sales and customer success teams to ensure that they are on the same page. Before a customer kickoff call, use this meeting to review previously recorded handoff data. This meeting helps to fill in any knowledge gaps between the teams while maintaining a comfortable buffer between your knowledge transfer and the formal client kickoff.
You may find the need to ask additional clarifying questions of your client in order to properly begin onboarding. By taking the appropriate care with your knowledge transfer, you'll avoid asking repetitive questions that can irk a new customer while setting them up for long-term success.
A strong sales to customer success handoff = a strong internal partnership
A subpar sales to customer success handoff risks adding friction to a vital part of your customer's lifecycle. Missteps that challenge a customer's long-term success can develop early on — even before a customer has used your product. A strong partnership between sales and customer success is essential when making this delicate transition.
When mastering the sales to customer success handoff, be aware of your customer's definition of success and the optimal moment to introduce them to your customer success team. Ensure that both customer expectations and your teams' internal expectations are set from the start and reinforced at each stage of the customer lifecycle. Most importantly, never underestimate the importance of your knowledge transfer process. Both internally and externally, nothing should be left to question once a new customer has signed on.
Seamless handoffs will pay dividends now and well into the future. We hope these tips can help your team drive upsells and develop customer advocates, all while reducing churn.
Author Bio:
Alex Weihmann is the Outbound Marketing Manager for ChurnZero, a real-time Customer Success Platform that helps subscription businesses fight churn while expanding current accounts. Driven by a desire to encourage businesses to make every customer interaction count, Alex has extensive experience writing about all things Customer Experience and Customer Success.