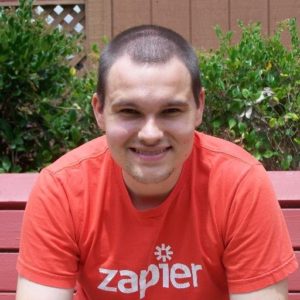 Here's a conversation I've been excited to bring you for a long time. Zapier is a highly innovative company in many ways — from distributed employees to a distinct lack of large funding — yet CEO Wade Foster takes a pragmatic, practical approach to growing the business.
So how Zapier go from a bootstrapped product with a handful of integrations to the "glue" that so many businesses rely on save hours of time and connect the increasing number of platforms in their workflow stack?
Zapier: The facts
Founded 2011
YCombinator S12 alum
>1M registered users
800+ integrated apps
~25K paying customers
>35 employees
100% remote employee base
Cashflow positive for over 2 years
Only raised $1M
Listen to the episode
"The toughest thing in remote [companies] is when knowledge is hidden, so try not to hide what you know."
In this chat we cover a wealth of topics, including:
How the company was started
Was the rise of unbundled web services something Wade saw early on?
What are the challenges in building a business on top of other platforms, relying on partnerships?
How Wade "brute-forced" growth of the Zapier platform in the early days
How the team approach Marketing a product that's not inherently visual, and is effectively "invisible" once set up?
Whether the Freemium model is critical for the growth of Zapier
What kind of metrics they use internally to measure the success of Zapier
What the team consider their "compass metric"
…And a lot more, of course! Listen to the full episode below.
If you enjoy this episode of SaaS Open Mic, please consider sharing it with someone else who'd benefit from the insights. You can find us on SoundCloud, iTunes, Stitcher or in your podcast player of choice (just search for "SaaS Open Mic").