You can also listen to this piece in podcast form here, or subscribe on iTunes:
---
I still remember the first time I saw Trello. A few years ago, working at a dynamic, fast-growing startup, a coworker showed me her Trello board for managing an overhaul of our new employee onboarding, one random day during a one-off meeting. I was interested to check it out, but we needed to move on to tahe topic at hand. So she sent me an email invitation in a couple clicks. And we moved on.
A few days later when I got around to signing up, I created my own board — and I was hooked. What a relief from the mess of hand-written to-do lists and cluttered gCal deadlines. Using it to track anything I was accountable for, I showed it to the founder in our weekly 1:1 meeting. Right there I added him to the board via email invitation, in a couple clicks.
From then on Trello boards served as guides for everyone's check-ins with him. And within a few weeks our entire 50 person team was using Trello to manage various projects, with some smaller groups upgrading to a premium plan.
Such is the power of word of mouth in a B2B setting. Or one form of it. My Trello experience is a great example of internal WOM, coworker referral. But there are other forms. And all combine to make word of mouth the single greatest driver of B2B customer growth.
Don't believe me?
Customers say it's the most important influence in their buying decisions. Founders say it's the most important customer acquisition channel, whether at the earliest stage or at scale.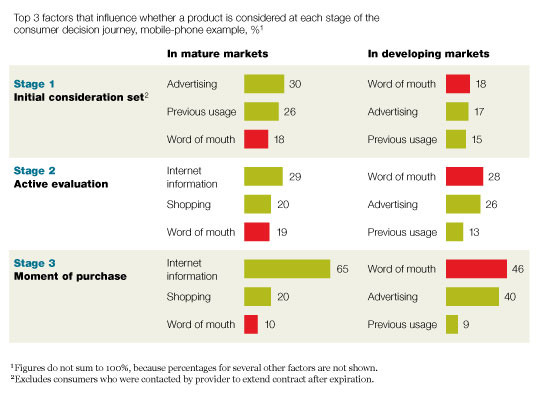 On top of all of this, word of mouth helps you outperform competitors.
"For those unsure about actively managing word of mouth, consider this: the incremental gain from outperforming competitors with superior television ads, for example, is relatively small. That's because all companies actively manage their traditional marketing activities and all have similar knowledge. With so few companies actively managing word of mouth—the most powerful form of marketing—the potential upside is exponentially greater." McKinsey
Scratch "superior television ads" for something more modern and digital, like adwords and SEO, and you have the case for B2B WOM management.
Whether it's gaining a new customer, or expanding the volume of a customer (i.e. the number of seats they pay for), WOM is most likely the driving force behind that growth. WOM can work differently for B2B. And within B2B, differently between small business customers and enterprise customers. The trick is to know the who, what, when, where, and why.
Once you know those things, you can harness word of mouth and even spur it on.
Why people share
To dive deep into the psychology of WOM… Jonah Berger, a marketing professor at Wharton, published Contagious: Why Things Catch On. In it, he examines why some products get more word of mouth than others, and "how consumers make decisions, how ideas diffuse, and how social influence leads people to imitate (or avoid) what others are doing."
He boils contagion — or viral popularity, if you prefer that — down to 6 principles:
Social Currency
Triggers
Emotions
Public (Observability)
Practical value
Stories
As I explore word of mouth and how it works for B2B in particular, I'll point out where Berger's principles apply.
So, why do B2B customers share?
The most basic reason someone would share is that… you've made a great product. You've solved a real problem in a compelling way.
"If your product is good and solves a need better than other existing solutions, you should experience steady growth just from word of mouth. That's a big indicator of product/market fit – and if it's not happening, you know that you haven't achieved PMF yet." – Steli Efti
They want their brand or company to be perceived in a certain way, particularly cool or innovative. Jonah Berger's principle #1, Social Currency

This is especially the case with enterprise customers, who are notoriously more careful about sharing with products they use, much less endorsing them.
So, how do you go about encouraging a perception that being associated with your product or company is cool or innovative? Focus on your positioning, your branding, and your content marketing.

Their experience differs from their expectation. Satisfied customers aren't necessarily the ones who will talk. It's the ones who are surprised, delighted, by features or benefits that really matter to them. So, under promise and over deliver. Jolt your customers out of their expectations, in a good way. Jonah Berger's principle #3, Emotion
Where do B2B customers share?
Person to person
"56% of B2B purchasers look to offline word-of-mouth as a source of information and advice." BaseOne
The age-old form of word of mouth. While 56% isn't a huge majority, the value of offline WOM largely lies in its effectiveness. A trusted source like family, a friend, or a coworker is what McKinsey calls a high-impact reference. High-impact references are 50x more likely to trigger a purchase.
Online
"75% of buyers consulted online reviews before making purchasing decisions about business software." SoftwareAdvice
Online sources are generally considered low-impact references. But specifically in the B2B community, online reviews can be a more trusted source because it's all within a qualified network. Readers know reviews are written by fellow business owners, by people who are familiar with the industry or business model. So in B2B, online reviews might carry more weight than in B2C.
A few popular destinations for B2B customer reviews are these online directories:
GetApp
G2 Crowd
FinancesOnline
How you can harness the word of mouth already out there
Find out exactly what your customers are saying
Why? According to McKinsey, what is said is the primary driver of WOM's impact on another consumer.
How? Lincoln Murphy recommends a short, sweet tool for picking up valuable extra information. When a customer says they heard about you from a friend, simply follow up with, "What'd they tell you?" It's like listening in on their conversation, insight you'd never get otherwise. "The real why," as Murphy says.
And what do you do next?
Use customer WOM to drive your content marketing.
Maintain a robust presence online, and keep benefits top of mind. If people are frequently reminded of your product, they talk about it more often. Link your product to parts of their daily environment; associate it with some part of their daily routine. Jonah Berger's principle #2, Triggers
Offer advice, tips, and other how-to content, based around what you know customers appreciate about your product. McKinsey says the value of B2B WOM is less about emotional positioning and more about functional messages. Jonah Berger's principle #5, Practical value
Write customer stories and testimonials. This is key! Provide customers with a place to share their positive experiences. To learn what your customers really think, gather rich feedback, and craft a knockout customer story, read this piece on how to conduct a successful customer interview. Jonah Berger's principle #6, Stories
How to kickstart more WOM for your business
Conduct an NPS survey to identify customers with word-of-mouth potential
The Net Promoter Score metric gauges a simple and timeless customer sentiment: "How likely are you to recommend us to a friend or colleague?" Each customer gives a score between 0 and 10, which — aggregated together — yields your company's Net Promoter Score. The customers that mark you 9 or 10 are likely to actively recommend your company to others.
When you land in the 9s and 10s for some customers, you know these are your WOM targets: if they're not already talking about you, they probably will. So, try directly asking them to recommend your company.
Implement a referral marketing program
How to reward
One-way referral. Ask your existing users to suggest the product to a friend. When the friend signs up, reward your existing customer. This benefits the referrer only.
Two-way referral. Ask your existing users to suggest the product to a friend. Then, when the friend signs up, you reward both parties. The existing user and the referred customer both benefit. This double-sided incentive model has proven very successful.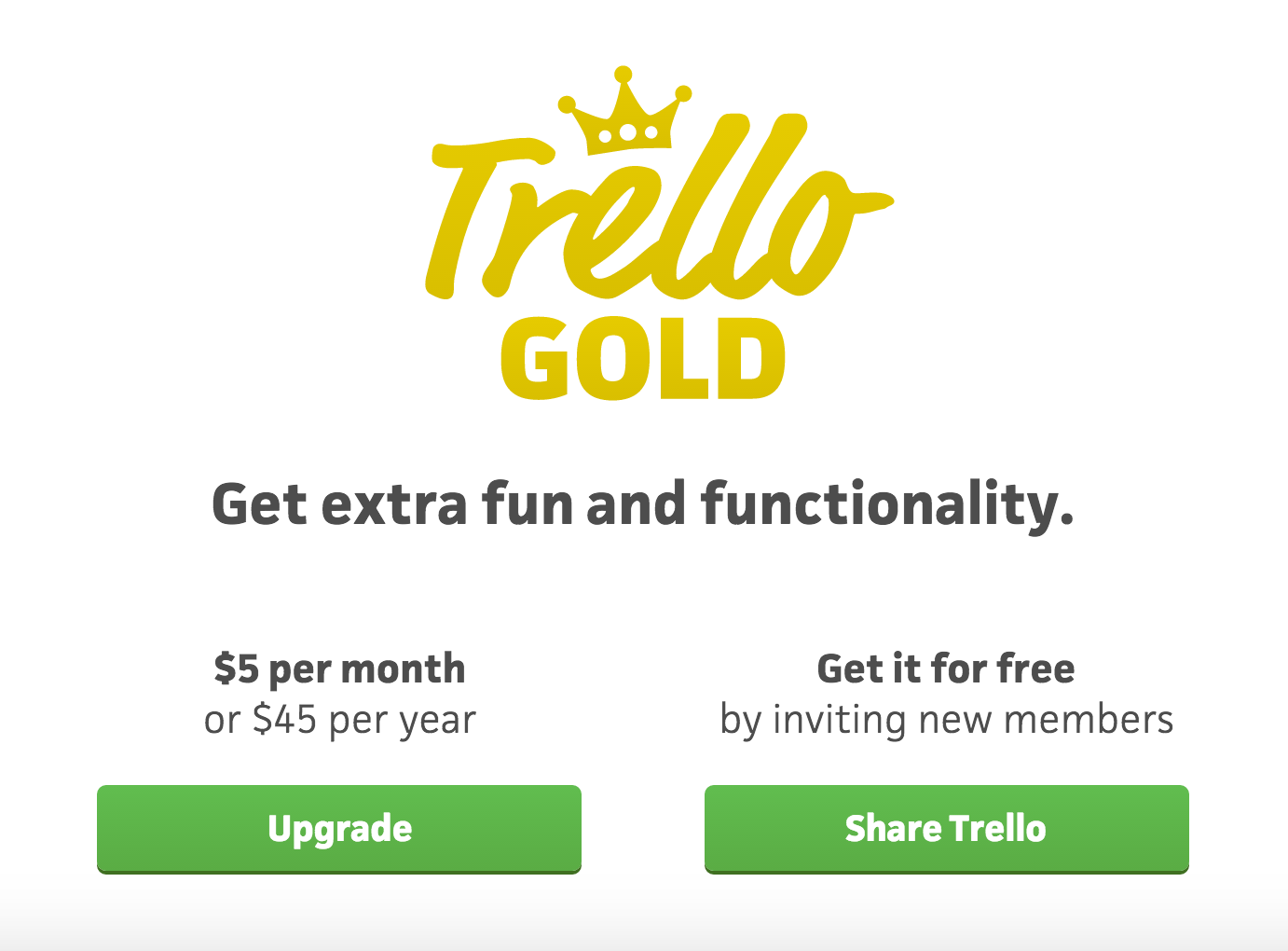 Trello in fact has a great example of a referral marketing strategy. The page for their paid plan, Trello Gold, features their referral marketing program right next to the option to upgrade via payment.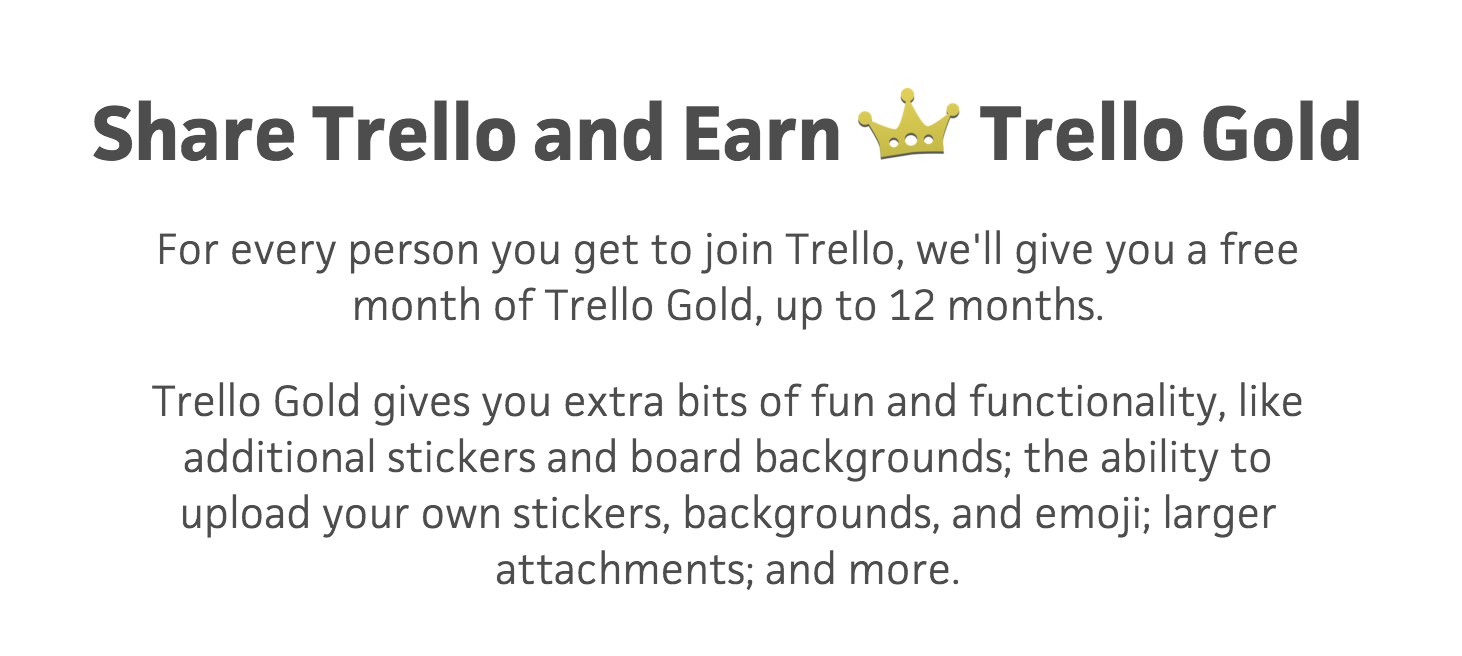 The reward proposition — a temporary plan upgrade — is laid out clearly, with some extra copy highlighting the benefits you'll enjoy with Trello Gold.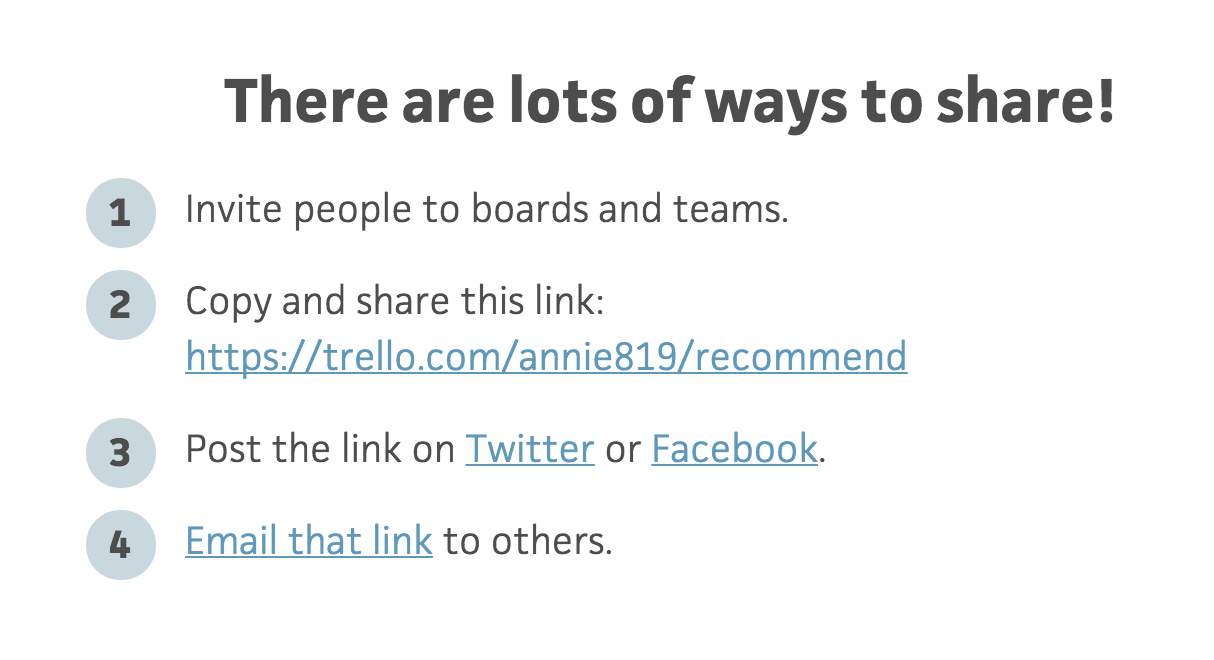 Then the ways to recommend Trello are listed — and linked to the appropriate channels for quick-and-easy referring on the spot.

Trello even gamifies the customer's referring performance, displaying a progress bar and total counts of new signups. Gamification can motivate a customer to stay active and keep sharing your product.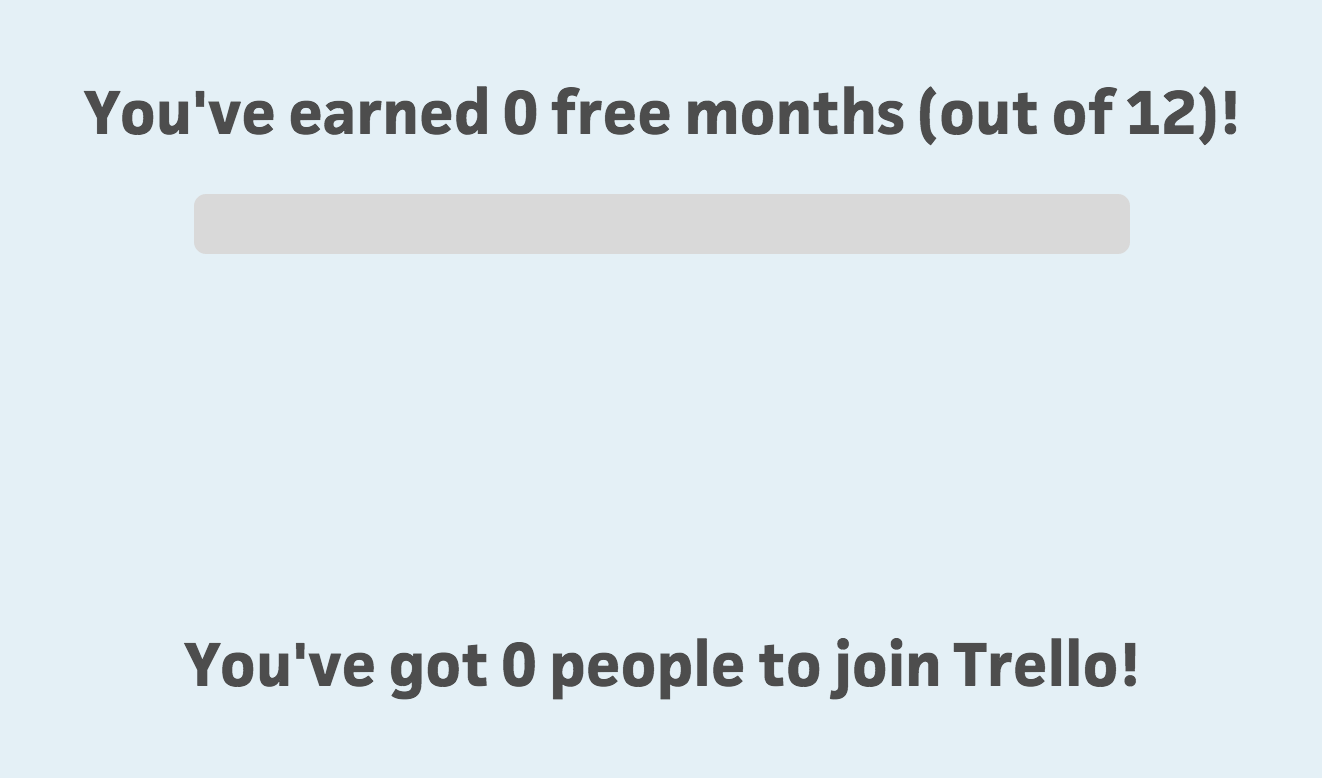 What to offer as a reward
The reward is up to you, from a free trial extension, temporary plan upgrade, payment discounts, or other perks. Test and see what incentivizes your customers most. But beware offering an incentive that's too high, that's too good. This can work against you as you're not really promoting "true" WOM. Constant referrals will make it clear that existing customers are acting more for their own benefit and not genuine recommendation, and the pool of potential customers — flooded with referral requests — will tune out your brand.
A note on influencers
There's lots of talk about creating "brand advocates" through "influencers" — but it takes serious time and energy to develop these relationships, and there's no solid proof that they are any more effective than the options listed above. Better to utilize the influencer base you already have: your happy customers.
What about viral marketing?
Some products are inherently "viral" — which is to say they're about sharing or collaborating, such as Dropbox, Hackpad, and Slack. But by and large, virality just isn't baked into most B2B products. Jason Lemkin talks about what's called the low "viral coefficient" for B2B.
"I'd say typically, SaaS apps don't have enough customers to see the material, economic benefits of viral revenue until they cross $1m-$2m in ARR at the earliest."
Still, there are a couple of simple tactics you can employ to improve your product's reach and exposure. As Kissmetrics puts it, virality is a design principle. Make your product as shareable and as visible as possible. Jonah Berger's principle #4, Public
Make it really convenient to invite other users
Integrate your product with Google so people can easily fetch email contacts.
Provide links to social media platforms.
Auto-fill any messages.
Yesware does all of this and more on their referral page.

Anything a user can share directly from your product, put your logo on it
This is often called passive sharing, and it works whether you provide invoices, reports, designs, email campaigns, etc. Mailchimp puts their logo as a footnote at the end of every email sent through their service, which is well over 80 million emails per day.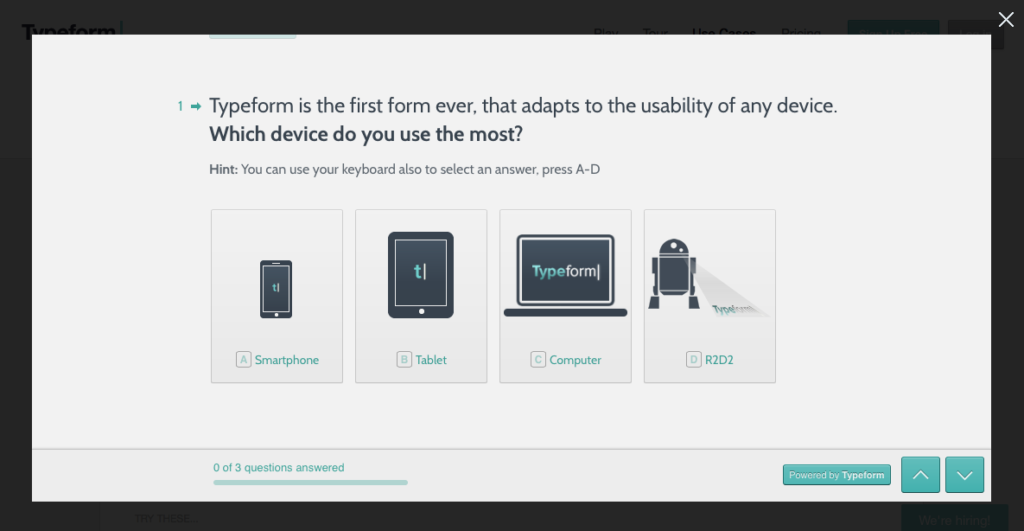 There's also the familiar "powered by" widgets. Typeform is an excellent example of this tactic, as you can see in one of their mock surveys. Clicking on "Powered by Typeform" takes you directly to their "Create a form" page, bringing potential users to the point of conversion in an instant.


Takeaways
Word of mouth is the single greatest driver of B2B customer growth.
Infuse customer word of mouth into your content marketing strategy to amplify its influence.
Conduct an NPS survey to identify active referrers in your existing customer base.
Test a referral campaign to acquire new customers.
Insert viral design tactics into your product to make your brand more visible.
All in all, you're leaving a lot of opportunity on the table if you aren't paying attention to what your customers are saying. Harness customer loyalty and make it work for you! And of course, you should measure all of the activity and efforts around word of mouth. Put a system in place to capture statistics around referred customers, through both informal WOM and referral marketing. Then optimize as you go and reap the benefits.