Billing is the lifeline of your subscription business.
You could have hundreds or thousands of customers lined up wanting to buy from you, but without a way of collecting that cash, you're out of luck. The trick about billing systems is that when they're working correctly, you can forget they exist.
The best billing system for you works seamlessly so that you can focus your efforts elsewhere. However, if they start to cause issues, the faults will grow to a massive scale.
Lost income, frustrated customers, and your reputation down the drain are some of the genuine consequences to lousy billing. The importance of a billing system shouldn't scare you, though. Instead, view this as an opportunity to make an informed decision that will positively benefit you for years to come.
In this guide, we're going to teach you what you need to know about SaaS billing systems and how to choose them. By the end, you'll be armed with the questions and considerations required to make selecting the right billing system for your SaaS much easier.
Why is billing critical for my business?
Billing is the middle man between your customer's accounts and your bottom line, that much is obvious. How exactly could a billing system make or break your company, though? It all comes down to fit, ease, and flexibility.
First, your billing system needs to fit your product's needs. For example, a SaaS product with different tiers needs a billing system that can accommodate these different options. It also needs to be able to handle movement between these tiers, as well as monthly vs. annual billing. If your billing system can't manage that, the customer experience will be frustrating, and you'll be limited in experimenting with pricing.
Next, your billing system should make transactions as easy as possible for both you and your customers. Difficult to navigate billing will stop prospective users in their tracks and potentially make your company seem untrustworthy. Plus, a redundant workflow or lack of data and reporting would make it difficult for you to work efficiently and spot issues.
Finally, you need a billing system that offers flexibility. While you can't foresee the entire future of your company, you do need a billing system that can grow and evolve with you. Having to switch providers down the line is a large undertaking. You also need flexibility in integrations. Using multiple providers for different purposes is pretty standard, and having systems that don't play nice together is disruptive.
The three types of billing systems you'll need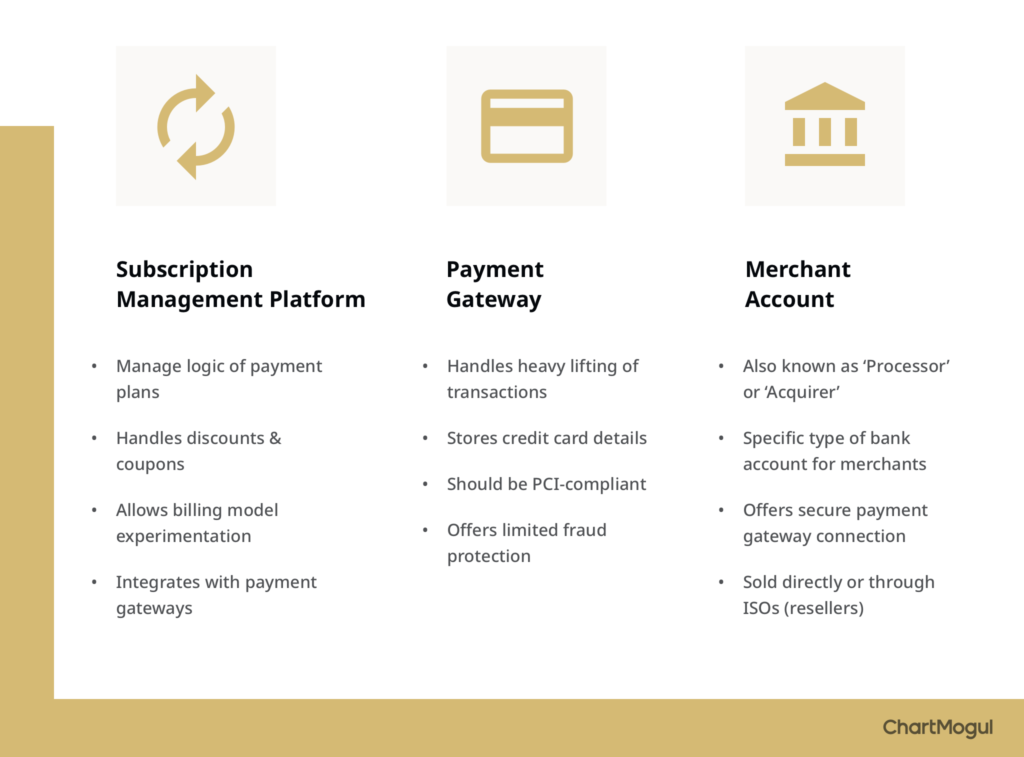 We've talked about how important this somewhat abstract concept of a "billing system" is, but now it's time for details. The SaaS billing process has a few steps and necessary tools. First, let's start with the billing systems.
Subscription management platform (optional)
If you're handling customer subscriptions, then subscription management platforms will manage a lot of the heavy lifting and logic around pricing tiers, discounts, upgrades, downgrades, etc. A subscription management platform can effectively drive a lot of the pricing model of your product – before we even get to the payment transaction. This is an optional tool, and examples include Chargebee, Invoiced, and Recurly.
Payment gateway
The gateway is the system that securely transmits transaction data to merchant banks and receives responses from issuing banks. Essentially, it tells the customer's bank how much it needs to send. Payment gateways you've likely encountered include PayPal, Stripe, and Amazon Pay.
Merchant account
You'll always need a merchant account to receive online payments as a business, but some of the billing systems include a "built-in" version. For example, Stripe is both a payment gateway and a merchant account. Others may require you to plug in an external account.
How do these three systems work together? We've simplified SaaS billing in the graphic below.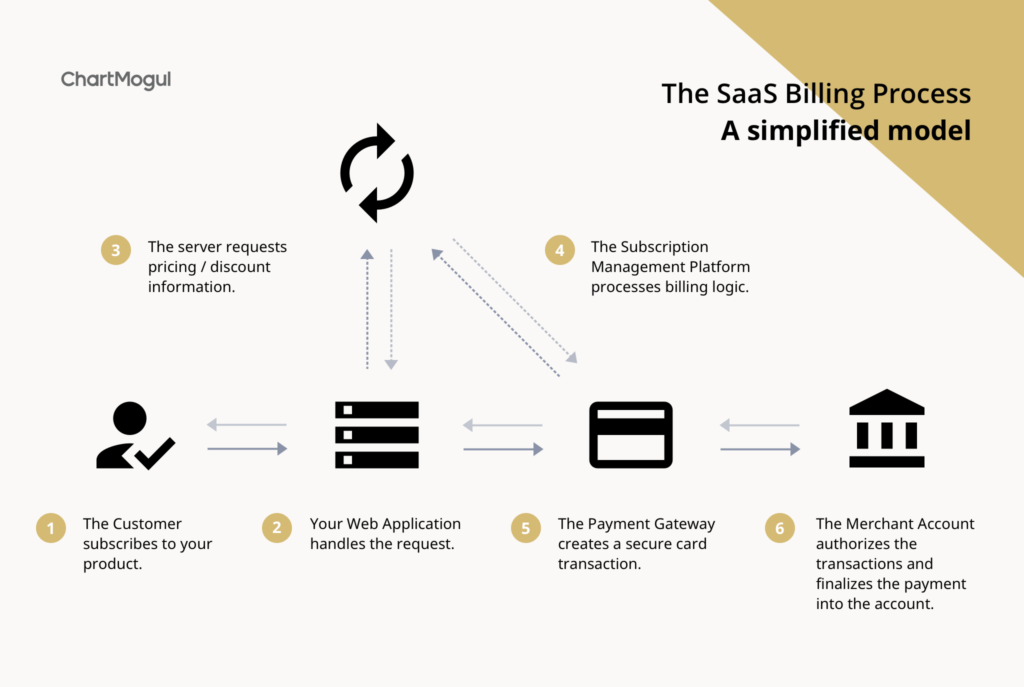 Let's say, for example, a customer decides to upgrade to a paid Pro plan. They click the beautiful "Upgrade Now" button on your website, which sets in motion a conversation between your application and server. Your application and server work together to determine what plan the customer is on now, and which they'd like to upgrade to.
This information is then passed on to the subscription management platform, which calculates what the total cost is. This total is passed on to the payment gateway, which gets the money from the customer's bank. Finally, the merchant account passes the payment to your business.
Does every SaaS transaction need all of those tools? Well, no. A subscription management platform is optional, which means you only need a payment gateway and a merchant account to get started. Some gateways are set up as both payment gateways and merchant accounts in one. If not, they'll likely offer integrations with other 3rd-party products.
In-house vs. 3rd-party billing
There's another vital detail about SaaS billing that we haven't covered yet: you don't need an external solution. There are many SaaS businesses out there with custom-built in-house billing systems driving their back end. As with any business decisions, choosing a 3rd-party or in-house solution comes with pros and cons.
In-house billing systems
If you want maximum control and customization over your billing system, then an in-house solution is probably tempting. Building from scratch takes time, so this route is better suited for bigger companies that can commit resources to get the system just right.
Pros:
Fully customizable to your product, payment tiers, promotions, and more
After the initial investment in building the system, there will be lower monthly or per-transaction costs
Issues receive full, immediate attention since you're the system's only customer
Cons:
Require a lot of complex logic to handle payment transactions (i.e., you'll need some great engineers and a lot of time)
Still needs to interact with 3rd-party systems along the way, for card authorization, etc.
May require a legal presence in each country in which you wish to do business
Will require a significant ongoing investment in security. Your billing system will need to stay at the forefront of the latest Paymentech
3rd-party billing systems
Opting for a pre-existing 3rd-party billing system is naturally less customizable. However, 3rd-party systems will always win in the "speed of integration" category. These tools are perfect for smaller teams or companies who want to have a working system up and running in a matter of hours.
Pros:
Handle nearly all of the complex logic associated with payments
Take care of the legal side of transactions in multiple countries
Usually maintains the highest possible level of security
Support many one-click integrations with other platforms (analytics, accounting, etc.)
Deliver a consistent payment experience for the end-user
Cons:
They'll take a transaction-based fee, but there's no upfront cost of building
If you need a new feature, you'll have to request it or find a new solution
Less flexibility and control than an in-house system
5 questions to evaluate a billing system
So you've decided to go with a 3rd-party option – great. But here comes the next dilemma: Which system should you choose out of all of the available products out there? Many of them have different characteristics and cover slightly different parts of the billing process.
How to Evaluate a SaaS Billing System
You need a payment gateway and merchant account, but subscription management platforms are optional. What part of the billing process does each system cover?
Does it handle subscription billing and one-time payments?
Does it operate in the country AND currencies you need?
What are the setup, monthly, and transaction fees?
Does it have features that matter to you, like analytics, mobile support, and integrations?
Which parts of the billing process does it cover?
Recall that there are three key SaaS billing systems, two of which are required. Do you want a comprehensive solution that covers most, if not all, of your process needs? Or are you content to mix and match services to cover the billing process?
There's no right answer, and it will depend on your preference. It's also useful to consider what you need now vs. what you may need in the future. Your company today may not need a particular feature today, but if it's a possibility in the future, you'll want a system with appropriate integrations.
Do they handle both subscription and one-time charges?
This one's fairly straightforward. If your business processes purely subscription-based charges, you can choose any of the specialized subscription billing systems available. However, if you also have some one-time charges such as setup costs, fees, etc. then you'll need a system that supports this as well.
In which countries and currencies do they operate?
Country and currency support are two critical factors, but they're definitely not the same thing. A billing system can support transactions in a particular country but not allow you to accept payments in the currency of that country.
There are almost no payment gateways that support every country (except for PayPal), so do your research! Having said that, most will support the world's major currencies.
Remember: If in doubt, make sure you read the complete terms of the payment gateway you choose.
What are the fees?
For a billing system, fees come in several different categories, all of which could have an impact on your bottom line:
Monthly fees: This is basically a SaaS subscription fee. You're paying to use certain features, per-month (or per-year). Many billing systems don't actually have a monthly fee.
Setup fees: When opening a merchant account, or other financial services, you'll often have to pay a one-time setup fee when you apply.
Transaction fees: This is how most billing system businesses make their money — they take a small fee for each transaction you run through their system. This is usually a percentage of the transaction amount, sometimes combined with a fixed fee of a few cents.
When you're evaluating billing systems, think about your transaction volume. Compare solutions based on your average number of transactions a month, as well as average ticket prices. If you're processing transactions over a certain (very large) volume, you'll be able to negotiate fees (and discounts) with the billing system. Huge SaaS businesses don't pay the fees you see on the pricing page!
What features are important to you?
Finally, you should consider the features that each system offers, particularly with regards to subscription management. Here are 6 categories of features that could be useful to you, depending on the features of your business:
Handling of subscription tiers, discounts, and coupons: If you don't have logic and systems in place to model and manage the different pricing tiers for your product, it's possible to find subscription management products to do this for you. This is especially valuable if you have a complicated pricing model and multiple discounts or coupons in use. For example, Chargebee, Recurly, and Chargify all offer subscription management functionality. 
Analytics: You want to be able to view and understand the data associated with billing. Some billing systems have a basic level of built-in analytics. However, if you really want to understand customer churn, retention, and optimize your MRR, you should turn to a subscription data platform. Give it a try.
Integrations: Besides analytics, billing systems can plug into a vast range of other platforms, depending on your desired functionality. For example, Stripe integrates with Intercom to allow you to communicate effectively with your customers. Make sure the billing solution you choose supports the systems you use in-house, and your experience will be much smoother in the long run.
Mobile support: Depending on your product, mobile payments may or may not be a requirement for you. Many billing systems support different kinds of mobile experiences (some more customizable than others). A good example of this is Braintree's extensive set of mobile integrations, supporting products like Apple Pay and Android Pay.
Invoicing and tax handling: If you need to invoice your customers, the chances are that you can have your billing system take care of generating, and even sending invoices.
Handling card failure: Credit card failure is a killer cause of churn in SaaS businesses. Some businesses have reported up to 50% of customer churn is attributed to failed card transactions, so choosing a billing system that can address this in some way could save you from a churn nightmare down the line.
5 SaaS billing system options in 2020
You didn't think we were going to give you all of this SaaS billing system information and then send you out on your own to find a solution, did you? There are a ton of subscription management platforms, payment gateways, and merchant accounts to choose from, but let's explore five. As a reminder, subscription management platforms are useful but optional. If you want to start with a lean billing system, all you need is a payment gateway and a merchant account.
Chargebee
Type: Subscription management platform (optional)
Chargebee is a subscription management and billing platform that handles both one-time and recurring payments. They're not a payment gateway, but they do integrate with gateways around the world. Chargebee offers pricing options in 100+ currencies and payment methods.
Fees: Payments plans, billed annually or monthly, are based on annual revenue and start at $249 a month. Higher-tiered plans also come with more features, users, and priority support.
Features:
Pricing model flexibility
Cart abandon recovery and dunning management
Subscription metrics and analytics
Recurly
Type: Subscription management platform (optional)
Recurly lets you set up one-time or recurring payments across a variety of payment methods, including credit card, ACH, PayPal, Apple Pay, and more. Just like Chargebee, Recurly has a global presence, though compatible payment gateways vary by location.
Fees: Recurly doesn't list pricing, but there are three tiers: core, professional, and elite. Plans have varying levels of analytics, integrations, and payment methods.
Features:
Machine-learning-powered "decline management" capabilities
Analytics dashboard
Add a second, backup gateway
Chargify
Type: Subscription management platform (optional)
Chargify handles recurring payments, as well as one-time adjustments or charges. They connect with major payment gateways, and you'll still need a merchant account. As with other subscription management platforms, available countries will vary based on your payment gateway.
Fees: Chargify charges a monthly or annual subscription, along with a fee based on revenue. Their starter plan begins at $149 a month, and the mid-tier "Success" plan is $499 a month + 0.9% of revenue.
Features:
Send personalized offers
Segment and experimental pricing
Dunning notifications
Stripe
Type: Payment Gateway and Merchant Account
Stripe is one of the leading online payment platforms, and for a good reason. It's a payment gateway and a merchant account all in one, so you could theoretically set up your SaaS with Stripe alone. The service is available in 34 countries, so your business needs to be located in one of those in order to accept payments through Stripe.
Fees: Stripe offers a pay-as-you-go pricing of 2.9% of card charge + 30 cents per transaction. They do have some country-specific rates and volume discounts, so it's worth contacting sales if you have a special case.
Features:
Accept customer payments
Receive payouts to your bank
Many services, including subscription management platforms, integrate with Stripe
Authorize.net
Type: Payment Gateway with the option to add a Merchant Account
Authorize.Net is a Visa-backed company that can be used as a payment gateway only or a combination of a payment gateway and merchant account. Your business can accept international payments with Authorize.Net, but you do need to be based in the U.S., Canada, UK, Europe, or Australia.
Fees: There will be a monthly and per-transaction fee, whether you choose payment gateway only or an all-in-one solution. Using Authorize.Net as a payment gateway costs $25 a month plus 10 cents per transaction and a 10 cent daily batch fee. If you want to use one system for billing, Authorize.Net is $25 a month plus 2.9% + 30 cents per transaction.
Features:
Option to use a different Merchant Account or use Authorize.Net for all payment needs
Accept 10 payment types, including Visa, PayPal, or E-Check
How to pick the best billing system for 2020 and beyond
Finding the right billing system for your SaaS is a tricky business. You need to weigh both your current needs, as well as what you might need in the future. Choosing a billing system that works out of tune with your pricing model or needs can lead to lost income and frustrated customers. Plus, switching billing systems down the line requires planning and careful coordination.
Since billing systems are essential, you need to take your time to compare and contrast. Consider things like which countries you need to be able to accept features from and whether you'll need one-time payments on top of subscription billing. The fewer billing systems you use, the less you'll pay out monthly or per-transaction. However, it's common to use multiple services together. Just make sure that your payment gateway and subscription management platform integrate before committing to either.
Want an easy way to keep all of this information top of mind as you choose a billing system? Check out our Ultimate SaaS Billing Cheat Sheet.
This article was originally published on the ChartMogul blog on January 27, 2016.