Dark Social and the black box of content marketing
Dark Social is all the virality you cannot see. Invisible traffic to your site, driven from links pasted to a friend in WhatsApp, sent via SMS, dropped into a Slack chatroom. These personal, mobile referrals create the black box in a content marketer's performance data. And that box is getting bigger.
"Non-voice time spent on mobile devices is expected to grow by 403% in just 5 years while every other traditional medium will lose usage." –GetSocial.io
Most of today's tracking services don't capture social shares correctly. In analytic tools, these visits are lumped into the "direct traffic" bucket. The lack of reliable data and insight forces marketers to rely more on gut feeling than they should. While definitely necessary — good instincts are invaluable — the gut-feeling guide is obviously not scalable in a growth-focused world. It can also be… a little scary.
Marketers need to be more empowered by the data. They need to know that traffic is a social referral, not direct. Furthermore, marketers need to understand the power of these social shares, as not all are created equal! One shared link might lead to some visits to the content, while another share might lead to… 10 more shares. The latter, that second-generation share, the referral share, is where virality happens. And that virality data isn't available in most tools.
The shift from public to private
It's not only the age of the mobile share, but also of the private share.
"A few years ago it was normal, even for me, to read a piece of news, grab it, post it on my Facebook wall. Now sharing has evolved into a very private or semi-private conversation between 1-to-1 or 1-to-a few in a small group." – João, CEO of GetSocial
A lot of people are talking about this shift to private media, the growth of dark social. As an example, check out this pondering piece on Medium. But GetSocial.io is far ahead of the conversation, already providing a social sharing analytics solution that specifically tracks Dark Social. Their solution helps marketers orient themselves and understand how their content travels in a brand new landscape.
We spoke with João Romão, CEO of GetSocial, about how they are solving this Dark Social problem. And how they found it in the first place. And how a young social analytics startup acquires a major brand such as Red Bull.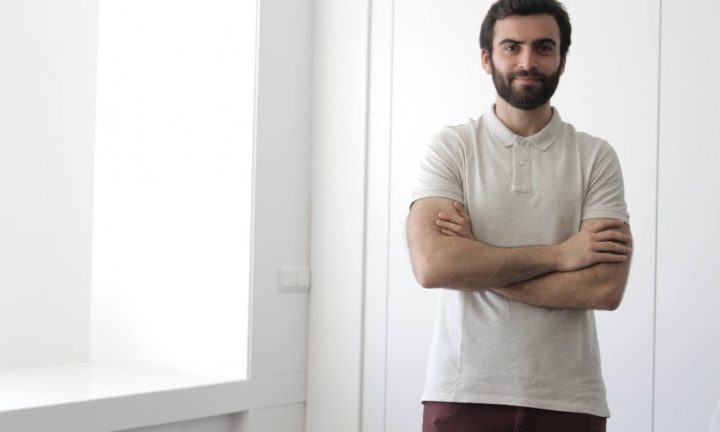 GetSocial's Origin Story
(Spoiler alert: there's a pivot)
The early days
Back in fall 2014 in Lisbon, GetSocial began as a marketing tools company for websites. The goal was to help websites increase their traffic: more subscribers, more shares, more followers… You know the drill. The tools they provided were pretty standard, such as share bars embedded in content.
Quickly they realized what a competitive space they'd ventured into. Up against digital marketing giants like SumoMe, companies with the double whammy of vast resources and the ability to provide their product at a low price-point (or free!), João and his colleagues decided to reevaluate. What was driving these bigger companies? Not the tools they provided. No, it was moreso the third-party data behind the tools. With widgets on all customer websites, companies like AddThis accumulate massive amounts of (lucrative) data on user behavior.
Holes in the data
So, as GetSocial began onboarding bigger websites with more users, they refocused to help these customers solve a problem. But which problem? Like any good startup founder, João began asking his customers questions about how they do what they do. GetSocial asked simple things:
What did you do today?
What kind of social marketing activities do you do, and what's missing?
How are you tracking your traffic?
And through that, they found knowledge gaps. Customers didn't really understand what was driving their traffic and where their visitors were coming from.
Dark Social: What happens beyond the share?
GetSocial devised a solution: social sharing analytics. A solution that answers these questions:
What happens beyond the initial share?
How do shares drive traffic to our site?
How is that traffic converting?
And thus, the hallmark of GetSocial's technology — tracking social sharing — was born. A main feature of their product is the ability to track copy-and-pasted shares and mobile browser shares.
"We developed that with the idea in our minds that this was the common behavior. And what we later discovered, and are publishing a case from one of our customers, is that about 80% of shares are made from non-through buttons."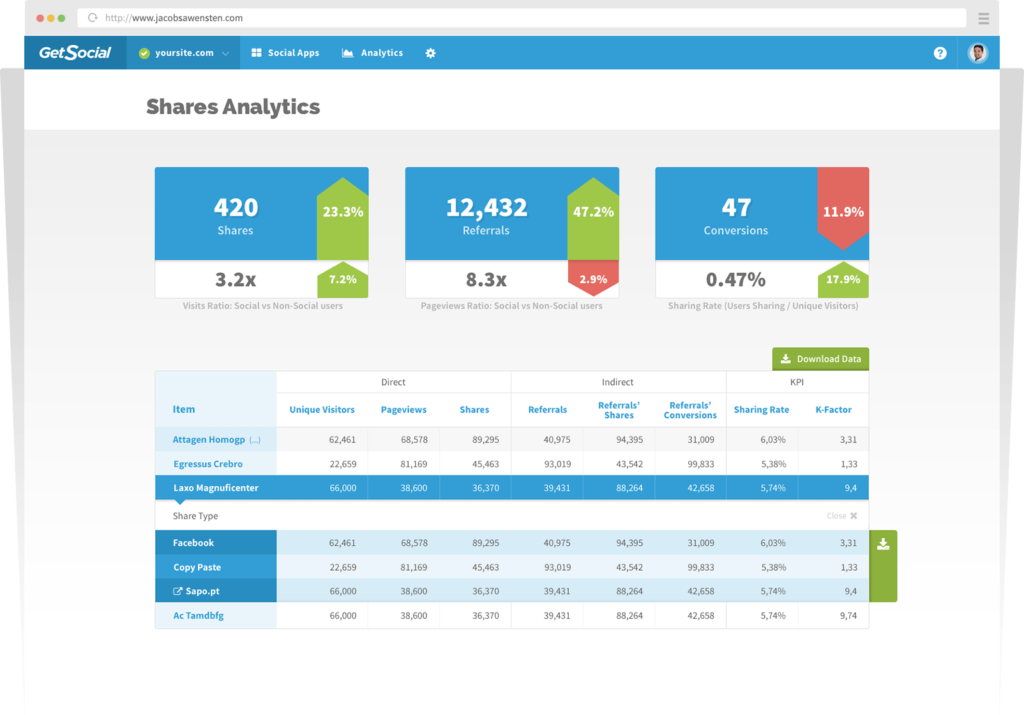 What's happening today
GetSocial is still a team of just four engineers, and ironically, no dedicated marketing team of their own! Their customer growth so far — to 81,000 websites — has been organic. Those customers include major brands as well as other business tools, such as lead generation platform Prospectify. GetSocial analytics have lead to great customer success, too — a case study on their blog is well worth a read, all about success unlocked through new dark social insights.
Their product, a collection of fourteen different tools, continues to adapt to fit this new private sharing style. In April they announced widgets to share on any messaging app, be it WhatsApp, Viber, Slack, or straight to your SMS.
And as for the business, they're now attempting to master paid acquisition, so they can continue to grow in a way that's repeatable and predictable.

The future of content marketing and where GetSocial fits
Everyone is doing content marketing now. The channels are noisy, and it will get harder and harder to compete. The only way to ensure what you're doing actually reaches anyone — triggers any kind of funnel activity — is for one of two things to happen: paid distribution or virality.
"Making anything new is insufficient and inefficient out the gate because it's unlikely that anyone will read it. There's only two ways now for your content to be read: pay for it, or for it to go viral."
João believes that soon, paying for content promotion will be a necessity, not a trend. And if you're paying for a service, you have to measure the results of it. That's just good business sense. And to accurately measure the results, you need access to the dark social data that lurks beneath your typical traffic tool. GetSocial wants to take care of that for you.
GetSocial allows you to:
Stay aware of trending topics. Strategically publish or promote your content so it can ride a wave of virality.
Evaluate where to invest your marketing budget. With paid distribution, which pieces do you choose to promote — and where?
Maintain top quality content. As a result of better content performance from the two above, there's no need to resort to clickbait to get more traffic and hit numbers.
Ultimately, they want to provide a tool for the entire value chain of content marketing: from creation to paid distribution. They want to help marketers and social media managers at every step.
Part of this is to use the data they have to fuel automated traffic acquisition. After the initial publishing and the subsequent analytics, GetSocial wants to automate what comes next — "like an intelligent Buffer," João says. And beyond that, GetSocial could even take the reigns of paid distribution, automatically promoted posts at the right time in the right third-party networks to maximize reach and traffic.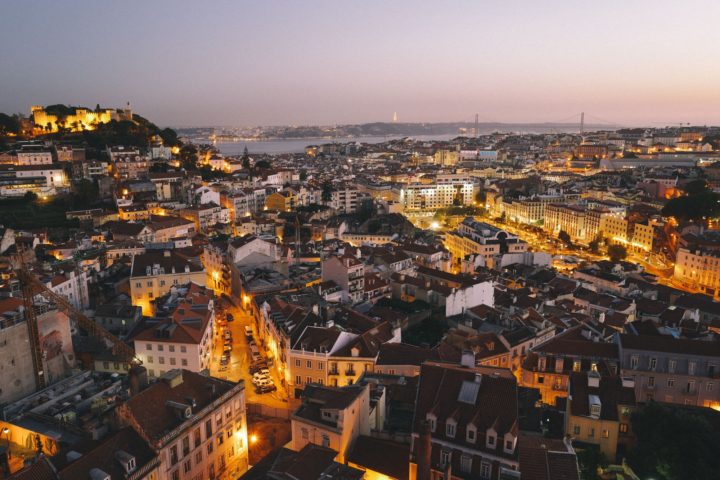 How ChartMogul is helping them get there
So far, GetSocial has optimized their pricing plan in hopes of reducing churn. Running a freemium model, staying in tune with the pricing model and retention is crucial. João says he can check at regular intervals to see that churn rates have gone down since the switch.
"By being able to analyze churn on a segment (per plan) level, we were able to bring down churn in one of the segments from about 12% to 0.5% — and in other from 6% to -4%."
Negative churn has got to feel good!
On a routine basis, João can easily share all key subscription metrics with investors. They always ask for the same four, he says: MRR, Gross MRR Churn, LTV, and CAC. And occasionally, he emails updated cohort analysis to the board, straight from ChartMogul.
"ChartMogul saves me a good amount of hours every other month, just preparing for the board meeting."
Whereas his old meeting prep workflow looked something like this:
Input and configure data > Create pivot tables > Transform to charts > Add to Keynote
His new workflow is:
Open ChartMogul > Click the metric he wants > Click Print Screen
To learn about the metrics mentioned above and more, check out our Ultimate SaaS Metrics Cheat Sheet.
ChartMogul also helps with the longer term shifts of the company. To realize their vision, GetSocial needs to continue growing. To get continue growing, they need to master paid acquisition. How to do that effectively? ChartMogul. Metrics. Segmentation. Thus far with organic growth, they've had no CAC to speak of and therefore didn't need to pay too much attention to LTV. That changes now. ChartMogul will help them understand their own funnel, their own conversion data — just like they're helping the marketers of the world.
Interested what you would learn about your own site's traffic with GetSocial? Get started and shed some light on your own Dark Social.
And if you're aiming to optimize and scale your own subscription business, sign up with ChartMogul. Connect your Stripe, Braintree, Recurly, Chargify or PayPal accounts. Upload the manual data you have, pipe in customer attributes from Google Sheets (or via API) and start building a better subscription business.
Share and follow!
NEW: How @getsocial_io is exposing the "Private Share" — https://t.co/V1rkJU21Gv #Analytics #SaaS @joaoromaolx pic.twitter.com/2aMilSIEFy

— ChartMogul (@ChartMogul) May 9, 2016