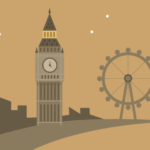 Heads up: Tickets are now available for our Mogul I/O London event on May 30th, in partnership with Marvel!
See more details and reserve your spot today.
---
The ChartMogul team is still buzzing with insights from our first ever event series, Mogul I/O, which ran in San Francisco and New York over the past couple of weeks. It was great to see so many people come out to listen and discuss building a SaaS business — if you were there, thank you!
Our contributors
For those who weren't able to be there, we're compiling key topics, discussion points and takeaways from the sessions. This post serves as a summary of the key points, including insightful quotes and key lessons from each topic discussed. Enjoy!
---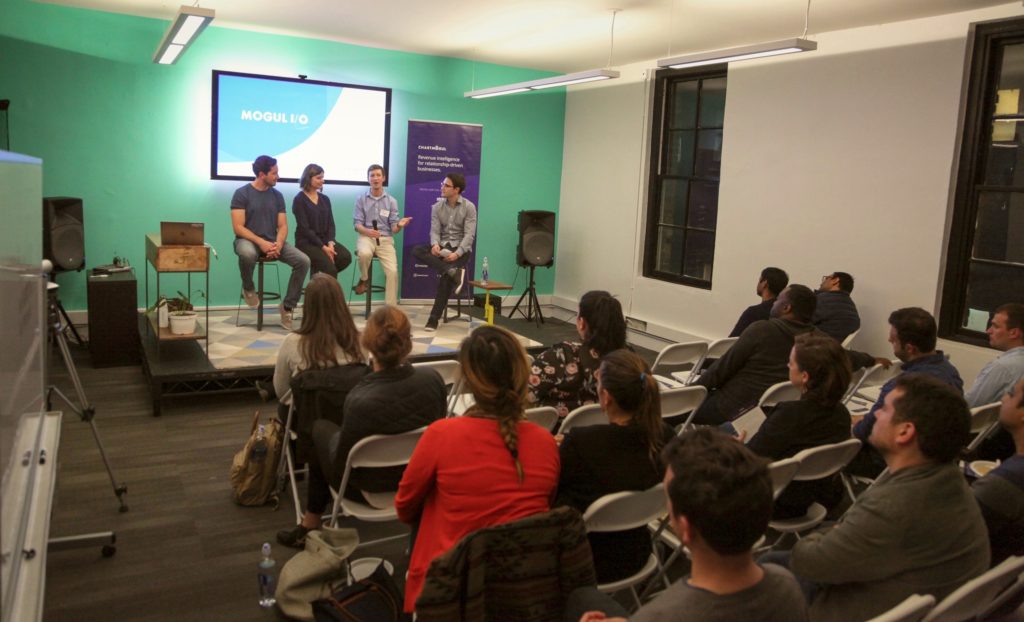 North Star metrics, and how to rally your team behind them
Key takeaway: Whatever your North Star or metric of focus, adding segmentation to high level metrics can really help add context to your data. More context = more informed decisions.
There are two interesting, somewhat opposing opinions here. Fanette explains how the entire company is highly focused on their impact on revenue:
"Our north star metric is revenue. We're really focused on revenue, and all the different business units are really focused on that."

Fanette Jobard, Algolia
At Algolia, all of the different business units have quarterly targets, and every week, progress toward targets are measured. This even includes operations and human resources teams that are not traditionally incentivized with revenue targets.
Typeform doesn't incentivize anyone outside of the sales team with revenue goals. They do have a North Star metric though:
"Our North Star metric is ARR. We've tried focusing on others, but when we lost focus on ARR we found that we were growing a little bit more slowly… so we switched back to ARR"

David Apple, Typeform
ARR alone isn't a specific enough target for Typeform, however. David explained how the team is actively trying to not move upmarket, but rather to increase their footprint in the existing market. To do this, the team focuses on ARR, but only within the context of monthly active users (MAUs). This helps keep the focus on new customer growth rather than MRR growth in existing customers.
How data informs day-to-day decision making
Key takeaway: Thinking about the "why", and the story told by metrics can help rally the whole team behind them.
Demand generation is a numbers and data game, in the world of Algolia. Fanette and the team team takes a very funnel-based approach, focusing on increasing conversion rates right from the top of the funnel (unique users) through to marketing qualified leads (MQLs) and further down the funnel, opportunities.
A big focus for Autopilot is focused on moving from "just" reporting on metrics to actually applying them to operational and strategic initiatives. They report their MRR in ChartMogul but are actively focused on segmenting beyond this.
"When we're thinking about a change to the business we'll back-test our data and then project forwards and say 'does that pass the smell test?'"

Rob Crossley, Autopilot
Freemium as a driver of growth
Key takeaway: Freemium can be powerful, but must be baked into the functionality of the product, if it is to be a successful driver of growth in paid accounts. Do you know the value of a free user?

In the case of Typeform, there was a free product before a premium plan even came about. The free version has really driven growth from the beginning. The "powered by Typeform" label that exists in the free product is really powerful! They were able to determine that each signup literally generates another signup — this virality has driven rapid growth.
Algolia also leverages Freemium in the form of its community plan. This includes some Algolia branding next to the search bar. According to Fanette, this is one of the best forms of advertising because people can actually try the product in a real context. The team has a lot of data on how well this converts users to paid accounts.
For Autopilot, Freemium means less (or even no) money needs to be spent on affiliation and brand marketing — the free plan itself really drives this.
"We're trying to think about the customers' journey… separately from a demand gen funnel. We're asking what the customer is experiencing at each point, and how we move them to the next stage."

Rob Crossley, Autopilot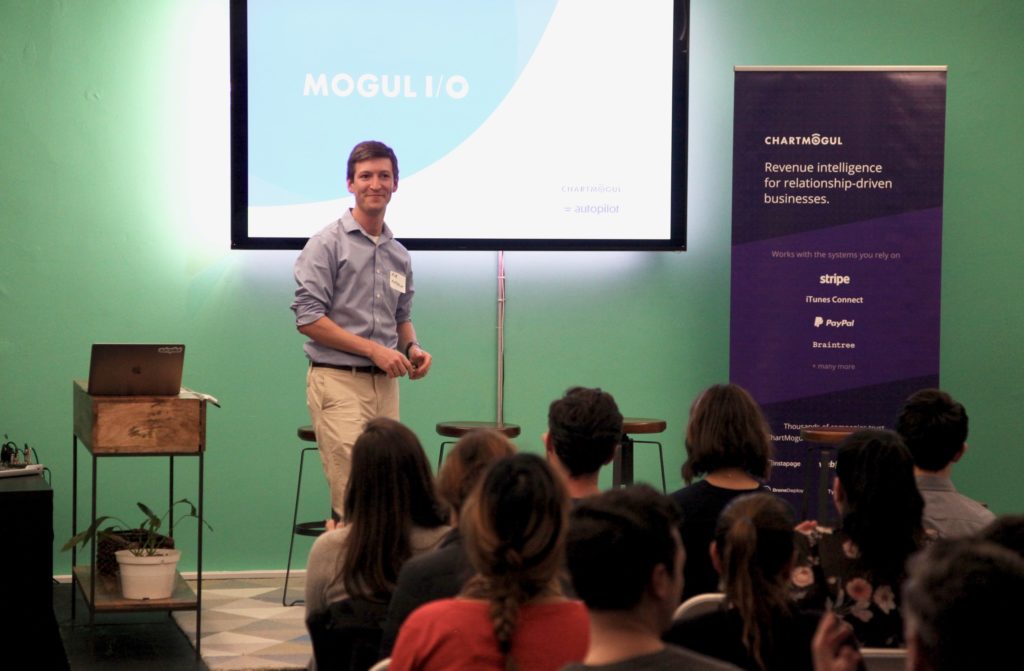 Branding is crucial for positioning
Key takeaway: Branding takes time and a lot of soul searching to get right. In order to be effective it must be aligned with your target customers' needs and aspirations — bad or misaligned branding can have a strong negative impact.
In 2017, Typeform took a serious step back from what they were doing to work with branding experts and think things through from the bottom up. Today, brand marketing is a big part of Typeform's strategy. This was very organic and started off with Pinterest, Twitter, Facebook, etc. They're currently exploring new mediums such as video on YouTube (no results just yet!)
"Our founders wanted Typeform to make things a little more human… and that applied to the way we build our product, and the way we build our company."

David Apple, Typeform
Algolia's Fanette explained an important pitfall with branding: If you try to put too much "simplistic" branding around your website, you can actually scare off the customers (developers) you're trying to attract. In other words, it is possible look too shiny and simplistic, especially in the context of selling to Fortune 500 companies. You need to do a lot of experimenting with your brand and see where you can grow. Ease of use can actually be a deterrent here!
The team at Autopilot have designed a very easy-to-use application for marketing, but that doesn't mean that it's not powerful. Heads up: there's a balance to strike here with branding. You need to set the right tone.
Finding the right pricing is hard
Key takeaway: It's more important to have the ability to implement and test pricing changes than it is to get pricing "right" in the first place. Nobody nails it first time round.
David Apple of Typeform explained how the company's pricing has become more sophisticated over time. At first they had a single $25 monthly plan. At this point, they knew they were leaving money on the table but it was early days and they didn't know how much. This was eventually raised to $35, and the company's growth trajectory immediately saw a step change. Even better was that the conversion rate wasn't really impacted. This was the first time they realized pricing was one of the biggest levers.
"Our founders wanted Typeform to make things a little more human… and that applied to the way we build our product, and the way we build our company."

David Apple, Typeform
Packaging also plays a big role for Typeform — moving features between plans has had big impacts on growth. Today's there's a growth team solely focused on testing and rolling out pricing changes.
Up until recently, Typeform's pricing has always been feature-based value. But they realized people were getting millions of responses and getting a ton of value out of the free product. And also customers on the other side of this scale. They've since added more limits to the free plan and introduced pricing per seat.
One note from David when it comes to testing pricing changes: Typeform is lucky because they have a very large volume (of traffic) to play with. Without this it would be impossible to run A/B tests and get statistically relevant results.
For Algolia, an API-based product, metered pricing is at the core of the business model. The team has adjusted price points in the last year, and are still trying to gauge the true impact of this pricing change.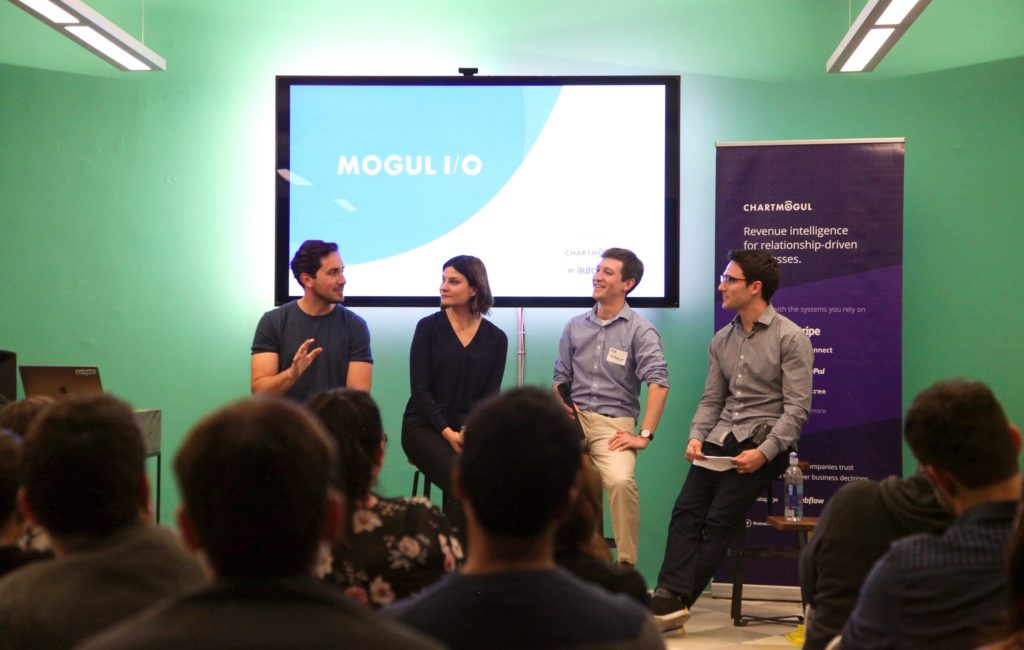 How do you align price with value? This is a tricky one. Because of its usage-based design, Algolia's pricing is quite tied to the business cost of supporting a customer. This is easier with some customers — with e-commerce for example, it's possible to tie a single customer search in the product to a quite specific cost and ROI.
"Pricing is hard because if you're growing, you don't even see at what point the growth will plateau. When changing pricing in the growth phase is not at all obvious."

Fanette Jobard, Algolia
The Autopilot team spends a lot of time thinking about pricing and have been through a few iterations on the pricing model. What they've found out is that companies have a very different value that they associate with each of their contexts.
They've seen a lot of success in simply getting marketing automation into the hands of someone and letting them create their own value there. It would be nice to control the value conversation a little bit more, but the reality is that this is constrained by other competitors in the market. This is a problem for most SaaS companies that exist in competitive markets.
Letting churn guide your focus
Key takeaway: Churn should highlight areas to focus on in your business. Hunting down reasons for churn and fully understanding what went wrong can help you fix the cracks in your product or processes.
Autopilot has gone from looking at dollar retention to logo retention (and back) again. The conclusion? Both are useful in their own individual ways. Rob and the team love looking at cohorts when trying to truly understand the lifecycle of a customer.
"What we're trying to understand is what is the lifecycle of a given customer, and what was it that made them churn? …Looking at the high level numbers, we know the impact on the business, but that doesn't give us insight into how to drive or improve that for the company going forward."

Rob Crossley, Autopilot
The biggest churn lesson from Algolia: Listening and following up with churned customers to understand what happened. This was paramount in understanding where things went wrong. In the majority of cases the origin was broken communication or a misunderstanding about the product itself. The customer success team tries to have really constant communication with customers. They had a few big surprises in the past where they didn't know that some big customers were about to churn.
David's team at Typeform looked at retention curve, and found that most churn was happening in the first three months. They grouped the people who churned within 3 months, those who stuck around longer than 8 months etc. and labelled these groups. They were able to then identify specific use cases for these groups that were very similar. This was able to better inform how to identify and serve these different types of customers when they initially sign up.
"When I joined, monthly churn rate was 10%… it's now down to 5%."

"The thing I've learned that has the biggest impact… is segmenting customers to group them together and really understand who's churning when, and why — and not just taking an aggregated view of churn."

David Apple, Typeform
Final word: What's the focus for 2018 and beyond?
For Autopilot: In Rob's opinion, the opportunity for SaaS in general is huge — democratizing software. At Autopilot, they have the opportunity to be the first entry point for companies to start leveraging marketing automation, and to educate those customers.
For Algolia: Fanette's focus at Algolia: "Nailing the data!" Data is the internal currency for companies, and it's really important to keep it independent. Algolia is building an operational team to handle this and make data accessible to everyone.
For Typeform: The book Crossing the chasm (Geoffrey Moore) has been a huge inspiration for David and his team at Typeform. The product is still used by predominantly early adopters and the company will focus on crossing this chasm, trying to solve customer problems for mature customers. A marketplace of add-ons and apps on top of Typeform is on the way in the near future!