Ever since we launched ChartMogul, customers have asked us to build an integration with cloud accounting platforms QuickBooks Online and Xero.
Given how these two systems structure and store billing data, it just wasn't possible to build the same type of single-click integration our customers have come to expect and love from us.
Enter SaaSync, ChartMogul's premier, US-based integration partner. Led by former FullContact co-founder Travis Todd, SaaSync provides a mix of software and professional services related to ChartMogul and subscription billing platforms.
Travis and his team got to work last year and built a new SaaS app that acts as an integration layer between QuickBooks, Xero, and ChartMogul.
We're excited to finally bring ChartMogul's industry-leading subscription analytics to companies using QuickBooks and Xero.
How SaaSync works
SaaSync starts by retrieving billing data from QuickBooks Online or Xero, such as invoices, credit notes, sales receipts, and payments. From there, it transforms the data for use with ChartMogul's subscription data model.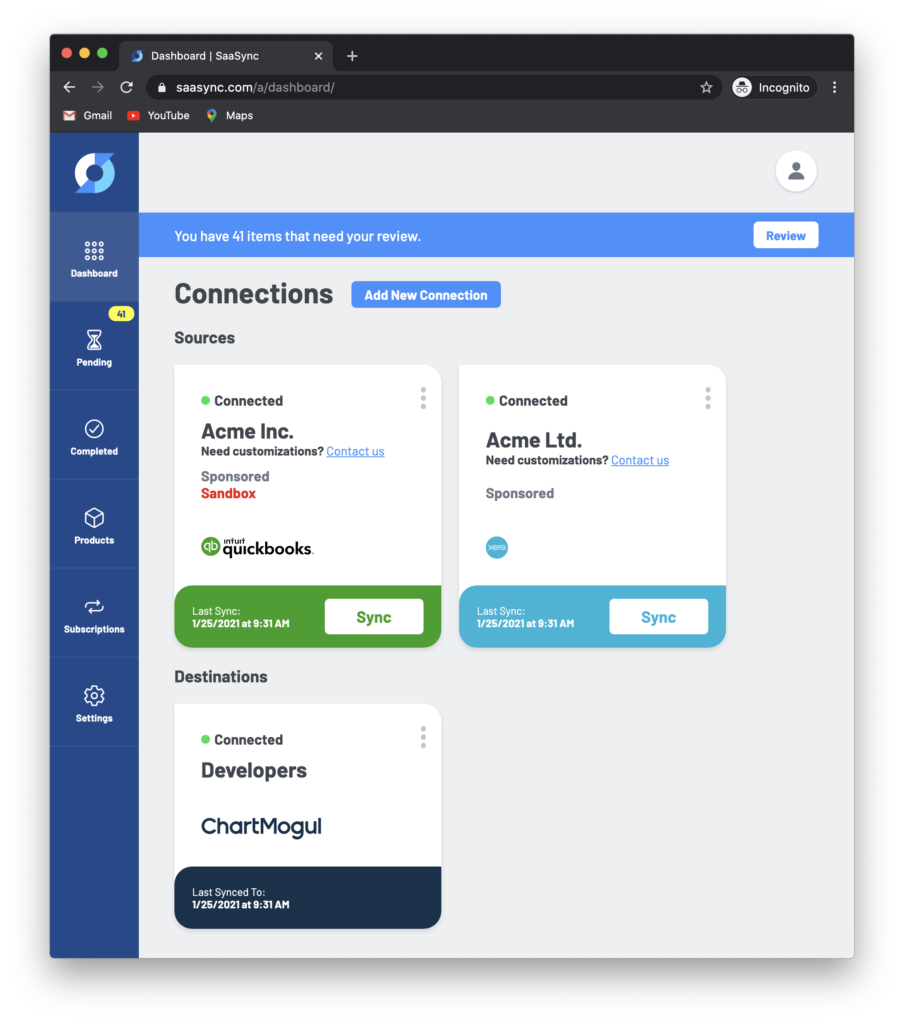 SaaSync can automatically transform and sync most data between Quickbooks Online or Xero and ChartMogul. Using an additional review system, SaaSync users enter missing or incomplete data before syncing the remaining transactions to ChartMogul.
About SaaSync
SaaSync, a close ChartMogul partner, is based in Wyoming and Colorado.
Their software ranges from complex custom integrations (Zuora, InfusionSoft, etc.) down to self-service integrations such as QuickBooks and Xero. They also provide custom implementation and consulting services to some of ChartMogul's largest and most complex clients.
How to get started
You'll need to be an admin in ChartMogul (sign up for a free trial if you don't yet have a ChartMogul account).
The SaaSync team has put together a video that shows you how to connect your QuickBooks/Xero account with ChartMogul and start syncing your data:
All your data in one place
Allowing our customers to bring in data from QuickBooks and Xero brings a step closer to our vision of making ChartMogul the central piece in the data stack of every subscription company.
Curious to see how that works for you? Start a free trial of ChartMogul and SaaSync and connect your accounting platform.