In SaaS Roundup, we comb through the noise to find you only the best SaaS-flavored reads of the week — just our top three.
You can also receive SaaS Roundup in your email inbox every Friday — just drop your email here and you'll receive the next issue.
---
This week's top reads
Clement Vouillon, Point Nine Capital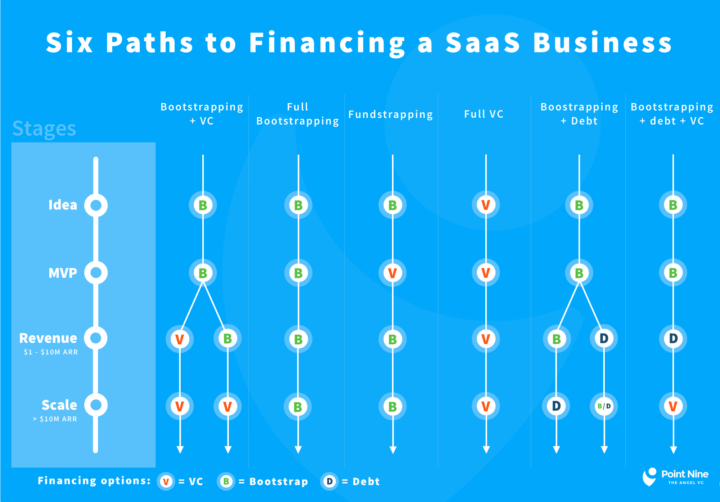 "I see an increasing number of SaaS companies taking debt at the Revenue stage. It can be either because they couldn't secure money from VCs or because they just need some cash upfront to invest in their product or sales and don't want to sacrifice equity for that."
It seems that the number of viable financing options for SaaS founders is growing. In some ways this is likely to be a side effect of the reduced VC-compatibility of many SaaS businesses (something that Clement himself talked about at length).
It's interesting (and no doubt incredibly useful for founders) to see these common routes to growth mapped out visually and compared. How long before founders are sitting in bars saying things like "oh, so you took the B-B-D-V route"? Read the full post.
---
Elicia McDonald, AirTree Ventures

"If your ACV is greater than $1k, you will need to decide whether or not to invest in building an inside sales or enterprise sales team (or both!). A startup can typically support an inside sales team with ACVs over $5k and sometimes even lower."
Alternative title for this: "How to be more confident in choosing your sales model". Elicia expertly breaks down different approaches to building a sales organization in SaaS, with a strong basis in metrics — LTV, CAC, ACV — it's all here! Read the full post.
---
Irina Dzhambazova, SaaStock

"According to research of 69 high growth companies conducted by Scott Sage and Andy Leaver from the London-based Crane Venture Partners, the time period that high-growth tech companies need before they start internationalising is rapidly shrinking. Previously, it was in the range of 10 years, while now it's accelerating to less than four years."
Excellent compare/contrast of different startups' views on expanding across the pond. The majority of this post is condensed insights. Read the full post.
---
That's all for this week! Don't forget you can still receive upcoming issues of SaaS Roundup in your email inbox. See you next Friday.