09:30 – Thing are warming up
The ChartMogul team is ready to go at the SaaStock venue. Or at least, once we've all finished our coffee we will be. Here's an overview of the day's sessions on the Operator Stage: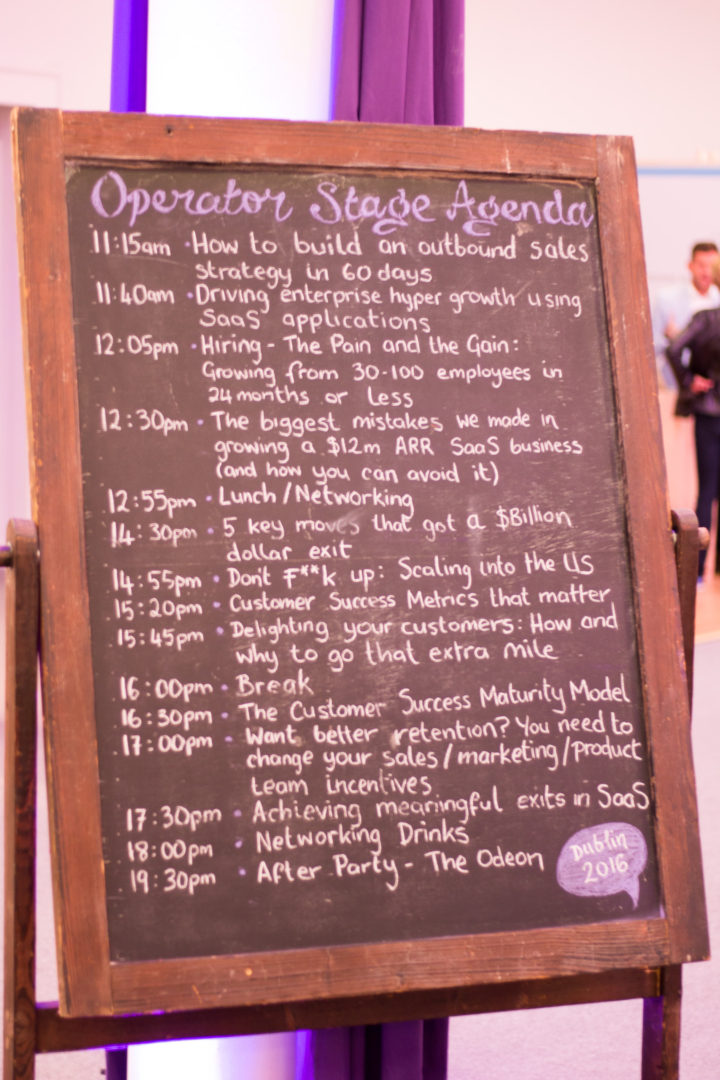 10:00 – Des Traynor takes the stage
Des is speaking this morning about Product-first companies. I'll hand over to Annie, for a quick summary of the key points…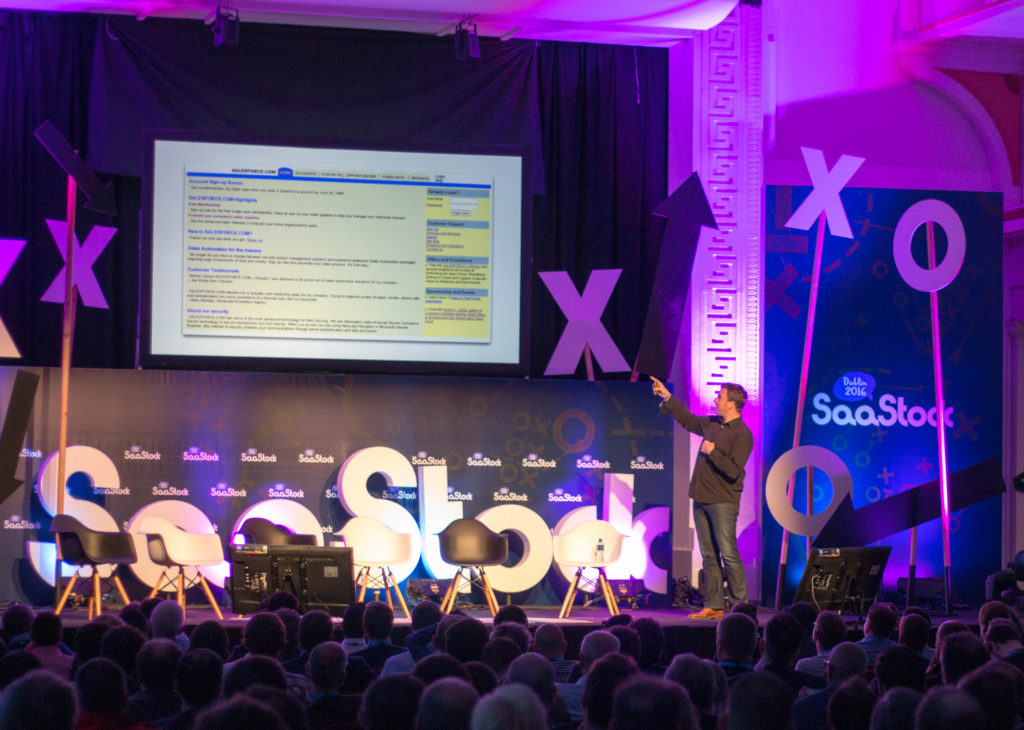 10:30 – My take-aways from Des Traynor's talk
Des kicked things off at SaaStock with a great talk about produce-first companies. He started way back at the dawn of business software and followed the evolution into the cloud. From there he made great key points about how software has shifted, molding to the user — and how software companies are shifting, molding to their product.
Here are the three innovations of software that describe the SaaS we know today:
Move to the cloud. "No installs necessary!" and "Work from anywhere!" were the common sales points.
Design with the user in mind. Nowadays, great UX is a no-brainer, but ten years ago it was revolutionary.
The product distributes itself. The latest and most successful SaaS products spawn users on their own, through innate virality in the product (e.g.- Slack users invite friends to chat) and sometimes with a little marketing help (e.g.- Dropbox offers free storage when you invite new users). Many SaaS companies today acquire their first few hundred or thousand users without a dedicated sales or marketing team. Thanks to the extreme connectedness of the web in 2016 and the new sales standard of Try Before You Buy, users can flock to SaaS products much more easily.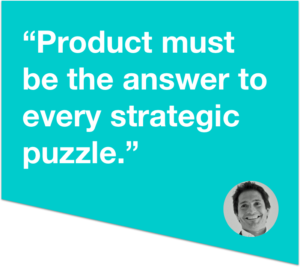 Des expanded on point #3. The reality is that with product-focused companies, the product solves many more challenges for the business beyond the primary function of satisfying a customer's need. It solves distribution, marketing, and sales. It guides the growth trajectory of the business. This reminded me of what Pietro Bezza (of Connect Ventures) said in his recent conversation with Ed about investing in early stage start-ups and mission-driven founders.
What's interesting is that innovation in SaaS isn't equally distributed across verticals. Here's how Des broke down some business areas from most evolved to least:
Product management tools: The most evolved, completely in the cloud, with excellent UX and viral distribution.
Invoices and expenses: In the cloud, great UX, but limited self-distribution.
Wikis & intranets
HRIS systems
Payroll systems: So far, just in the cloud. Typically still very difficult (aka unpleasant) to use.
What's next? Des pointed out how much more growth is in store for SaaS. B2B spend on on-premise software is on the decline, while spend on SaaS is on the rise. He said that by 2020, on-premise could be obsolete.
A little bit about SaaS metrics: Of course, my ears perked up when Des brought up metrics. He said he's tired of seeing company's charts of pure MRR growth. "This means nothing without churn," he said, "for all you know that revenue is dropping out of the business as well."
Instead he suggested looking at SaaS Quick Ratio, which compares MRR with churn so you can get an accurate picture of how efficiently you're growing. A few months ago I wrote a piece explaining SaaS Quick Ratio and evaluating it based on thoughts from the metric creator, Mamoon Hamid, plus Tomasz Tunguz and InsightSquared. What do you learn from the metric? What's the benchmark? Is it useful? Read more about SaaS Quick Ratio here.
Okay, I'm off to the next session! Hope you enjoyed this recap. Tweet and let us know what you think as the day goes on. This is our first "live" blog, and it would be great to hear your feedback! – Annie
12:20 – Genius or luck? What it takes to build a successful SMB SaaS business
Fireside chat with Alex Farrara from Bessemer Venture Partners and Martin Henk, Co-Founder and Chief Product Officer at Pipedrive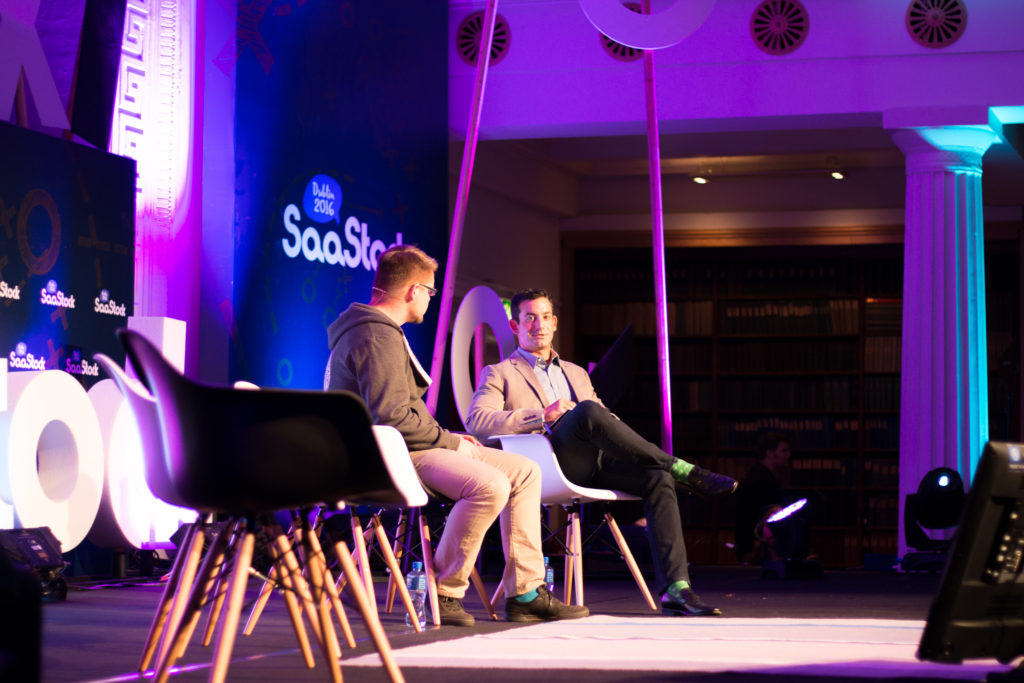 I dropped into this session a bit late, but am glad I made it because it was full of cool insight from Martin Henk, who started his Sales CRM product in the small European country of Estonia and eventually moved over to the States. Here's what I captured:
Hiring in Europe vs. hiring in the States
Earlier today Nikos Moraitakis said it's easier to find great talent in the United States. He started Workable in Greece and eventually moved the headquarters to Boston. Henk agreed that there's a much smaller talent pool in his native Estonia, so at times they do need to go abroad for hires. But on the other hand, Pipedrive is the best employer in Estonia. When you have a status like that, you get lots of attention and media, you have public recognition. "We stand out, so its easier for us to find great people [in Estonia]."
When did it make sense to move to the US?
Pipedrive was forced to because they couldn't get the business to grow beyond 10 new customers/month. At that point they decided to go to Silicon Valley and try the angel investor path. "We opened an office there to breath the air and drink the koolaid." Pipedrive grew the California office to 10-15 people, then shut it down to move to NYC.
Was moving to NYC the right decision?
An NYC office was the right move for the Pipedrive team. It came down to coordination and collaboration between global offices. California was a ten hour time difference with Estonia, so there was no overlap in working hours between the two teams. After a round of funding, in the face of hiring more and expanding, it seemed unwise to continue to grow two offices that had zero overlap. At least in NYC, there are a few hours where both offices can have meetings. No late night calls for Estonian team members, not 6am calls for the guys in California, nursing their coffees and trying to wake up.
Cultural tension: Geographic location of team functions and decision-makers
When companies expand from Europe to US, there can be some cultural tension between teams. Some founders believe they can find the best executive or sales/marketing talent in the States. But you risk everyone back in the original country feeling that key decisions are made elsewhere. They feel they're a low cost engineering and product route for the company. Henk agrees that it's tricky to balance. "We try to manage it as best we can" through transparency and constant iteration.
What team functions should stay in the States?
There are key marketing roles that don't exist in Estonia and will stay in NYC. If you really want to do American sales, you need local people and native speakers making calls. Pipedrive also runs customer support from NYC. Last but not least, Finance. "It's almost impossible to find Finance people in Estonia who would understand US tax policies."
Finding Product-Market Fit
Earlier today Peter Reinhardt, CEO of Segment, said only 1 in 5 founders find PMF. For Pipedrive to find it, they had to removed roadblocks they themselves put in place. They had a product that sales people loved, but it wouldn't grow. It was too difficult to sign up. So they changed that initial experience — how website worked and a few other things. The result?
3x more sign-ups over night
From 10 to 100 new customers/month in the course of one quarter.
Without changing the product but instead the user initial experience, they now get about 3000 new companies every month.
What's the most important thing Pipedrive looks at to measure the company?
Net Promoter Score. Henk likes it because it tells the story of how the entire company is doing. It's about entire ecosystem: speed, reliability, support, product features, etc. And you can learn more by splitting segment of users. "Small companies love, us but large companies aren't as happy. So that tells us that we can cater do these bigger customers differently."
One unlucky moment in the Pipedrive story
Henk told a story about when the company growth stalled. "Money was running out. The product was ready. We were getting 10 new customers every month but wouldn't grow faster." They applied to numerous accelerators and got rejected. "It was a negative pattern, and it felt like we were doing something wrong, that maybe we should shut it down."
But then they embraced the idea to "decide not to fail." They sent one of the co-founders to Silicon Valley, he knocked on hundreds of doors. They could not raise money when they needed it most. Then back in Estonia, they worked all winter, hit 1000 customers and profitability. At that point — raising funds became easier. They were able to raise money from investors over the phone, whom they'd never even met in person. "It seemed once you didn't need the money, it was easier to get."
Phew! Lunch time. We'll check back in soon. – Annie
14:00 – Lunch update
Ed here. I managed to implement my well-tested strategy of timing lunch perfectly, just before the queues start to build up. There's a really nice festival vibe to the lunch area, with a DJ adding some background beats. I went for the bagel — and didn't regret it.
The chilly Dublin wind is coming into play, but the networking is as fierce as you'd expect from the SaaS crowd…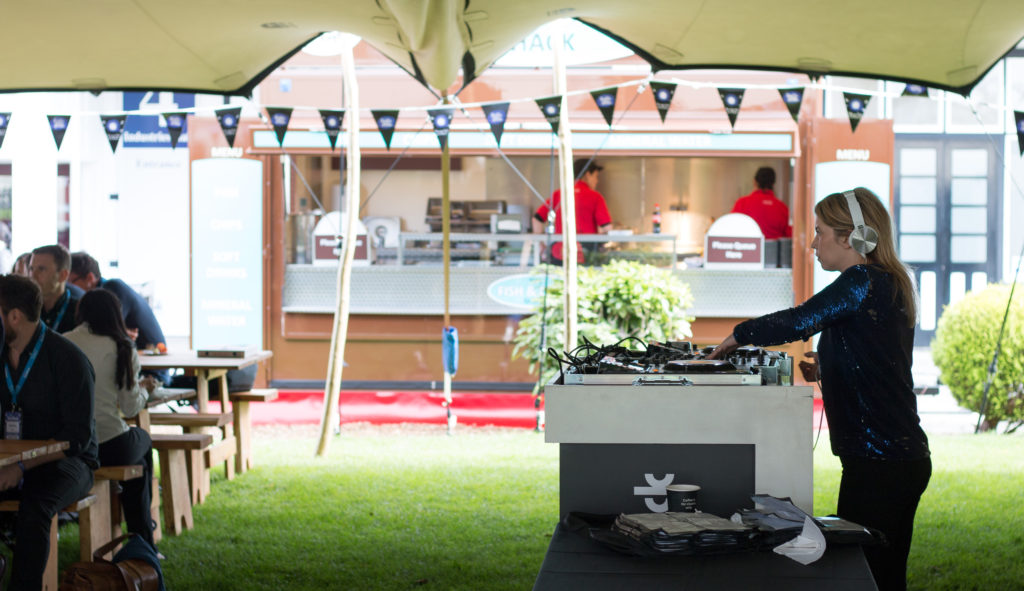 15:00 – The data-driven Marketing playbook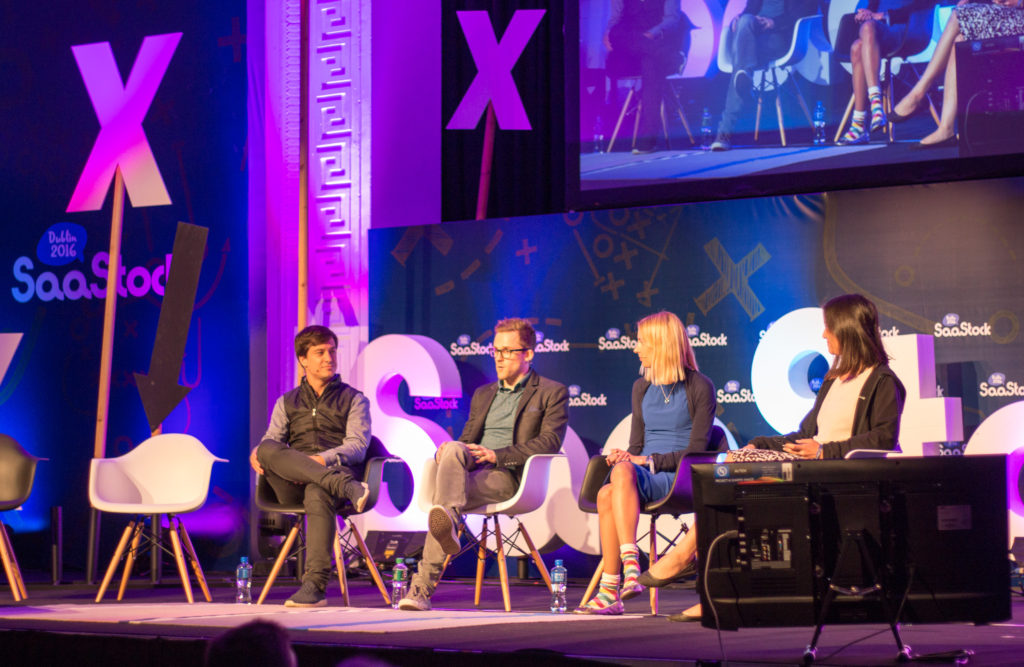 Great panel with the following participants:
Elizabeth Yin, Partner @ 500 Startups
Andrew Davies, CMO & Co-Founder @ idio
Kieran Flanagan, VP Marketing @ Hubspot
Nicola Anderson, VP Marketing @ GoCardless
KPIs in Marketing
Have to be aligned to business objectives
Have to give you insight into business performance
Keeping KPIs lean – tracking too much – paralysis
Must be constantly re-evaluated, as the product evolves
It's easy to get side-tracked by vanity metrics – they can be a great excuse to throw a party.
What KPIs does your Marketing team track?
Nicola @ GoCardless:
Signups
Qualified leads
MRR
Churn
LTV
Signups vs. Qualified leads
There can be conflict when it comes to choosing to focus on small startups vs. medium / large sized businesses, and the KPIs required to measure those. Signups are more relevant to the "long tail" customers, whereas qualified leads are more about sales opportunities, bigger accounts etc.
It's important to have some conflict over this — it shows that people are bought into it.
Experimentation in Marketing
How do you include and nurture experimentation in your Marketing team?
Hubspot picks experiments applicable to three categories:
Acquisition
Monetization
Retention
How do you prioritize the experiments you want to run?
Prioritization
Impact
Ease
(PIE)
Everyone agreed that it's essential to tie the potential of an experiment to a real number — a real change in KPIs. if you have this, you can say "I predict that we can increase X by Y amount."
Hubspot has built an "elastic-type" Marketing team, each person bringing different skill sets. This multi-functional team structure means you can ALL focus on one big problem as a team, before moving to the next big thing.
More to come this afternoon!
Ed
15:20 – 5 key moves that got a $Billion dollar exit
A chat between Siraj Khaliq (Co-founder, The Climate Corporation and investor at Atomica) and Tom Lyons, the Business Editor of Sunday Business Post
The following is all paraphrased from Siraj Khaliq and should not be considered direct quotes.
Move #1. Pivot. (Twice.)
We pivoted twice. People around us tried to discourage it, but good founders don't listen to naysayers. They just execute. We did stay aware of adjacent opportunities, which helped us determine our pivots.
The first pivot was out of necessity, and it boils down to the fact that our CAC was too high and LTV too low. We were selling weather insurance to businesses. But educating on weather risk and convincing business owners to buy insurance didn't work. So we pivoted to agriculture specifically.
The second pivot was not out of necessity. Working with farmers, we simply saw the opportunity to focus on inputs, not just outputs. How much water, fertilizer, etc.; what to invest in their farm to determine a certain outcome. This evolved into a farm management platform that spurred the precision agriculture movement. Our board was split on whether to do it. They didn't want us to lose focus, but it worked. And this second pivot of the business was key to us getting acquired for a billion dollars. It wouldn't have happened if we were just an insurance business like before.
Move #2. A big outcome requires a big problem.
If you want to have a big result, you have to start with a big idea. We set out to solve the problem of world hunger and work with agriculture and technology to solve it. Now as an investor, I don't back people who tackle something too small.
Move #3. Fire fast.
We let go of staff who didn't work out EARLY, even senior people. You've probably heard the saying, "A people hire A. B people hire C." But you're gonna screw it up at some point. And there are huge costs of a mishire in confusion and in morale.
Trust your gut about hiring someone, even if people around you whom you respect swear you should hire a certain person. Gut beats hearsay every time.
Also, great people don't come cheap. Paying for headhunter is worth it.
Move #4. We became a channel business.
Our first approach was direct sale, and we couldn't sell because there was a trust issue. The average American farmer couldn't relate to the guy we had on our sales team. Eventually we hired local sellers. Keep open mind about sales, and move to a channel business if it fits.
Move #5. Choose investors for strategy, not money.
In our Series B, we didn't choose even the third best term sheet we were offered. We chose not the best economically — but instead went with the investor who had the connections politically, and the connections with customers. This helped us out at that particular stage.
It was the same at Series C. We went with Founders Fund. They are very long-term thinking, so they understood and supported our second pivot when our board was skeptical.
So strategically pick your investor, don't just go with the biggest amount of money. Think carefully because they become co-owners. Do yourself a favor and don't use a bank. Maybe in a Series C it makes sense, but early on, it pays off to spend time with investors and deepen those relationships.
Bonus question: Was the sale, your billion dollar exit, planned or reactive?
We were mission-driven. We weren't about biggest outcome, but rather about how we could best help farmers. We felt that feeding the world's population was so important. It was clear we couldn't do it successfully without another round or two, so there was still a lot of risk left in the business. We ended up selling to the Google of the AgTech space who were in a great position to carry on our mission.
So the sale was not out of necessity but pragmatism. They were the right partner. Maybe in 2015 in that fundraising climate, we could have raised $500M and executed, but that's how it goes.
On to the next! – Annie
17:30 – SaaS VC landscape: Raising Capital in Europe
Vision > metrics, great design, and the advantages of the US market…
The following is a collage of comments from the panel members:
Mike Chalfen – Co-founder and Partner at Mosaic Ventures
Gil Dibner – Venture Syndicate Lead, Angelist Syndicate
Sitar Teli – Partner, Connect Ventures
Conor Stanley – Founder, Tribal.vc
Jos White – Notion Capital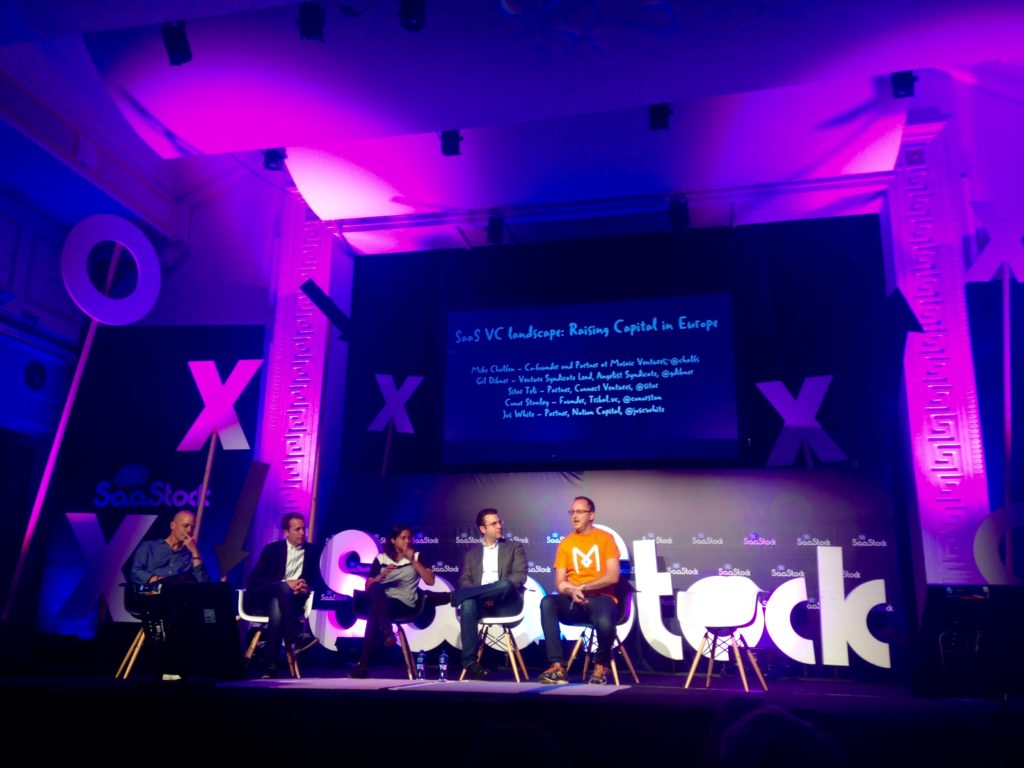 What does it take to raise money at an early stage? It's key to understand UX design. At Connect Ventures, we look to see if they are solving a problem and if there's a potential for PMF. (Sitar)
In general, seed capital for SaaS has been difficult and underfunded. It's possible that's why we don't see as many large SaaS companies here. (Sitar)
As for some generic advice for raising seed, assume that you aren't going to generate revenue on your seed round. Instead aim to raise a lot of money so you can build for 18 months. Yes, you'll probably generate revenue, but you don't want to set that expectation and possibly panic. (Sitar)
Series A is having an impact on seed. The bar has been raised significantly for Series A. So now we rarely companies going straight from seed to Series A; there are a lot of intermediate rounds. So we're interested in large seed rounds so our companies can get more traction. (Conor)
In Series A, revenue is a general reference point, not a deciding factor. (Jos)
The pace of growth matters more than the number. (Mike)
There's a formulaic approach to SaaS in Europe that doesn't exist in the US. SaaS is a tool, not the answer. (Gil)
SaaS has built a culture of metrics and benchmarks, but none of that is true SaaS. It is not grounds for a funding event. (Gil)
The SaaS toolkit is useful for building a large company, but not enough for getting to the big payout for investors. (Gil)
Things are getting financed that shouldn't get financed — which is changing entrepreneurs' perspective on what their metrics need to be. (Gil)
Exploring the difference of SaaS in the US and SaaS in Europe:
The US is ahead on SaaS adoption curve, all the way from from mid-market to Fortune 1000. (Conor)
European founders have to make the transition to SaaS. (Conor)
Cause for adoption is a barrier. (Mike)
In the US, you can raise more money. American VCs take top-down approach (they look at growth), while Europe is more cautious (metrics and downside protection). (Jos)
The US is a huge market with the same language and currency. (Jos)
The best founders don't think of it as, "I'm a European founder." It's just: "I want to build a huge global company." Don't think in geographic silos. Play a global game from the moment you wake up in the morning. Go where the market is. (Gil)
Unfortunately, leanness erodes as a company grows. As you have the money, you spend it. And then you built a fat business and the next round you raise needs to be even bigger. Yes, I think you need to raise money to scale, but I don't think you need to raise as much as some companies do today. (Sitar)
It's cheaper to start a company today. That means it's cheaper for everyone and anyone to start a company today. Technology is what differentiates from competition. Execution really matters, but you can hire for that. Technology is the only weapon. (Gil)
Actually I'd say that design and UX are fundamental. It's not something you can copy; it's part of the founders view of life. If it's not part of the founder's view of life, then it's not part of the company's view of life. Design and UX can be as differentiating as technology. Every company that scales becomes a tech company, otherwise they will break down. (Sitar)
I'd like to see a founder better articulate their vision — crisply, in a way that's easy to grasp. It sounds simple, but actually it's remarkable how few can do that in a way that is clear and compelling. (Conor)
In meetings to raise, founders focus too much on KPIs and metrics. It's not exciting. You can see the growth of the company, but not how it will impact or change the market. Big impactful things lead to the biggest returns. If you pitch metrics and not vision, it's hard to get excited.
What happens after SaaS?
Now SaaS seems passive. I think we'll see increasingly software infused with data. It will be dialectical, infused with data and some machine learning so it gets better every time. Then we have a future of intelligent software. (Jos)
SaaS is such a dominant model and efficient delivery system that it's hard for me to see beyond SaaS. APIs are interesting. If you believe that software is eating the world, then developers will eat the business users. (Gil)
– Annie
18:20 – Off to the after party!
That's a wrap!
We had a great time manning our ChartMogul booth in Software City, as well as attending as many informative sessions as we humanly could.
Many thanks for everyone who stopped by to say hi, who taught us things from the stage, and of course who helped make this inaugural event possible! Hats off to SaaStock.
Now… time for a beer. Sláinte!