Track your metrics on the go, whether you're an iOS or Android user. Get the new ChartMogul Android app to track your SaaS metrics on your phone. Scan the QR code above or download the app from the Google Play Store.
Bring your SaaS metrics with you, wherever you go
After all your positive feedback on the ChartMogul iOS app and multiple Android app requests, we're sharing the new ChartMogul Android app. 
The ChartMogul app gives you an overview of the health of your business.
These are the charts you'll be able to see in the app:
Monthly Recurring Revenue
Annual Run Rate
Subscribers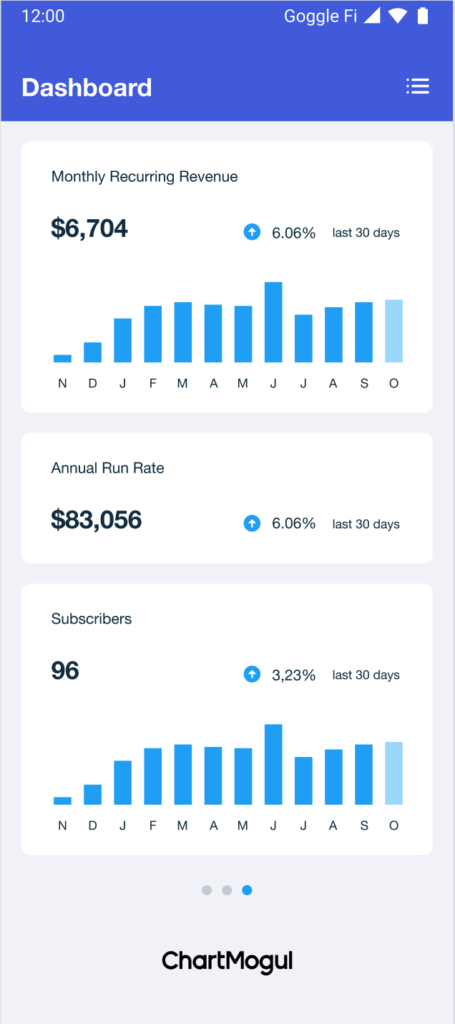 Keep your team aligned around metrics
Since we've upgraded the API access management, all ChartMogul users can access the app via a secure QR login. Anyone with a ChartMogul account can create a read-only API key, scan the QR code and get access to the metrics of the organizations they are part of. 
Democratizing data has never been so important. Keeping your team aligned around your most crucial metrics will help them make informed decisions, and share in the wins.
More features just a tap away
Discover all that the new app can do. Tap on the chart to switch from a monthly to a yearly view. Long-press on one of the charts to share it. You can choose from many options, whether you want to share it in a private message or publicly on social media. 
If you're a VC and need to track multiple ChartMogul dashboards, you can view them within the same app. Just add the additional ChartMogul accounts and swipe between your dashboards. 
Scan QR code to get started
Scan the QR code or download the app here.
To add a ChartMogul account to your app, go to the account you'd like to add in your browser, navigate to your user profile by clicking "Profile" > "View profile" and add a new read-only API key. Click on the QR code. Now, from the app, tap on the three dots in the upper right corner and add an account. Your new account will show up immediately after scanning the code.
Help us bring the app to more people by upvoting it on Product Hunt!
With this launch, we want to make your subscription analytics even more accessible. Keep your subscription metrics handy at all times with the new ChartMogul Android app.