We are excited to announce the release of the brand-new CSV uploader.
Following the launch of our Subscription Data Platform, we received a lot of positive feedback about the custom data source that allows users to enter their customer and billing data manually or via the API.
Long-time ChartMogul customers were excited about switching away from using the Google Sheets add-on and being able to work with their data directly within ChartMogul.
Now, with the CSV (comma-separated values) file uploader, you can also upload all of your customer and subscription data into a custom data source from files stored on your desktop. You can also make changes to the uploaded data in our visual spreadsheet-style editor, providing transparency into (and the ability to edit) the underlying data sets on which your subscription reports are built.
You also no longer have to rely on a third-party tool like Google Sheets, which can cause other issues (more on this below).
Adding data manually was cumbersome
Many companies maintain a custom billing system or have customers invoiced outside their subscription billing system.
For these businesses, the traditional way of sending data to ChartMogul was to either use our Import API or the ChartMogul Google Sheets add-on.
The add-on (which relied on the available SDKs from Google) was a bit unreliable and there were a number of possible issues that could arise during upload. For example, there was often no clear indication in case of a failure when uploading data.
The new CSV uploader brings everything under one roof
With the new CSV uploader, you need to format your customers and subscription data into CSV files.
Once the CSV files are ready, you can upload them straight from the ChartMogul user interface: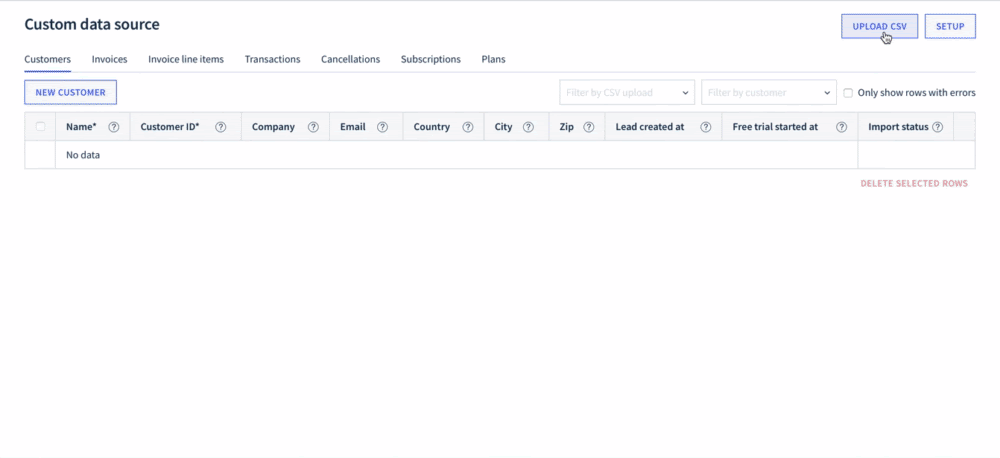 Once your data is uploaded, you can also filter the rows in your data source by the source file.
You can also edit individual rows and make any needed corrections to the data: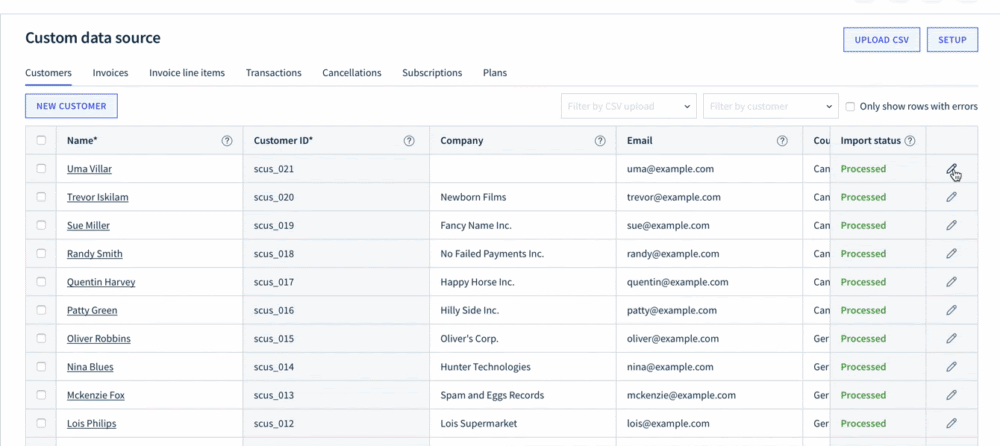 A huge improvement on the Google Sheets add-on
With the CSV uploader, you can upload large data sets, well beyond the 10,000 row limit imposed by Google Sheets.
With a simple interface, the CSV uploader clearly shows the file upload progress. Since it sits on top of ChartMogul's new data pipeline, each data processing stage (upstream of the file upload) is communicated to you in real-time, giving you full transparency into the current status of your import.
Transparency is the key to trust when it comes to working with data and this new experience is a far cry from the guesswork often resorted to when using the Google Sheets add-on.
A lot more is still to come
Currently, we only support customer and subscription billing data using the CSV uploader. In the future, it will be possible to upload more types of data.
We wanted to get this new feature in your hands as soon as it was working and stable. However, we will continue to look into streamlining the user experience as we believe uploading multiple CSV files to multiple tabs in ChartMogul can be improved.
The native CSV uploader is a new step in the development of ChartMogul's Subscription Data Platform and one that will make your workflow less reliant on third-party tools and less stressful as a result.
Try our CSV uploader and if you have any feedback or need help getting started with it, get in touch with our team at support@chartmogul.com. You will also find more information about the custom data source and the CSV uploader in our help center.