Is there a bigger pain than when you get hit with a pop-up, asking for your honest feedback, while you're trying to do a bank transfer?
Probably not, but how would a business know if its messaging, product offers, and evolution are on the right path?
Collecting feedback is an integral way to do this and doing it the right way is imperative. With feedback, brands that are doing well can find out what they are doing right, and how they can improve even further. Alternatively, companies that aren't doing so well can figure out what they are doing wrong and how they can fix it. That being said, there are certain guidelines to keep in mind and follow when collecting feedback.
For this reason, we have prepared a guide with some best practices, based on what we've seen over the last 7 years collecting feedback. We want to get your customers' voices heard within your organization, and ultimately allow for feedback-driven products to become the norm for your company.
First thing's first: Know that we just don't know
Many brands invest a lot in their businesses believing that they have created an ideal experience for their customers from the get-go. The focus on their game-changing idea or experience can be a blindspot, and the lack of customer interest often validates this when it is too late. For example, even Apple (the largest private company in the world) had to listen to their customers and change their MacBook's butterfly keyboard design.
Better to be humble, and accept the fact that you don't know everything about your users. That will enable you to be open-minded enough to make the required changes to improve the customer experience when it becomes obvious you need to do so.
Feedback-driven businesses do well in the long-run, as compared to the ones that don't listen to what their users are saying.
Identify what feedback matters most
Equally important as the "yes to feedback" mindset, it is also relevant and important to know where you need to collect customer feedback. Where do you think your bottlenecks are, and what do you intend to achieve by collecting feedback on that topic?
Importantly, ask these questions upfront to yourself and your team, and get the most out of your feedback.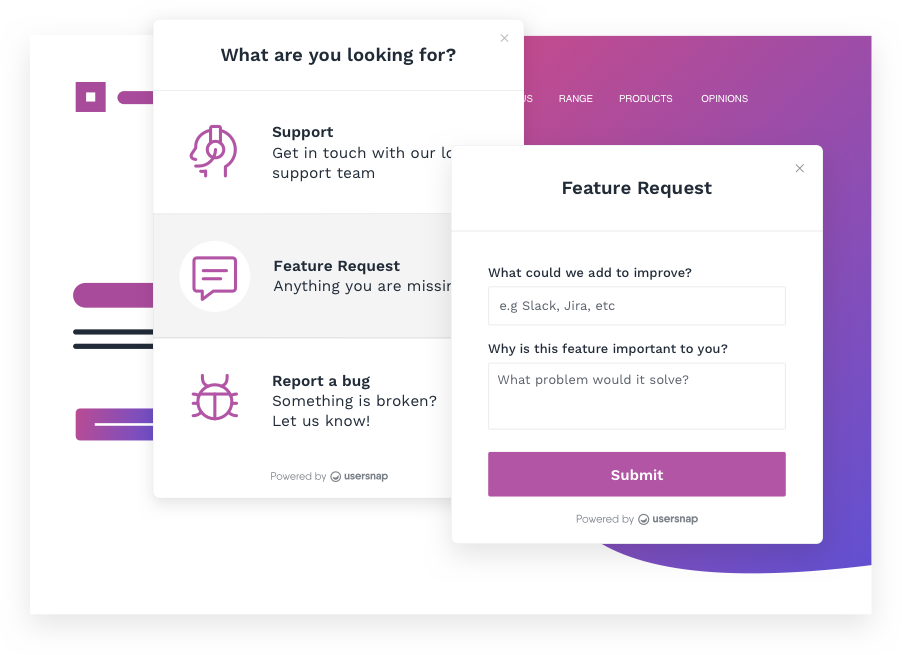 Use your existing tech stack to identify where getting customer feedback would make the most sense.
For example, we collected feedback from our customers and found out that they wanted to request features from us. What better way to do that than creating a feature request collector so they can let us know what's most important, and we can have all of that information in one place?
Coming up with a plan which allows you to gather accurate and insightful information about the right aspects of your business can turn challenges into solutions.
Feedback: simply start asking for it
Businesses that ask for feedback perform better, so says the businesses themselves. According to Barclays, 85% of SMEs say that online customer feedback has been beneficial to their business.
This is the script we've seen: when the experience a company creates is according to expectations, customers don't go out of their way to say anything about it unless your brand has done something truly exceptional. However, the customers who neither see the value you provide nor feel valued will tell you, but indirectly via a poor review on a comparison website.
In general, 96% of unhappy customers won't complain to you, but don't mind running off and telling more than a handful of their friends about their experience. Further, if the experience is truly a bad one, your company's name will appear on a review site with a big thumbs down. For this reason alone, it makes sense to actively solicit feedback from your customers. This way, you can jump out in front of bad experiences, and rectify them before they truly turn sour. Be active and let your customers tell you their thoughts internally and in advance.
Inspire your team to believe in feedback
Very often we see cases where management attempts to seriously address their customers' issues, but that message isn't echoing through the halls of the company. This usually happens when your company's employees aren't aligned with your vision.
When devising a feedback collection strategy for whatever purpose, ask your team if they believe in the importance of feedback. If they don't, how can you expect them to take it seriously when it comes from a customer?
For example, when launching a brand new product, test it with colleagues before launching it to the world. If it helps, take your team through interactive exercises, where they play the role of customers, and provide honest feedback about a product or customer experience. At Usersnap, we do this for every project; whether it's Alpha & Beta Testing or Usability testing, we recognize that we have to get the team involved to put their customer goggles on, even for 10 to 15 minutes. This provides a lot of value in improving the project, and also in fostering a feedback culture.
Identify ambassadors you can count on

Every business has those loyal customers who stick to the brand, no matter what. They share your vision, and this is awesome. These are the people who are fully aware of ins and outs of the overall customer experience you deliver, your product's features, and the areas where you lack.
We help identify our brand ambassadors notably through Net Promoter Score (NPS).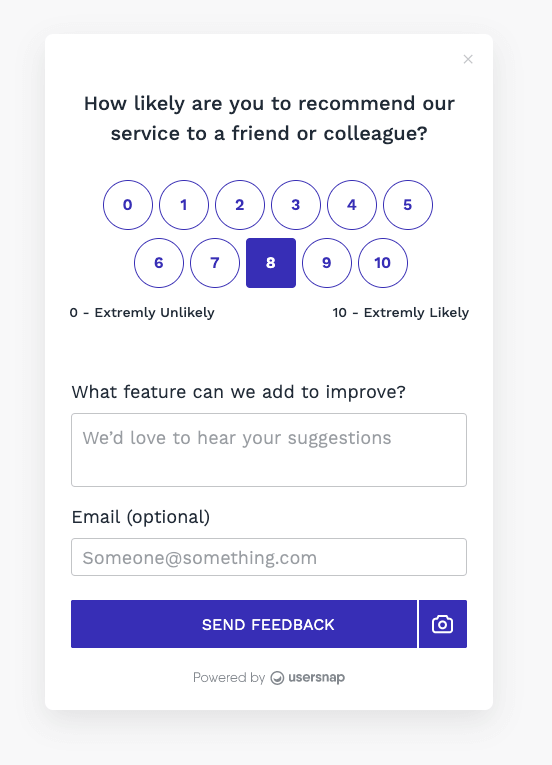 Not only can customers let us know how likely they'd be to promote your product, but also give you a sense of where you could improve further.
Once you have identified who your brand ambassadors are, get them involved and make them feel included. This incentivizes them so they feel more enthusiastic and provide their honest feedback. You can find out about their preferences, what they like and dislike, the value they'd want to take advantage of, and in what areas they'd like you to improve.
Finally, you can close the customer feedback loop with them and follow-up with gusto. You can tell them "Hey! We took your advice and built this new feature. Want to check it out?" By doing so, another feedback loop can begin, and you'll be that much closer to integrating the customer's voice into your products.
Patience, once said a Zen master
One of the most important things to remember is that customer feedback collection and reputation management are both long-term endeavors. Although getting results within a few weeks is ambitious, it is better to be realistic, as you will need to accumulate enough quality data to determine actionable insights.
While waiting, determine where you can improve your method and feedback collection strategy. Sometimes certain methods work better than others with a particular target audience. Also, drill down to the questions that you're asking and if they help you get the right user feedback. You can tinker with your messaging, timing, and ultimately what you ask of customers or users when you start to notice that the feedback isn't useful.
In the meantime, it will take a few months for you to get the sheer number of feedback items, and also to streamline and put together a seamless feedback collection method that will put your company on the path to success.
Identify what's actionable & what isn't
People are different and every customer isn't the same. On the same note, every one of them could have different expectations. This is the exact reason why you'll need to single out the feedback that delivers value and insight.
At Usersnap, we often get customer feedback that simply tells us that the product was "good" or "bad", that doesn't really help us. You can probably use it to accumulate quantitative data but it doesn't tell you anything specific about your product. Why was it good? Or what made it bad?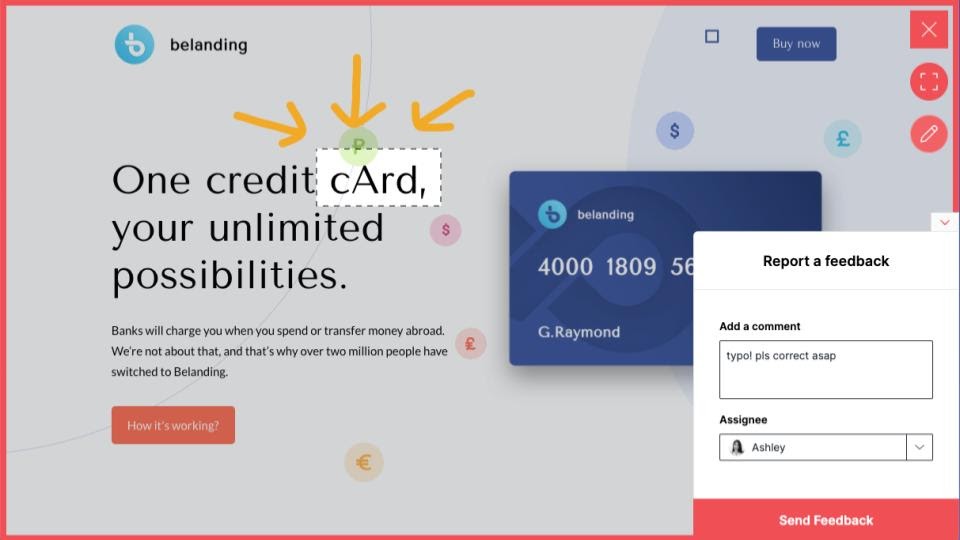 Find customer feedback with specific or detailed reasons why they liked, disliked, or provided a suggestion to a certain aspect of their experience or product. This sort of customer feedback is what we at Usersnap like to call actionable.
From there, test and validate a piece of customer feedback instead of just running with it all the way off the cliff. A Usersnap example of this is a landing page we built dedicated to UX researchers, all based on feedback, research, and prototyping. Before going into the heavy development of this offer, the landing page serves to validate a simple question "are we on the right track?" In short, wait for the moment to have enough customer feedback to ascertain that a particular aspect of your product requires action, and then pounce! (But do so strategically.)
But wait: how to select what's actionable & what isn't?
Many times it is difficult to identify which feedback provides valuable insights, and which feedback should be ignored. Here are a few pointers that will help you identify actionable feedback.
Let trends & patterns emerge
When you are not sure about what is actionable and what isn't, especially when you are early in your feedback collection cycle, simply wait and collect corroborative feedback.
Use a statistics dashboard to see how many people in total are giving you customer feedback, and drill down from there.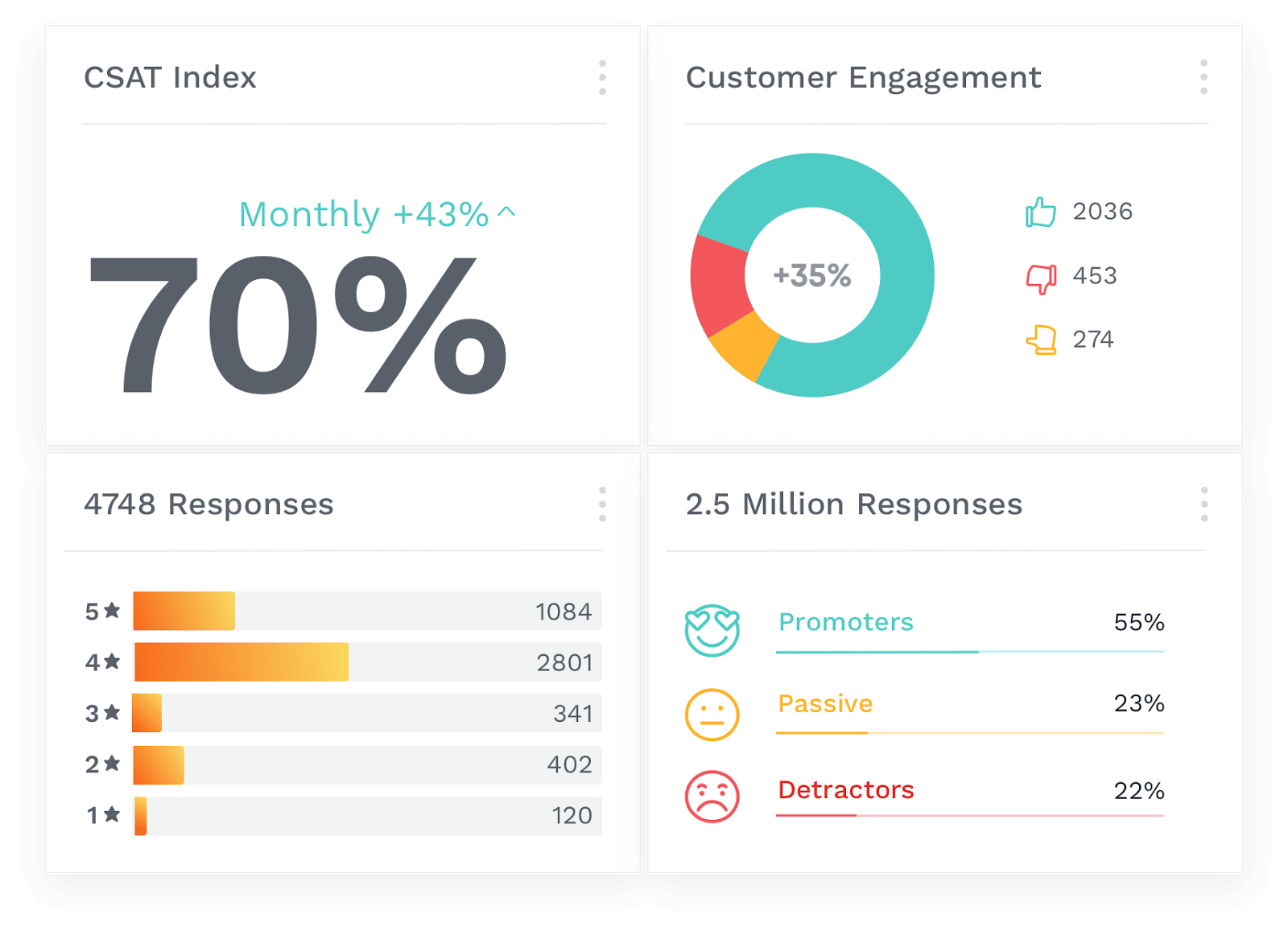 Frequency yes, but also understand why
Try to identify the common issues that most people are talking about. Also, note their sentiment and the manner in which they express their frustration. The intensity of their feelings points towards issues that your brand can address.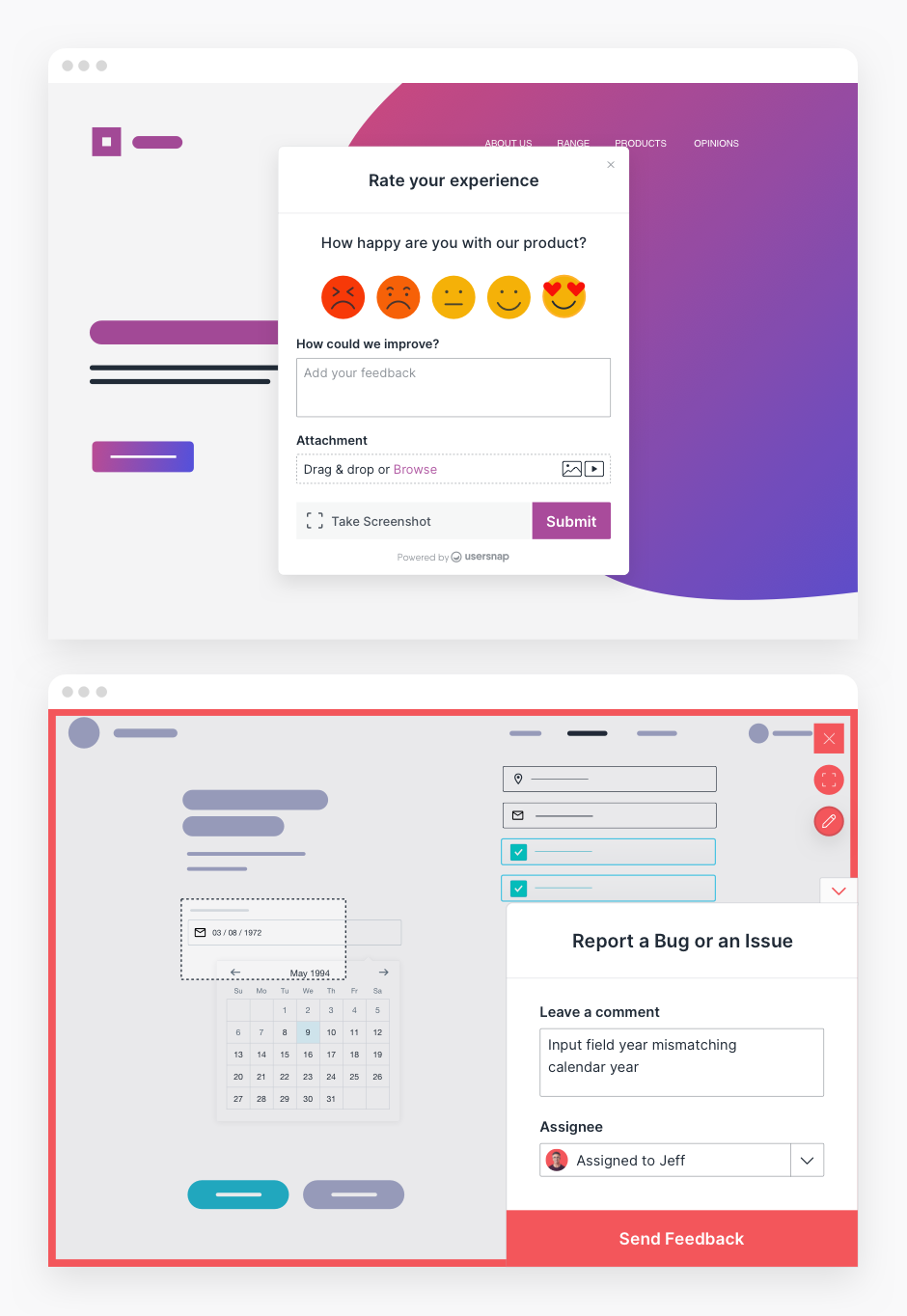 The intent behind the feedback
As we have already mentioned, you are not going to please everyone (we certainly do not). This is why it is important to know whose feedback is important. If you're getting customer feedback, emotionally charged but without reasoning, think twice about how important it is.
Furthermore, double-check and make sure that the people who are providing feedback match the persona of your target audience. If someone who isn't your target audience writes some scathing feedback, maybe their opinion isn't as valuable as another's within the context of your business objectives.
Process the feedback & identify pain points
The major burden on any business's shoulders is to weigh that customer feedback and take all data in to make sense of it. Once you've made sense of the trends and patterns that have emerged prepare a list of all the pain points. Also, prioritise them according to their severity as well as your current team circumstances so you can address all the issues in a timely manner. There will be issues that are quite obvious — for instance, a button not working — while others will be more complex and nuanced.
Unleashing the Power of Customer Feedback
If you are a modern digital business not yet collecting feedback from your customers, we don't want you to risk losing ground to your competition. You can create a robust feedback collection strategy and deploy the best industry practices so your brand is in a better position to understand customers and deliver inclusive, high-performing, and reliable customer experiences across your websites and apps.
About the author:
Josef is an agile software development specialist, with a deep background in computer science. He has been a thriving entrepreneur since 2006, having built software that handled 300 million page requests per month. Josef is one of the original founders of Usersnap and has a keen eye for spotting new trends and needs on the software horizon. He has experience in the most critical stages of a company's journey when starting a SaaS product from the ground up. Josef is passionate when finding solutions and building the right product to improve others' businesses.