"Just like people don't need an advanced English degree to be literate, your employees don't need advanced statistical knowledge and programming skills in Python or R to be data literate. Reading and writing skill levels are often defined by what people can or can't accomplish in their everyday life—we must do the same for data literacy."

~ Brent Dykes, Forbes
Addressing the shortfall
Recently on the ChartMogul blog, we discussed the data literacy shortfall, and the growing problem in businesses faced with a volume and complexity of data they've never seen before. You should go and read the article if you haven't already!
So, what can business do to roll out better awareness and core data literacy skills in their company? At ChartMogul we've been speaking to industry experts — data vis designers and business intelligence pros — as well as compiling a wealth of best practices and data literacy guidance. The result is a simplified collection of resources that anyone can take away, use as a quick reference and share across their company.
We're excited to present The Ultimate Data Literacy Cheat Sheet!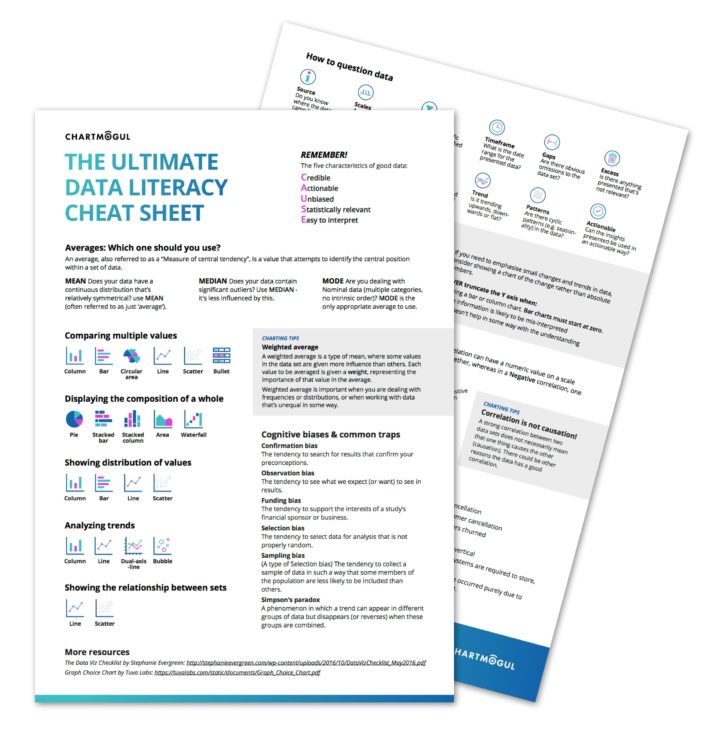 Get the PDF
All the information in this article is available as a downloadable PDF – condensed and designed for you to take away, print, put on your desk or share with colleagues.
You can grab your copy of The Ultimate Data Literacy Cheat Sheet from our Resources page:
Get It Now Available in PDF format
More resources from ChartMogul
If you're growing a SaaS or subscription business, chartmogul.com/resources is your source of knowledge advice. We pride ourselves in simplifying the most complex metrics and business terms, and serving them up in an easy-to-consume, smartly-designed way. Go and take a look in our resource library!