Subscribe to the SaaS calendar for updates
We've done all of the work, so you don't have to!
Click one of the buttons below to subscribe to our SaaS Conference Calendar. We'll update the calendar throughout the year as new events and conferences pop up. You'll never miss an important SaaS event again!
Our top 5 picks for 2017
1. SaaStr Annual (7th-9th February)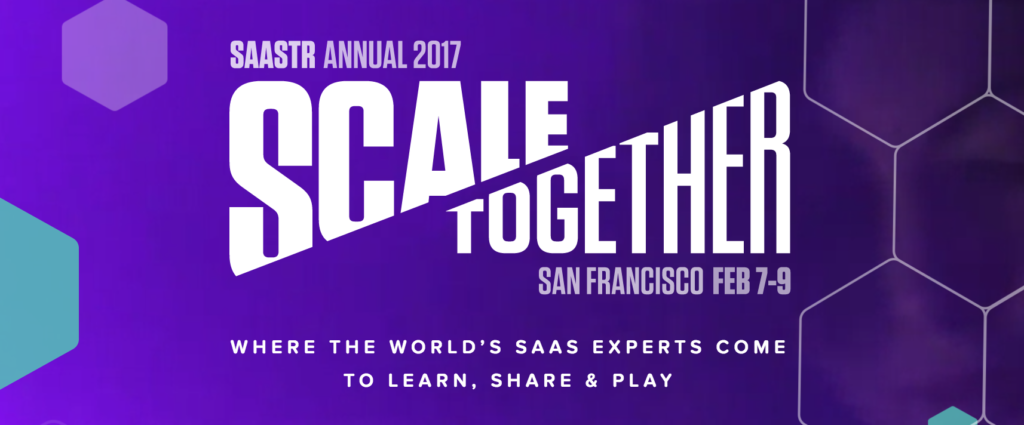 SaaStr Annual is without a doubt the biggest event targeted to SaaS, and takes place in none other than San Francisco. Jason Lemkin and his team have built up SaaStr from a simple blog to one of the biggest brands in the industry, which Business Insider just named as one of the 32 most powerful voices in all of business tech. That's a pretty big deal! SaaStr Annual is the event to match. ChartMogul was there in 2015 and again in 2016 (with a nice camera), and we had a great time. You'll find a few of us there again this year. Hope to say hi!
2. SaaStock (18th-20th September)

SaaStock is the newest event on the SaaS scene, and the first ever B2B SaaS-focused event in Europe. SaaScribe, an online SaaS community, was hosting SaaS meetups in key startup capitals in the EU. Then in September 2016, they debuted the SaaStock conference in Dublin, hosting 700 SaaS founders, VCs, and execs from over 30 countries. ChartMogul was there, and we learned a ton. If you're a SaaS business or investor, and you'll be in Europe this September, make your way to Ireland for SaaStock! You don't want to miss it.
3. Inbound (25th-28th September)

Hubspot's Inbound conference is the essential event of the year for SaaS marketers. Hosted in Boston, the conference draws a wonderful variety of entrepreneurs, creative innovators and leaders. 2017 is sure to be no different. They haven't announced the keynote speakers yet, but a quick glance at the lineup from Inbound 2016 should be convincing enough.
4. Gainsight Pulse (9th-11th May)

As you're probably aware, Gainsight is all about customer success. Held in Oakland, California, the Pulse conference serves as a place for businesses who've implemented (or are interested in implementing) customer success frameworks to share experiences and learn from each other. 2016 confirmed what a crucial role customer success plays in fast and efficient growth for SaaS, and to be competitive in 2017, you'll need to make it a top priority. Check out Pulse to up your game.
5. Growth Hacker Conference (24th May)
The GrowthHackers site is a great community covering most topics around startup growth, much of which is highly relevant to SaaS businesses. The 2017 GrowthHackers conference will bring together growth leaders for a single day of interdisciplinary talks, covering product, design, and marketing. Head out to Los Angeles this May to get in on the action.
Many more events in the calendar
The above events are just a tiny slice of what we've seen coming up in 2017. We've added them all to our Global SaaS Events calendar, which includes other top tech conferences around the world. Make sure you subscribe, and you'll see all of the events in your calendar of choice. Plus we'll make any changes and updates as they come along, so you don't have to worry about it!
Got a hot tip for an upcoming event?
Let us know in the comments, or on Twitter, and we'll add it to the calendar!