At ChartMogul, our aim is to help our customers become category leaders. We know that transformational customer success focuses on proactive, strategic engagement. It ensures that users are successful. And this kind of customer success may even transcend traditional boundaries to the collective benefit of all parties.
One way that we think about our customer success program can be illustrated by a diagram like this: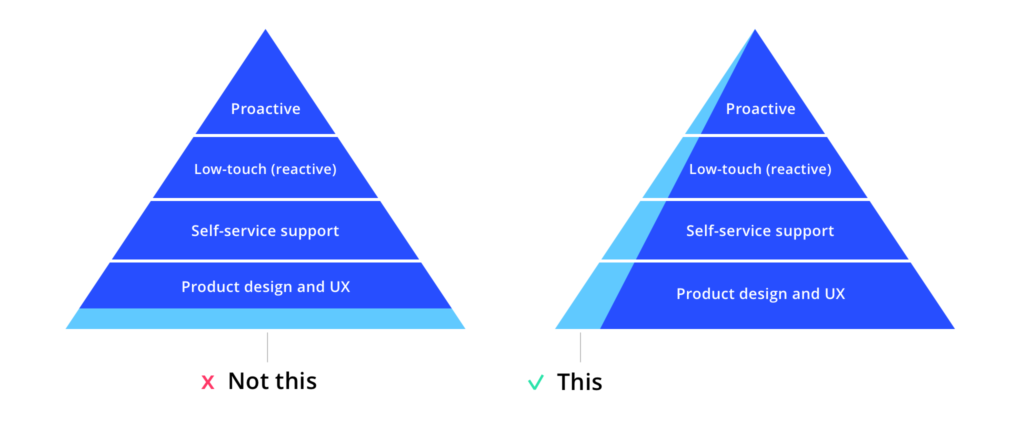 Imagine the light blue on the pyramid fanning out from left to right, encompassing more of each tier. We work hard to span all areas of the pyramid, with smart feature prioritization, solid help center documentation, regular NPS surveys, and now, proactive customer success.
Ingmar, our VP of Customer Success, and our support team cracked the code on first response time and measuring NPS. We realized, however, that we needed to do a better job supporting the strategic vision of our key accounts. Keenly aware of the effects of churn, we agreed to implement a more formal plan to proactively engage and learn from our key accounts.
As we grow, we're able to spend more time developing the proactive tiers of the pyramid without de-prioritizing a strong foundation of fast, helpful ticket replies and features that delight.
So, after being charged with the task of building a success management program, I got to thinking: how and where do you begin?
Defining your program
First, we needed to decide on the number of key accounts — which accounts should be managed? We had to think critically about our capacity. At what rate is the key account segment growing? How many accounts can one Account Manager successfully manage based on the requirements of the program? We also needed to ensure each team and each individual contributor had clear goals and metrics to track success.
We summed up our definition of a managed account based on three distinct criteria:
Revenue (which should never be a lone indicator)
Expansion and growth potential
Are they a strategic customer?
The first two are fairly obvious. Based on the market you play in (SMB, mid-market, enterprise), you should have a general idea of the complexity of your product and customer relationships. This will help you determine a manageable number of accounts for your 1-to-1 strategy. Do you have gated features, product add-ons or services that you can upsell?
These are just a few items that present opportunities for account expansion. If you consider them a strategic partner, this could mean they're: (1) a recognizable logo you'd love to have on your website as a testimonial or case study; (2) a partner you stand to learn a lot from; or, (3) an experience you can draw on when working with similar customers.
It's tempting to label many customers as "key accounts" at one time, but be conservative. You can't tell a key account they've been demoted, but you can tell a traditional buyer you're promoting them.

Aja Frost, HubSpot
Key takeaways
That said, here is the general thought process I used and will share so that you can build your own framework:
Proactive customer success is not a replacement for quality support.
Determine your team's capacity based on factors like the complexity of your product, account growth, and customer expectations.
Determine what your success framework should include — what does this team own? Is it onboarding, renewals, NPS, etc.
Spell out your criteria for a managed account and be careful not to make exceptions.
Define each of these and any other criteria that are relevant to your business! This will help with determining your success management metrics.
Customer Success Management metrics
How do you build a compensation plan for a new customer success team and strategy?
This is a question that is no stranger to SaaS leaders. You want to incentivize, but it shouldn't be all about that 💸.
As I mentioned earlier — and this doesn't only pertain to ChartMogul — SaaS and subscription companies with a keen eye on core metrics (churn, retention, expansion) should, at the very least, have a pulse on two easily measurable success management metrics: logo (account) retention and revenue retention. Logo retention is the percentage of customers retained over a given period of time. Whereas revenue retention is simply the percentage of revenue retained over a period of time.
Because I'm also building a department, we also outline 4-5 key strategic or growth objectives we'd like to accomplish as a team each quarter. We refer to these as management by objectives, or MBOs.
Logo and revenue retention
At ChartMogul, we've weighted these targets as 50% and 25%, respectively. Logo retention has been assigned a larger weighting simply because strong account retention undeniably promotes stronger revenue retention. If you place too much importance on revenue retention, and not enough on logo retention, it could lead to a culture that encourages decisions being made for the sole purpose of revenue rather than a combination of revenue, customer health, and longevity.
MBOs (Management by Objectives)
These targets carry the remaining 25% of target. Specific objectives that have been a focus for us include the following:
Account health assessment
Improving price-to-value alignment
'x' number of QBRs (quarterly business reviews) per quarter
Defining, refining, and documenting success processes
Developing a training program
In an early stage startup such as ChartMogul, it's not expected that you'll be able to quickly or easily implement a customer health platform like Totango or Gainsight. What you can do in the short-term is to create a shared document that outlines all accounts, including details such as key stakeholders, MRR, plan type, renewal date, account health and action items, to name a few. This document, accompanied by your CRM, will aid in timely and insightful outreach. I suggest saving a copy each quarter so you can track progress across your managed accounts. This assessment will also prove invaluable when the time comes to transition to a more automated and integrated method for measuring customer health.
I'll touch on one more MBO here, and that is 'improving price to value alignment'. Many SaaS companies find themselves in a position where legacy customers are severely underpaying, but they might also be severely underusing the product. Re-engaging, educating, and enabling these users is crucial to ensure success and help validate what they're currently paying.
So, what is the right timing?
Customer Success is where 90% of the revenue is.

Jason Lemkin (source)
The honest truth is — this is entirely up to the company, and resources at its disposal, to determine when it should make its first hire (or promotion) to create a Customer Success Management team. At ChartMogul, we decided to first build a world class customer service and solutions team before establishing success management.
Timing also depends on the product and how high-touch onboarding is. Products that are quite self-service in nature tend to require little-to-no onboarding. Keep in mind, when initiating success management within your company, things tend to get worse before they get better. You might receive a lot of customer feedback initially that uncovers customers who are a bad fit, or customers that have never fully completed their onboarding.
All things said, if you're focusing on logo retention, revenue retention, and quarterly MBOs, and meeting or exceeding targets that are in-line with the broader company metrics, you are well on your way to improved customer health across key accounts and a clearly defined strategy on workflows, processes, and interventions.