Resource Guru is an app to make your life easier. Not just easier, but to make it run smoother, faster, and even in harmony with all the other lives running around your office or organization.
With ease, flexibility and optimal visibility, you can schedule employees and freelancers, meeting rooms and equipment. Resource Guru tracks multiple time zones to accommodate international teams, and automatically prevents any overbookings or schedule clashes. No need to fumble with spreadsheets, Google Calendars, or update emails.
It's no surprise, then, that their website is littered with customer testimonials. (Perhaps "littered" isn't the right word in this case — decorated? bejeweled?) The app suits a wide array of users, from project managers coordinating multiple projects, to scheduling a remote team, to any kind of organization that shares equipment, such as a university newspaper or a professional recording studio.
"We've been attracting incredible customers like Publicis, Saatchi & Saatchi, Yahoo!, Deloitte, Virgin Media, VMware and ASOS and now have a diverse range of customers in over 90 countries around the world."
And they all love it because the resource management app saves time and serious money. If you're skeptical, take a look at their Savings Calculator:

When Resource Guru was a young grasshopper
We spoke with Percy Stilwell, one of Resource Guru's cofounders, about the evolution of the app and their company. He and Andrew Rogoff began developing it in 2009 while working in marketing agencies.
"…we experienced the headaches of resource scheduling. In almost every agency we worked in, people were using ugly spreadsheets to schedule their teams."
So began Resource Guru's journey.
"We developed a clickable prototype and did a lot of usability research with project managers and resource managers to ensure we got the product right."
With research done and product tweaked, Percy and Andrew launched Resource Guru in May 2012. Now the company's HQ is in London, but the team has a remote, work-from-anywhere culture — and they continue to strive to improve their product. Their latest developments include adding time off, managing overtime, and adjusting availability for major holidays (e.g.- the chaotic time around Christmas).
To learn more about where the Resource Guru app is now and how to use it, check out this great product video:
Give spreadsheets the boot
Resource Guru and ChartMogul have something in common. We felt similar pain points. In a way, we both set out to make clunky spreadsheets obsolete — headaches, confusion, frustration, be gone. Simplicity, clarity, automation — hello!
Resource Guru smooths out the numerous tangled schedules of an organization's resources, so that all resources are maximized and everyone can work more productively and efficiently. ChartMogul sifts through a sea of data to define key metrics that clearly track a company's performance, so that decision makers can work quickly and effectively to optimize their business.
But while Resource Guru was doing an excellent job making their customers' lives easier, they found themselves facing that same old frustration: dealing in messy spreadsheets. As their SaaS business grew, they struggled to determine accurate data about their growth, data they could analyze and act upon. Data that could monitor revenue and maximize profits. Cue ChartMogul.
"How should we spend on marketing?"
Before ChartMogul
Like any SaaS business, Resource Guru wanted to track their revenue growth, and they also wanted to understand where to invest in that growth. The thing with SaaS metrics is, though… If you want to know one thing, you usually need to know other metrics first. You must track them all to get to whatever key indicator matters most to you. That's how it can get messy.
For example, Percy mentioned wanting to know how best to allocate their marketing spend.
"In order to spend efficiently on marketing, you need to know your target Cost Per Acquisition, and in order to define that you need to know your Lifetime Value per customer. Before you can work out your LTV, you need to know your Average Revenue Per Account and your Churn rate."
Hmm… If you can get lost in that sentence, imagine finding your way through a complex spreadsheet of the actual data.
"Before ChartMogul we used to create a spreadsheet with monthly figures for our key metrics and there was a fair amount of manual work. It was actually quite time consuming trying to determine accurate numbers."
When looking for help with business metric insights, they knew they required a high level of detail. And they were happy to find that in ChartMogul.
Read up on the metrics mentioned above with the Ultimate SaaS Metrics Cheat Sheet
And now?
With Recurly's multiple webhooks, Percy and Andrew never have to worry about dealing with their data or importing anything. Metrics management is a cleaner, hands-off experience, one that's actually proactive to them through regular notifications.
"Our metrics are always up to date and we get fired an email for every transaction event (including MRR expansion/contraction which was invisible for us before)."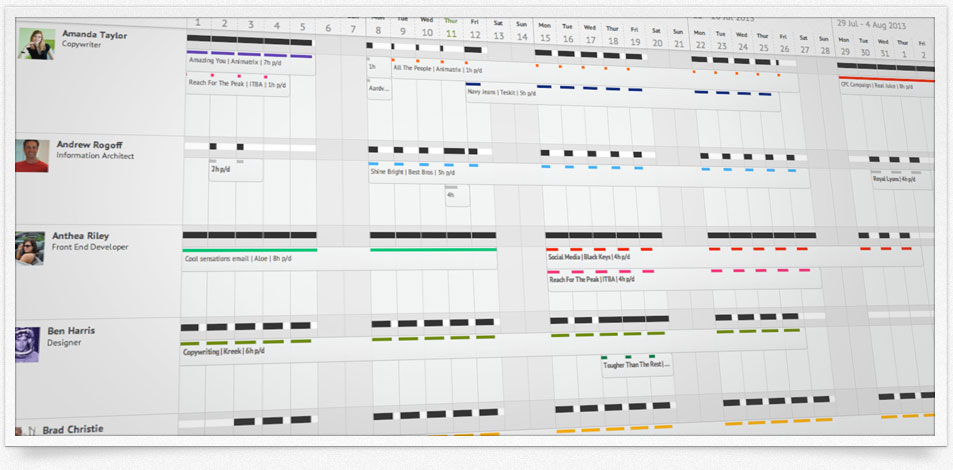 Next-stage dilemmas: SaaS Pricing
Resource Guru came across a common dilemma for growing startups: do we change our pricing? SaaS founders in Berlin admitted to their initial pricing being a bit random. For Resource Guru, when they were determining their initial pricing model, they took notes from SaaS pioneers. But after nearly four years, the user band model they chose didn't fit so well. Here is where ChartMogul comes in handy again.
"I think my most valued ChartMogul feature is the ability to segment data and group pricing plans."
We introduced segmentation so that SaaS companies could go far beyond the high-level metrics and learn about critical trends and opportunities in their business. Optimizing pricing plans is one of those things.
Resource Guru's hunch
The "band" pricing model could be unfair to customers who would end up paying much more per user if they upgraded. And perhaps the current scheme was disincentivizing any plan upgrades for that reason.
Well, what does the data say?
Resource Guru used ChartMogul to segment their customer base. "With ChartMogul's custom plan groups it's very easy to group customers by pricing plans and generate charts to display data for those groups."
They saw in their customer data that accounts were bunching at the user limit of each plan, signaling that customers were avoiding upgrades.
Here's an example of a chart in ChartMogul that displays customer segmentation. In this particular image, the chart compares MRR per marketing channel.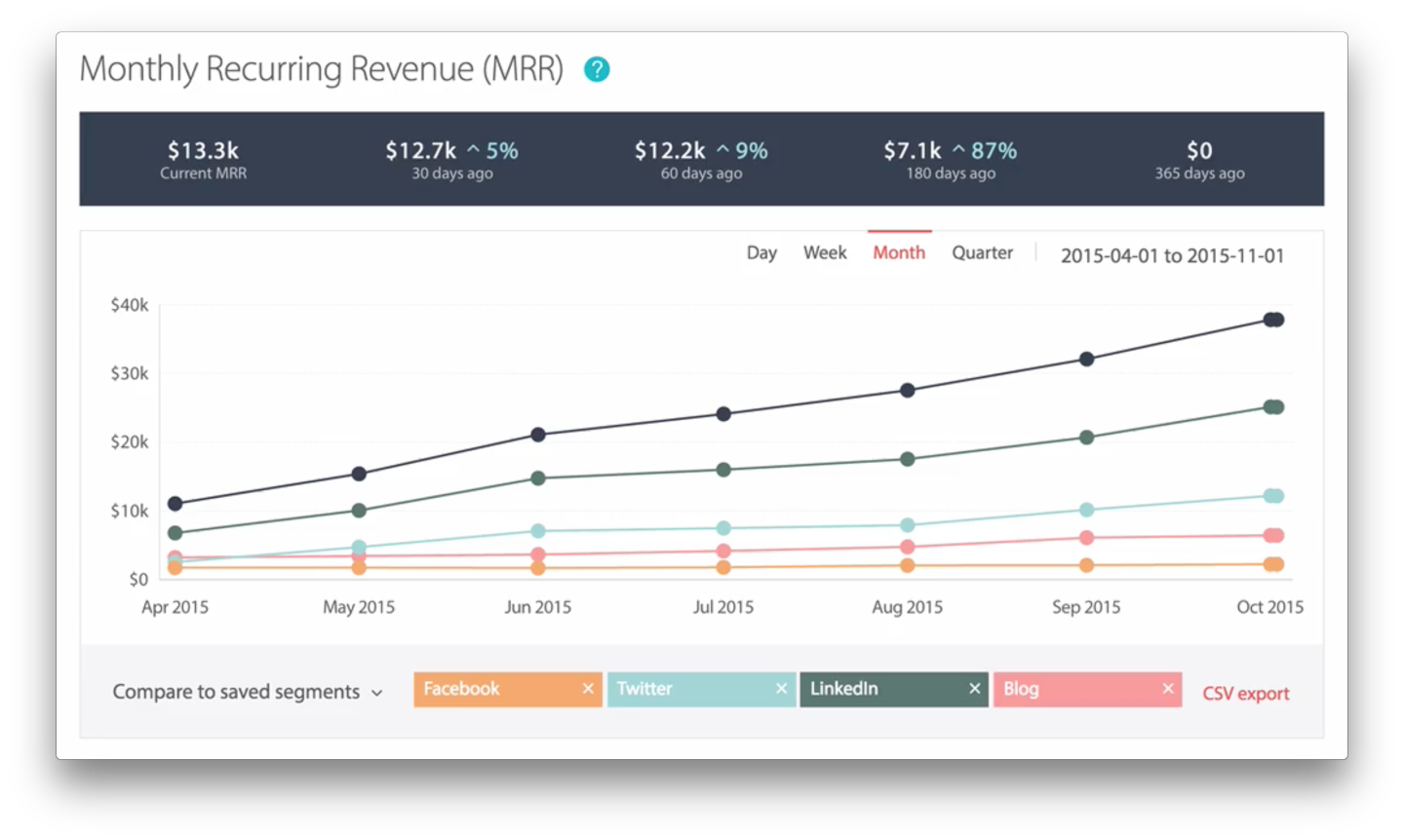 Curious about other ways segmentation can help a SaaS business? Read Deep segmentation in SaaS
End result?
With their hunch validated by the data in ChartMogul, Resource Guru rolled out a new price-per-user model for three different plan levels, modeled off today's SaaS darling, Slack. They think this works out best for the customer: "You benefit from a consistent price per person and simply choose which features you need." They also now offer annual plans wherein the subscriber gets two months free.
They detailed this change in a great blog post, with full transparency to their customers and helpful advice to any other SaaS companies who are contemplating a similar move. Worth a read! (You can also take a look at "What to do when your SaaS pricing is wrong.")
So what's next?
"We'll be conducting further pricing experiments in the future," says Percy. Which he admits is possible because it's so easy to learn from the data in ChartMogul.
"[ChartMogul] is really valuable when it comes to evaluating pricing changes and if we had to do this manually it would be a total headache."
Onward and upward, to Resource Guru! We look forward to continue helping them grow and solve whatever challenges they face.
What's next for you?
What changes and experiments would you do with your business if only you had the data?
Well, you can find out with our free trial. Sign up with ChartMogul. Connect your Stripe, Braintree, Recurly, Chargify or PayPal accounts. Upload manual data and pipe in customer attributes from Google Sheets, or via API, and start building a better subscription business.
And what would you accomplish with extra time and money on your hands from easy calendar management? Try Resource Guru for free.
Share and follow!
NEW on @ChartMogul: How @resourceguruapp uses Segmentation to optimize pricing https://t.co/0wZCWvOTAL #SaaS pic.twitter.com/HP7yye1hd5

— ChartMogul (@ChartMogul) April 19, 2016