We spend so much time discussing metrics and concepts, that we sometimes forget that not everyone is well-versed in the language of SaaS.
The same way there's power to making data transparent, we believe making the language we use easier to understand helps everyone in the industry — from those who are just making their first steps, to the most experienced practitioners in the field.
That's why we are happy to share with you our brand new SaaS Acronyms Cheat Sheet (PDF download).
There are two factors that explain the abundance of jargon (and acronyms) in SaaS. The first is that SaaS is still predominantly a B2B (check out the cheat sheet if you don't know what this means) affair. The professional setting is a boon for the emergence of a complex language.
In addition, SaaS is a highly technical field — the people who operate in it, are used to relying on abbreviations and complex terms.
It is no surprise then, that from metrics to hiring, acronyms are widely used in the industry. Our cheat sheet comes to help you make sense of all these concepts.
We've structured the cheat sheet in different sections. Here's what you will find in it:
The basics (concepts such as SaaS/PaaS, etc.)
SaaS finance acronyms
Hiring and people operations terms
Technology acronyms
Security and compliance
Sales and marketing
Customer success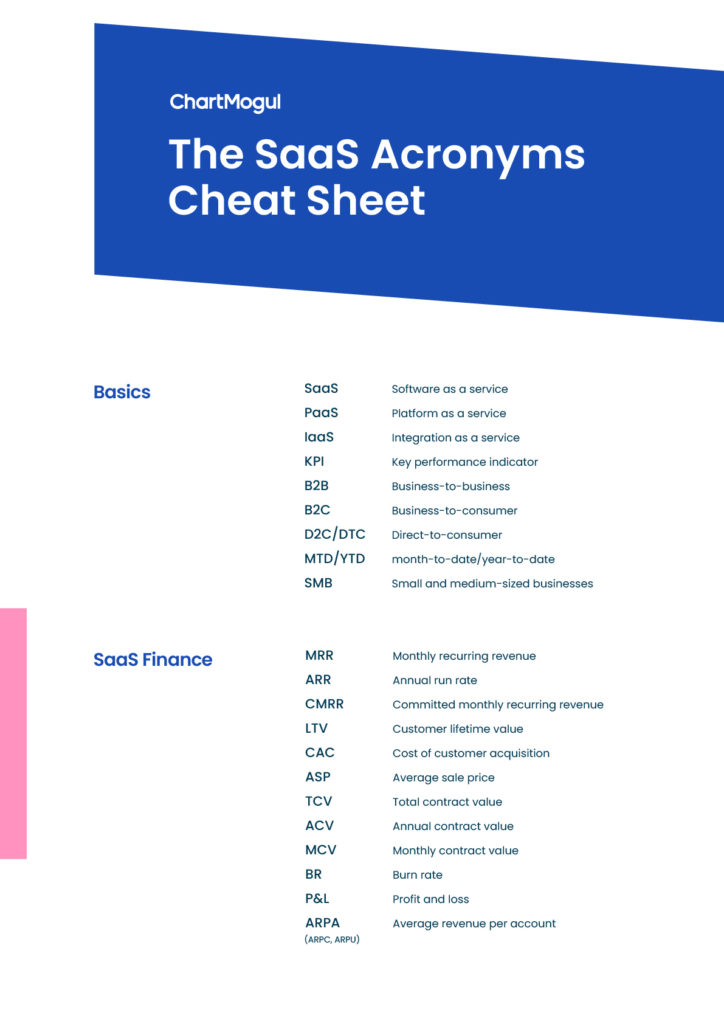 We hope you find the cheat sheet useful. Do not forget to help your peers by sharing it with them!
Get It Now Available in PDF format
More resources from ChartMogul
If you're growing a SaaS or subscription business, chartmogul.com/resources offers more easy reads, downloadables, and podcast episodes. We pride ourselves on simplifying the most complex metrics and business terms and serving them up in an easy-to-consume, smartly-designed way. Go and take a look at our resource library!