Why is my MRR different from what I see in our billing system?
This is a common question we hear from customers. Perhaps, the most common one.
It is true that often your key subscription metrics can be different from what you see in your billing system. 
But that's not a bug or a random event. There's a reason why we calculate your metrics the way we do — it is to give you an up to date and completely accurate view of what's happening in your business.
In this article, I want to explain why you could and should trust the numbers you see in ChartMogul. But before we get there, let's start with a story.
The single source of truth
Every day, I log into ChartMogul and open the same report: ARR against target.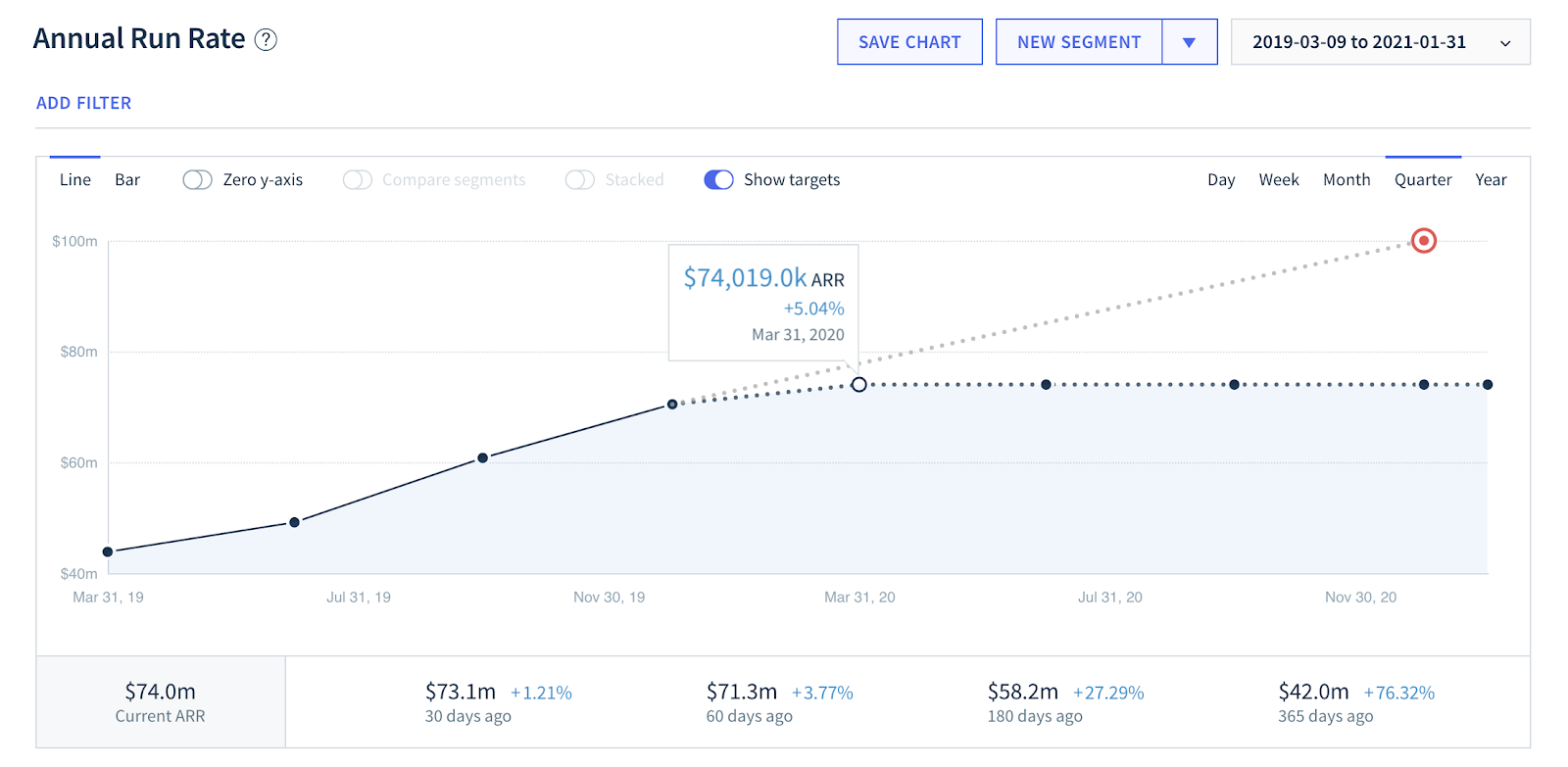 This chart shows me how I'm tracking against my goal for the year. For the time used so far, am I on track? If not, what decisions or actions am I making today to fix it?
Then I click into the MRR movements chart. Here I can see the dynamics of the day, of the month, of the overall business. I can answer questions like:
Are my current sales and marketing efforts paying off?
Are my best customers expanding and renewing?
Am I retaining key accounts?
Which pricing plan performs best?
As I drill down even further — to an individual customer — I can see each and every transaction, line, item, and discount.
To me, this granularity, this detail, is the magic of the subscription data platform. It takes into account every single transaction and customer decision happening within your subscription business.
You can quickly get a sense of overall business health on your dashboard. You can even segment based on custom fields and dig in to diagnose things like: What is my churn rate by customer success manager?
We don't generate metrics from the maybe, almost and practically paid customers. Nor do we generate metrics from the deal that your sales team marked as closed-won in Salesforce. 
Rather, at ChartMogul we've chosen to generate subscription metrics primarily from each and every customer invoice. By doing this, we give our users a picture of the money that the business is actually making.
That's why, when you open your ChartMogul dashboard, you don't see a mirror image of the numbers in your billing system, but rather a true picture of your business updated to the second and based on the actual invoices sent to and paid by your customers.
The difference between MRR and CMRR
We only report the actual payments that have occurred because we believe it provides the most accurate measure of the current state of your business. For a more forward-looking metric, you should keep an eye on your Committed MRR (or CMRR). While this is not supported yet, we plan to bring it to ChartMogul in the not-so-distant future.
When small discrepancies turn into big mistakes
To understand why that's so important, let's look at a few examples when data inconsistency can have a serious impact on your business.
Not accounting for unpaid invoices
In some billing systems, MRR is calculated in a way that includes unpaid invoices. If you're using a billing system as your source of truth for MRR, you could be counting hundreds of thousands of dollars of unpaid invoices as "MRR".
Imagine you're the CMO of a $10 million ARR business allocating the annual marketing budget. You log in to your billing system, chat with the CFO, and decide on what you can spend in the next 12-months or so. But in this scenario, neither of you know that your current rate of unpaid invoices sits at about 4%. 
That would be an awkward boardroom discovery…
The money you've committed to your marketing budget that you don't really have is just one part of the picture.
It is also $400k-worth of customers who had the motivation to learn about, sign up for, and maybe even adopt your product, but for some reason never got around to paying their invoice. Customers that you could be working with to turn into engaged users of your product.
So, the way that your billing system measures MRR should not be a "Just trust what it's showing us" conclusion. You need to make and maintain consistent decisions about how to measure the health of your subscription business.
Recognizing churn at the most appropriate moment
Another example is when to recognize churn. You can recognize cancellations as churn at the end of the paid-up billing period. Or, you can recognize churn events at the time of cancellation.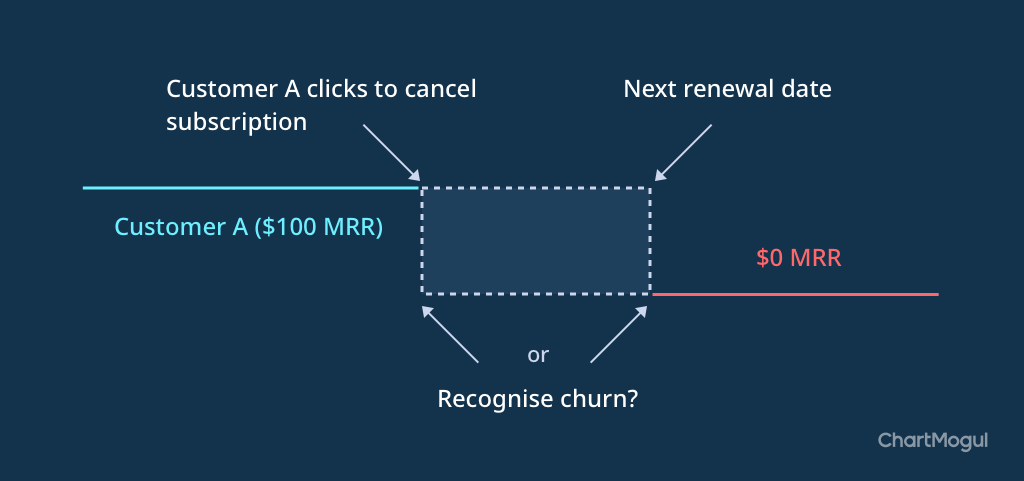 If you choose to recognize churn at the end of the service period (often considered a best practice for MRR reporting), one potential side effect is that your MRR will usually appear higher.
Learn more about churn:
Now imagine you're the head of sales at a high-growth SaaS company. You're inches away from the EOY ARR target, and all of the sudden, on December 31, a bunch of churn gets dialed in and now, your target is out of reach.
Gutting, right?
If you're a head of sales or revenue ops, this kind of invoice and service-level detail is essential. You have to account for it or you run the risk of over-reporting and under-planning.
Subscription businesses at scale need help with this. If you're dealing with hundreds or thousands of subscribers, that means you have a compounding data set of really meaningful revenue data. Every month, more and more information about successful and failed transactions grows and grows. For a lot of teams that data lives in multiple systems: Stripe, Braintree, Xero, offline invoices, a database, etc.
To avoid a scenario where you're trying to track/figure out your true MRR and other key subscription metrics after the fact, you need to harness your invoice-level subscription data — it will save you time and stress down the road.
Getting trustworthy subscription metrics is hard. But you can manage
If you're grappling with any of these challenges, first let me say — you're not alone. A remarkable number of subscription businesses are piecing together Excel spreadsheets and SQL queries to calculate their subscription metrics.
Building and maintaining an inhouse subscription data solution, though, and I know I'm biased, isn't the solution.
At the same time, many new and nimble companies are starting with the full setup that gives them an advantage from Day 1. Don't trust our word for it — we've heard it from the people in the trenches:
[…W]e saw that while our peer companies were using a mix of homegrown and specialized tools, many new startups were adopting the likes of Segment, Mixpanel, and ChartMogul from the get-go. I wanted to be using the tools of the future and always ready to upgrade and switch things out, rather than getting behind and building up debt. 

Joel Gascoigne, Buffer
I hope I have successfully convinced you that you need a true invoice-level picture of what's happening in your subscription business. Sign up for a trial today and see just what I mean.