First things first, if you've arrived at this article eager for a quick fix to massive growth, reconsider proceeding.
So, what gives?
Here's the thing: Our $150k MRR didn't happen overnight. The journey required a hefty budget, and above all, time.
What Leadfeeder was lacking in salespeople back in the early days, we made up for in our adherence to a high growth business model.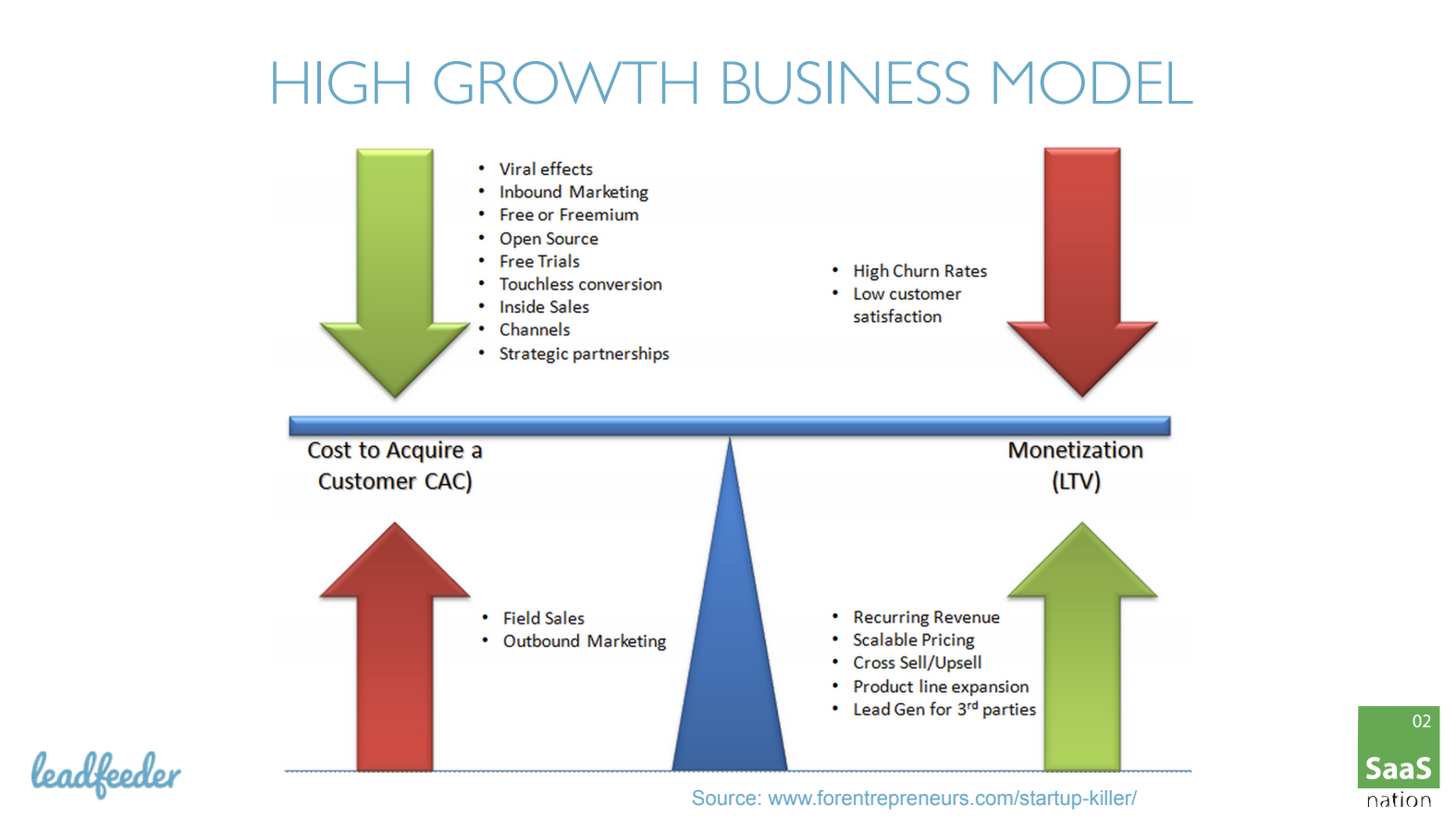 Our approach involved a balancing act between the cost to acquire a customer (CAC) and monetization (LTV). And our strategy, in particular, was one that emphasized a preference around inbound marketing tactics, automated sales, and partnerships.
On our journey to becoming one of the best lead generation tools to add your marketing stack, patience has been key. Just as important as keeping our users' perspectives at the forefront of every decision.
Here are five growth lessons we've picked up along the way — no salespeople required.
#1: Invest upfront in both paid and organic acquisition channels
Balance isn't just a self-care buzzword. In the business world, it's a necessary characteristic in your approach to acquisition.
By this, we mean you can't go all-in on one inbound marketing channel and neglect the others. Just like a salesperson shouldn't solely rely on networking event attendance for connecting with new potential prospects.
This is because — and it shouldn't come as a surprise — digital channels are interconnected. What you do on one will inevitably lead a visitor down a path toward another.
If you're picking and choosing what to optimize based solely on what you think will drive the most leads, you're likely leading quality leads to a dead end.
In the same vein, you're going to need to spend money. This is because organic channels, like SEO, take time to optimize. They're long-term games.
Paid tactics, on the other hand, help to feed the beast in the short-term.
You need to be feeding both sides of the equation in getting people through the door if you're ever going to figure out how to keep them around.
As you build out strategy around where to put your time and money on the acquisition side, allow us to offer suggestions based on what's worked for us.
On our journey to $150 MRR, we've invested heavily in the following:
Content marketing (both owned content and third-party, i.e. guest blogging) and SEO
PR with help from a third party agency (we've been featured with mentions on publications like Forbes, TechCrunch, and Enterpreneur.com)
Advertising through Google Ads, Facebook, Twitter, and LinkedIn
Managing a presence on comparison websites
Building out an affiliate program
Encouraging referrals
It's worth mentioning that we spent a fair amount of time building a solid foundation (such as with website content) before spending a dime on pointing people to it.
Every piece of the puzzle will inevitably evolve over time with the influx of both visitors and performance data.
#2: Don't underestimate the power of word-of-mouth
Outside of Google Ads, we've found a surprising amount of success from word-of-mouth. Or maybe it's not so surprising when you consider the rise of a tactic like influencer marketing.
At its core, influencer marketing relies on the value people put in recommendations received from individuals — those they align themselves with based on shared interests and values.
You don't even have to know an influencer personally to feel as though what they have to say can be trusted.
As our user base has grown, so too have our referrals. Part of this relies on the quality of our product.
People have to believe in the efficacy of a product before putting their name behind it.
Another aspect of driving word-of-mouth requires making it easy for people to help us do so. From this end, we've supported referrals with something we'll refer to as the viral loop.
For example, users can extend their free trial of our premium Leadfeeder product when they share it with their network.
This not only works to drive more leads but more quality leads. After all, our users wouldn't put their names behind our product if they wouldn't vouch for it!
It's a constant loop of product use, love, and sharing that continues spinning as long as there's a need met and the means to easily get the word out.
#3: Support every conversion with a plan for retention
Conversions are worth far less than your ability to retain customers over time. This ties back to the idea that the strongest startups are built to maximize growth, not profit.
Think of conversions as indicative in the short-term of a quality offering. Retention indicates a quality product in the long-term.
When we first launched Leadfeeder, it was an entirely free product. We knew we had an offering that was enticing enough to get people through the door.
We spent that year with our heads down in product use patterns and regularly solicited user feedback.
Iterating and learning from what resonated most with our user base allowed us to develop a premium offering people would actually be interested in paying for.
But what was free for our users upfront was anything but free for us.
We invested upwards of €500,000 over the course of that first year to keep ourselves afloat and develop a product people would want to use.
Outside of the product itself, this also meant developing a support system prospects and customers alike could depend on.
We offered free, 30-minute online training sessions, built out automated Intercom campaigns for responding quickly to paid users, and developed support content in the form of webinars, case studies, and blogs to upsell and educate relevant audiences.
Ultimately, when you're thinking about retention, aim for a net churn of less than 2% per month.
If you have high churn, keep working on your product-market fit — don't simply throw more money at acquisition.
#4: Monitor user behavior metrics
Think about user behavior metrics from two different angles.
On one side, you should be paying attention to the buyer's journey from lead to sales.
On the other, you should be monitoring how your current customers are using the product — and the frequency with which they're doing so.
Set up and actually use your Google Analytics.
Create UTM tags and goals with funnels. Use Google Tag Manager and pay attention to traffic sources that convert campaign optimization, and track visitor conversion rates and funnels.
As you become more familiar with these dashboards, you'll be able to identify opportunities for personalization.
For example, we developed landing pages that catered to keywords of interest among our audience and drove higher conversion rates as a result.
Welcome back pages for repeat webinar visitors worked to achieve the same.
As a word of warning, try not to overcomplicate marketing KPIs (key performance indicators) around lead generation.
We've found that qualified lead volume is the single most important lead generation KPI to track — alongside these four other metrics for keeping your efforts focused.
#5: Make sure you have a product worth selling
We've already touched on this point a bit but it's important enough to warrant its own dedicated takeaway.
Aside from support — from both inbound marketing and operations — product is at the core of your growth marketing success.
If you haven't nailed your product-market-fit, building customer loyalty is going to prove an uphill battle.
You have to value your customer's feedback as much as you do your own assumptions and intentions. This requires a willingness to iterate fast and frequently.
Make it easy for your prospects to sign up and get started with a free trial.
For us, this meant positioning clear and enticing CTAs with email feeds. And encouraging sign-ups without credit card requirements.
Sure, having a credit card on file makes it easier to shimmy customers into the cycle of automated monthly subscriptions. But it also creates another barrier to entry.
If you're thinking with a long-term lens and developing a quality product that'll be worth paying for come trial's end, then the money will come.
Final thoughts
If it hasn't been made clear already, we're big proponents of quality traffic.
It's a driver behind our product offering — providing businesses with greater transparency around who their website visitors are.
Rather than spend money on a sales team to push your product, invest in creating the best possible product.
With enough backup from your inbound marketing efforts, it can practically sell itself over time.
Dive into additional insights on how to reach $150k MRR without salespeople from our founder and CEO Pekka Koskinen on SlideShare.