If you thought 2021 was a busy year for product development at ChartMogul, we shifted into hyperdrive for 2022. And if we had to give it a name, we'd call 2022 'The Year of the Destination.'  
We released 9 different destinations, because we know that ChartMogul is only one part of the larger ecosystem of tools that organizations use on a daily basis. Product analytics, customer data or user feedback from your CRM, as well as revenue analytics, all play an essential role in understanding and growing your business. With our new destinations, you can send your clean and tidy revenue data to be combined with other data points in: Amazon S3, Google Cloud, Microsoft Azure, Snowflake, Amazon Redshift, or Google BigQuery. But that's just cloud storage and data warehouse destinations! 
The team has also been working hard all year to bring you these and many other improvements to the ChartMogul platform. Let's get to it.
See future changes to your recurring revenue with CMRR
CMRR gives you the complete picture of your SaaS business to see if you're on target to reach your monthly, quarterly, or yearly goals. That kind of information is really powerful; you can take action to mitigate upcoming churn, allocate marketing spend, or just give you the motivation you need to push a bit harder to hit that target. 
Check out the CMRR Forecast Report to see a breakdown of all scheduled monthly MRR movements from now into the future, and how they will impact your MRR and ARR.
3 new charts give you more insight into your business
Net MRR Movements
If MRR often fluctuates for your customers, by adding or removing seats for example, it can be difficult to see the overall change for each customer in a given time period. Net MRR Movements makes it easy to see the total impact of those MRR movements for each of your customers and the individual customer count for each MRR movement. Cut through the noise and see the total effect of your MRR movements for each of your customers with Net MRR Movements. Check out the chart. 
Net and Gross MRR Retention Rates
Retention rates tell you how effective you are at gaining value from existing customers and that those customers are sticking with you. Net and Gross MRR Retention Rates are often considered the most important metrics and SaaS. They hold the key to finding product-market fit and telling an effective growth story. Try it out.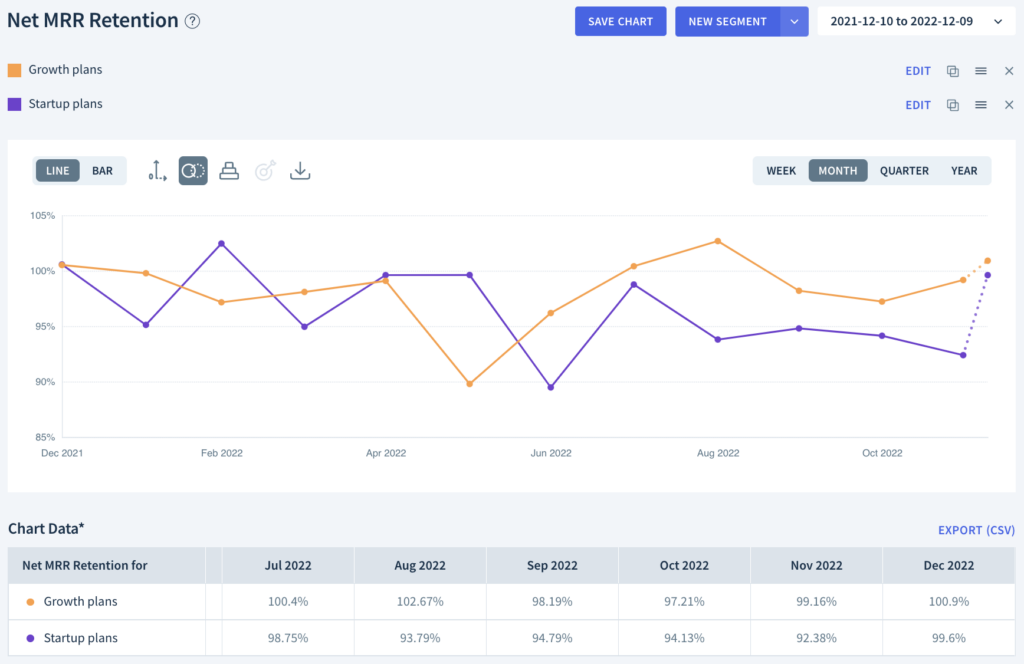 Get your team on board with user roles and permissions
We rolled out our new and improved user roles and permissions. It will give you more flexibility and control over who has access to what data in your ChartMogul account. It's our hope that by giving more of your team access to SaaS metrics, they make more informed decisions, improve their workflows, and ultimately become more effective in their roles. It's even possible to invite external advisors, consultants, and investors to your ChartMogul account in a way that's GDPR compliant. 
The following roles are now available:
Lite
Read-only
Staff
Admin
Owner
Send out invites to your whole company to get them comfortable using SaaS metrics – and celebrating the wins.
With Lite users, there's no long any reason not to invite all your VCs and investors to your ChartMogul account. Lite users can see all metrics and run analysis without being able to view any identifiable customer data.

Nick Franklin, CEO ChartMogul
Send ChartMogul data to 9 new destinations
This is the big one folks. Pre-2022, there were only a couple ways to export data out of ChartMogul. You could export your MRR movements and customers as a CSV, or for a programmatic approach, use the Metrics API. But we knew that sometimes those solutions might not be the most efficient in terms of time or developer resources. So the team has been hard at work over the last year bringing you 9 new ways to send ChartMogul data to the systems and tools you need it most. 

Cloud storage and data warehouses
Combining revenue, product, CRM, and other data sets can uncover powerful insights. Many of our customers use MRR movements from ChartMogul to predict churn or generate financial forecasts. To that end, it's necessary to get subscription data into your data warehouse for further analysis. Now you can configure Amazon S3, Google Cloud Storage, Azure Blob Storage, Snowflake, Amazon Redshift, and Google BigQuery as destinations in ChartMogul. You can analyze your data in aggregate and make more data-informed decisions.
Scheduled email exports
If you don't have a data warehouse or cloud storage solution set up just yet, and you're regularly pulling CSVs from our UI, you can schedule email exports of i) your MRR movements, ii) MRR movements broken down by customer, and iii) lists of all your customers. 
Intercom
Looking to step up your marketing with more personalized campaigns? Our Intercom destination will allow you to populate Customer profiles with data like MRR, ARR, Net payments, subscriber since, subscription status, plan, email, currency, and company. 
Slack
And last but not least, the Slack destination will help keep your team pushing for new clients, celebrate in the wins, and respond to concerns by sending MRR notifications to any channel you choose. 
Get more detail on your Stripe homepage
With the ChartMogul Stripe App to view your MRR, ARR, Subscribers, and MRR movements, on the Stripe homepage. On the customer page view MRR, ARR, Customer status, and MRR Movements of a particular customer. You can get the business context you need, whether you're on your Stripe or ChartMogul dashboard. To install the app, go to the Stripe App Marketplace.
Even more cool features and improvements
Image download – More and more companies are sharing their growth journeys online. Earlier in 2022, we released a nifty image download feature that allows you save and download a PNG of any chart with a cool background to match.
New time intervals – Previously only available in months, our churn rate and LTV charts are now available at different time intervals – week, month, quarter, and year. 
Free customer handling and churn recognition – Previously only available for certain integrations, we added universal support for free customer handling and churn recognition.
Reorder custom attributes – You can predefine the order in which your custom attributes are shown on customer profiles – move the ten most important to the top of your list.
Faster and more reliable CSV exports – The team spent a lot of time working under the hood to improve the speed and reliability of your CSV exports.
Microacquire – SaaS metrics are crucial to your valuation, and now you can integrate ChartMogul directly with Microaquire to give potential investors your data upfront. 
As always, you can stay updated on what's new with our product on our blog or in our release notes. 
That's a wrap on 2022
We'd like to give a special thank you to all of our customers, readers, investors, and partners. You're the reason we're committed to building the best subscription analytics platform on the market. 
We've got even bigger plans for 2023. Be sure to keep following our journey and feel free to let us know what we should build next.