This year has been challenging for both people and businesses. We believe that in order to overcome all the stress imposed on us, we should focus and reflect on the positive things that have happened over the last 12 months.
And it is great to be able to share that 2020 was the best year yet for ChartMogul. As you can check for yourself, we say this every year (we also did in 2018, 2017, and 2016).
The repeating theme is that this wouldn't be possible without the support of our customers and the dedication of our team.
To cap off the year, we've collected the accomplishments we're most proud of on the product, business, and content sides.
Check them out below!
Product
The highlight of this year was the launch of the world's first Subscription Data Platform in March.
Introducing the ChartMogul Subscription Data Platform.
This is just the first step in our mission to revolutionize how subscription companies use their data.
Throughout the year, our team has focused on improving the overall experience of ChartMogul by launching new features, improving the design and usability of the app, and by making it faster and more reliable.
Here's just a sample of all the great things we launched this year across these focus areas:
This month we launched a brand new improvement, which allows you to add your custom saved charts to the ChartMogul dashboard.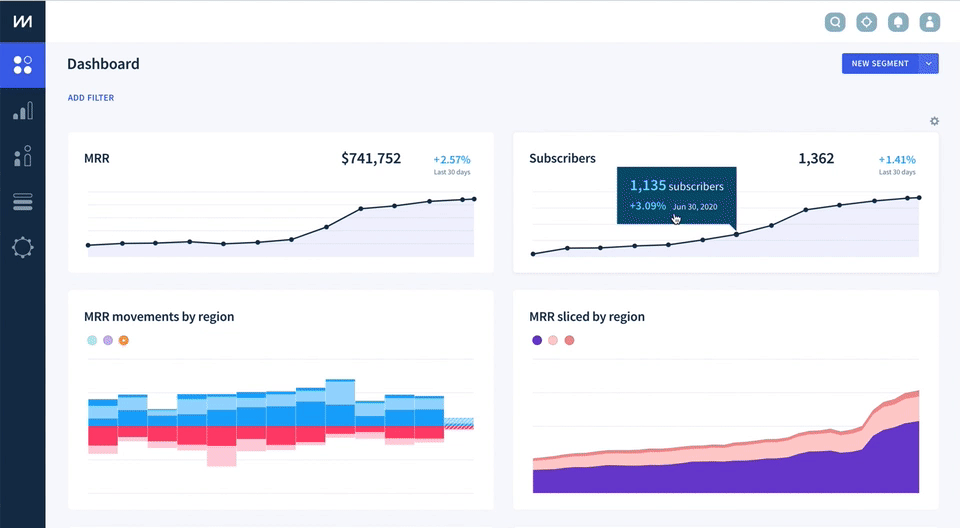 The new CSV Uploader (an essential companion to the Subscription Data Platform) brings the whole experience of managing your billing data under one roof. It also gives you a lot more flexibility over the data you import into ChartMogul.
Earlier in the year, we launched a brand-new Tags Manager and made several improvements to custom attributes in the app. This is a very helpful addition for users who bring in data from other systems (such as CRM tools and product analytics platforms) and use that data to segment and analyze their customers in ChartMogul.
2 of the most highly-demanded features on our roadmap also became a reality this year. MRR that entered/left segment gives you improved visibility in how your various plans are performing, while MRR per customer per month allows you to export a granular view of your customer base.
Finally, we made another step in the development of the Subscription Data Platform. We launched the Beta version of MRR Webhooks, which gives superpowers to what founders can do with their subscription data.
I'll also lift the veil on a surprise we're planning for you: We are also very close to launching our iPhone app!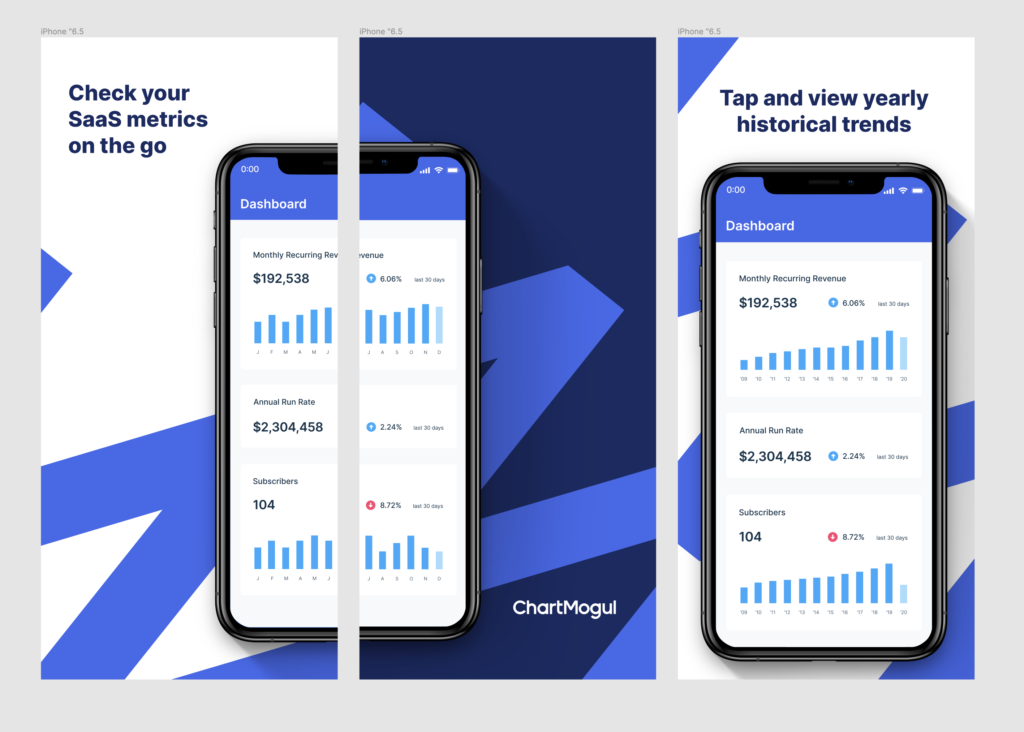 I hope I would be able to share more with you about this in the coming days.
Team and Company
A great product does not happen in a vacuum. It needs an equally strong and committed team behind it.
Several events this year marked the growing maturity of ChartMogul as a company and a team.
The first was our 6th anniversary. In lieu of getting together (due to the restrictions of travel imposed by the global pandemic), we celebrated by commissioning an artist to create an illustration that includes every member of the team.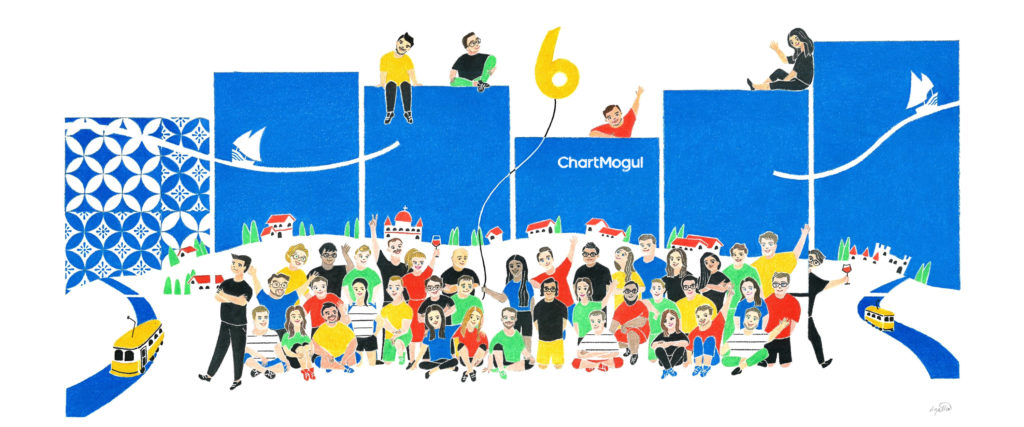 Throughout the year, ChartMogul's team grew from 33 to 43 people. Most of the people hired were in product and engineering, though we also added folks in sales, success, and operations.
Our success team deserves a special mention as well. So far this year, we have solved a total of 9,340 tickets from customers with an average first reply time of 24 minutes and an overall satisfaction rating of 95%!
This year, we also held our first internal hackathon. We ran it entirely virtually and it was a great event — not just because we had a lot of fun, but also because it resulted in a feature that was added to the app.
Finally, the cherry on the top of the pie was the news that ChartMogul made it into the authoritative SaaS 1000 list. We can now say that we're a household name in the cloud software industry. 😉
We like to think of this as a recognition of all the work we've done making the ChartMogul platform useful to our customers.
Content
Content is important to our team. Not just as a marketing tool, but even more as a way to educate our audience and forge a genuine connection with the people we believe we can help.
This is the 48th post published on our blog this year. 5 of those have been the stories of ChartMogul customers, including an interview with Buffer's CEO Joel Gascoigne.
The highlight of the year on the content front was the launch of The B2B SaaS Pricing Masterclass.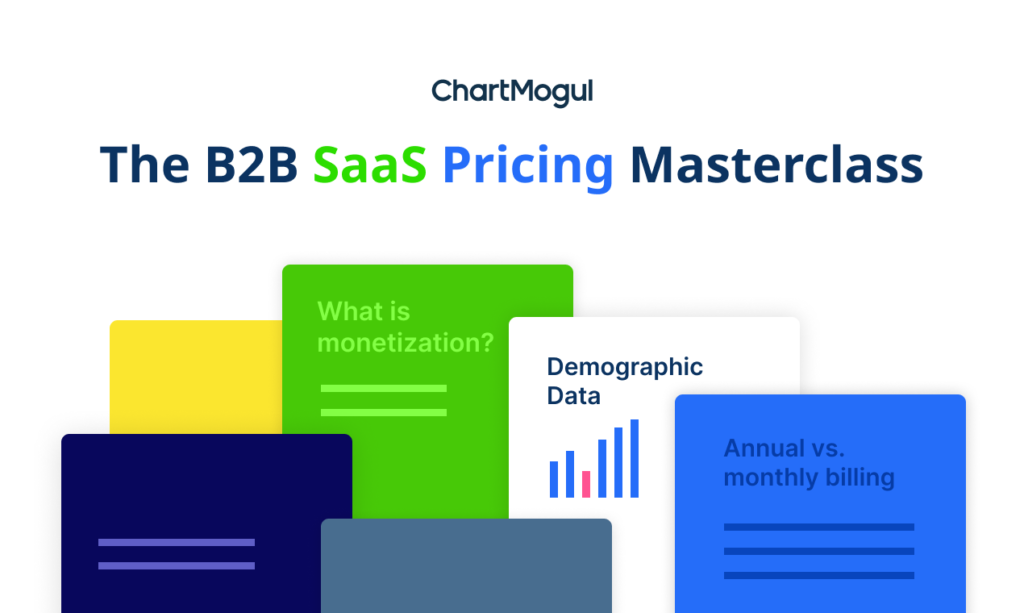 The report was based on the data we collected about the pricing practices (+ screenshot of pricing pages) of over 600 software companies. We used that information to analyze what are the current trends and the timeless best practices when it comes to monetization.
We were very happy to hear that our efforts haven't gone unnoticed. ChartMogul got recognized in 2 categories of the 2020 SaaS Brief MVP Awards for Travis's excellent overview of expansion and reactivation MRR and for our MRR guide for 2021.
Ready for 2021!
We realize we have been really lucky in a year that has been tough for many people and businesses.
We are committed to doing our (small) bit: helping companies understand and grow their business using their subscription data. This will continue to be our focus in 2021.
See you next year!