From all corners of the world (from Vancouver to Seoul), the ChartMogul team is buzzing about mobile.
Our new Google Play integration and the advent of our mobile subscription analytics solution has thrust us into exciting conversations with app developers and mobile growth leads.
It's invigorating (however challenging) to launch a new product. But that's the dream, right? We're learning heaps, having fun, and as always, finding new ways to help subscription businesses. So, in the usual spirit of our curated resources, we drew up The Ultimate Mobile Analytics Cheat Sheet. Ta-da!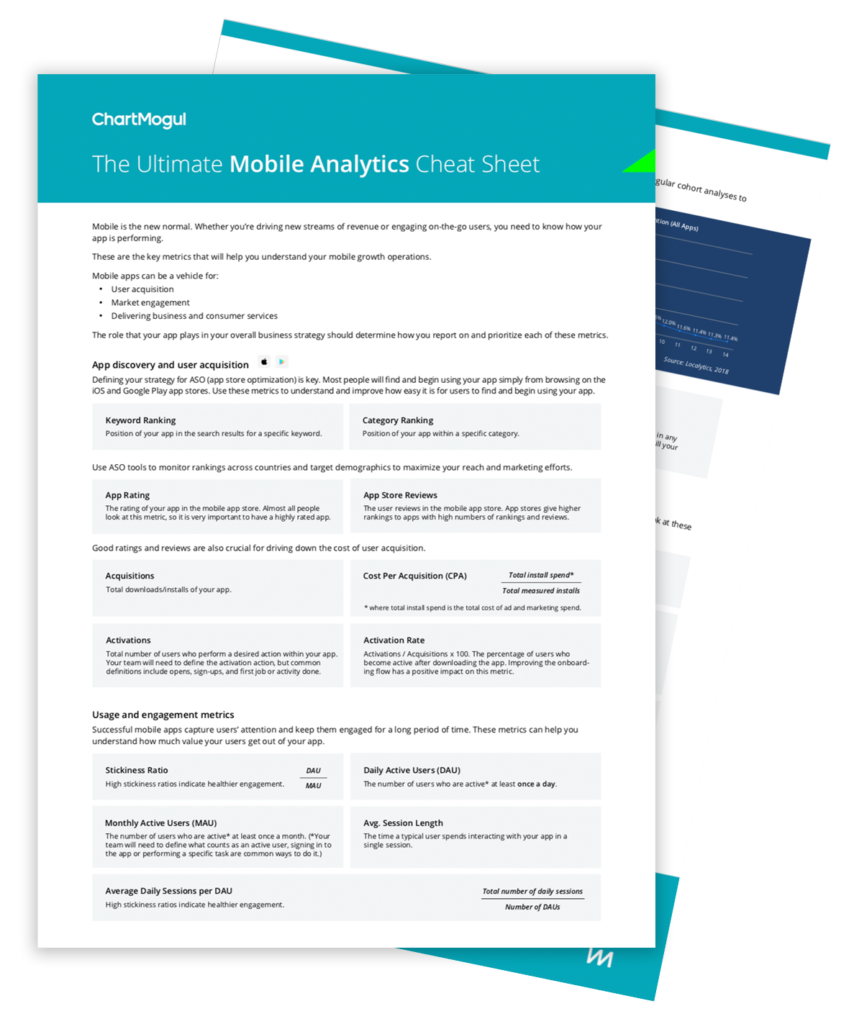 If you can't wait to take a peek, go right ahead — we don't gate our content.
If you want a sneak preview, read on, you burgeoning featured app, you.
What's inside
The cheat sheet focuses on key metrics for your mobile app or business. We break them down by category:
App discovery and user acquisition
Usage and engagement metrics
Retention and cohort analysis
Revenue metrics
We tried to focus on mobile metrics that encapsulate the subscriber lifecycle from acquisition to renewal and of course, bottom line. With high volumes of data and sometimes multiple sources (iOS, Firebase, Stripe), you need to define and track the metrics that matter.
This is a quick and easy-to-use resource to learn why the following metrics are important and how to measure them:
Daily (DAU) and Monthly Active Users (MAU)
Stickiness ratio
Monthly Recurring Revenue (MRR) from in-app subscriptions
Churn rate
Cost per Acquisition (CPA)
Average Revenue per User (ARPU)
Customer Lifetime Value (LTV)
…and much more!
There's no better time to learn mobile analytics
As we work more with mobile teams, we see an ever-increasing number of businesses make a bet on mobile.
If you're not thinking about your mobile strategy yet, you probably need to start planning for this side of your business before it's too late.
Understanding mobile metrics and picking a North Star metric that you will track against is one of the first steps in this process. The cheat sheet will give you a headstart on understanding the core metrics of mobile and help you zero in on the one that's most relevant to your business.